Ringing in the New Year with Gratitude: Falun Gong Parade and Celebration in Hong Kong
(Minghui.org) Falun Gong practitioners in Hong Kong held a series of events on New Year's Day. The group put on a performing arts show, a large-scale exercise demonstration and parade, and sent New Year greetings to the founder of Falun Gong, Master Li Hongzhi, with gratitude for the benefits of the practice and its teachings of Truthfulness, Compassion, and Forbearance.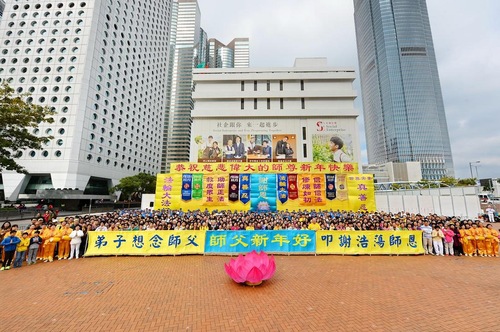 Practitioners take a group photo to wish Master Li Hongzhi a Happy New Year.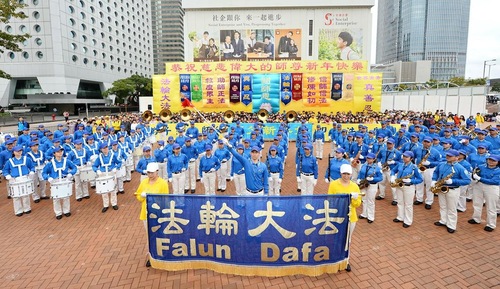 The Tian Guo Marching Band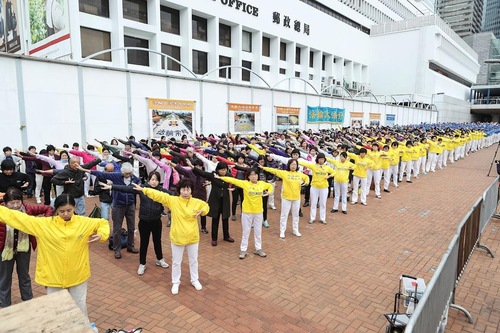 Demonstrating the exercises.
The rally and the performing arts show were held at Edinburgh Place in Central. Practitioners from Hong Kong and the South Asian areas performed traditional waist drums and instruments. The Tian Guo Marching Band also played songs composed by practitioners.
New Practitioner from Mainland China: So Lucky to Be Here!
Mr. Ye and his family from mainland China were on vacation in Hong Kong. He felt that it was a miracle that he came across a Falun Gong event.
"I first read the Falun Gong book in 2011 on the internet. I started to practice then," he said excitedly.
"It is so lucky that we can join this celebration. It is impossible in China. Here I can shout, without any fear, 'Falun Dafa is great,' which I always wanted to do, but never had a chance."
"I was lost in life. It is Falun Gong that pointed me in the right the direction," Mr. Ye said. "I know quite a few people like me in China. We often share our cultivation experiences, and encourage each other in the severe persecution."
Mr. Ye's wife took up Falun Gong two months after her husband started.
"I am glad to participate in sending a New Year greeting to Master, too," she said.
Mr. Xie, a tourist from mainland China, watched the entire show from the beginning to end.
"I have seen a Falun Gong parade before. Loved it," he said. "I took a lot of photos and videos today. My friends in China will like to see them."
"The principles of 'Truthfulness-Compassion-Forbearance' are great. It is so wrong that the Communist Party persecutes Falun Gong. I really don't like the Party," Mr. Xie said.
Falun Gong Parade Amazes Chinese Tourists
The parade of over a thousand Falun Gong practitioners started at 2pm from Cheung Sha Wan Playground.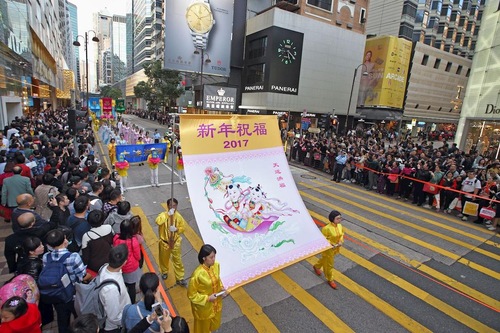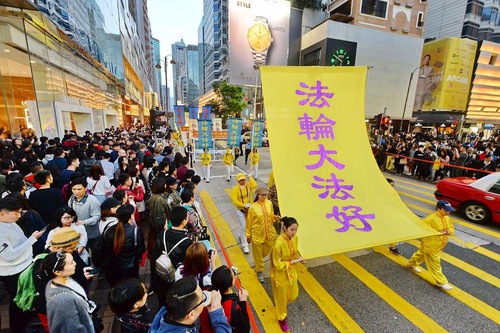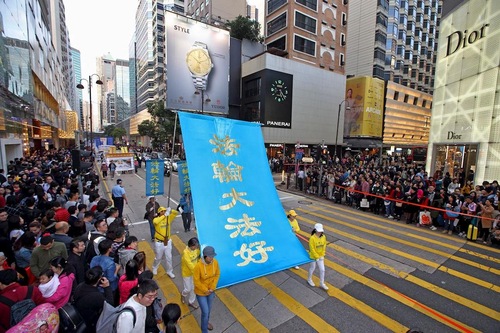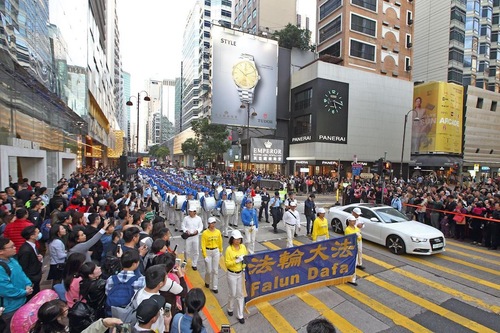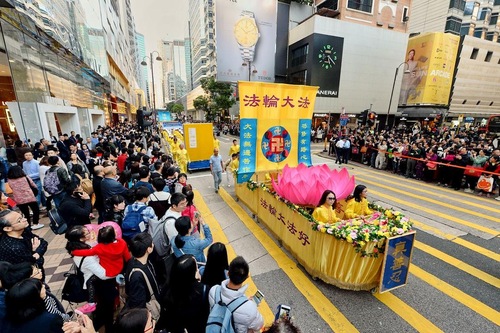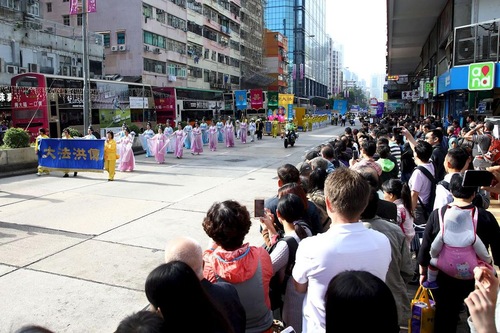 Falun Gong's grand parade on New Year's Day.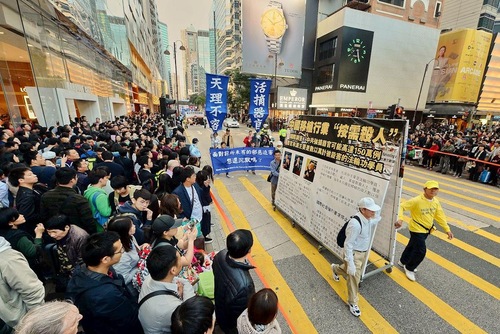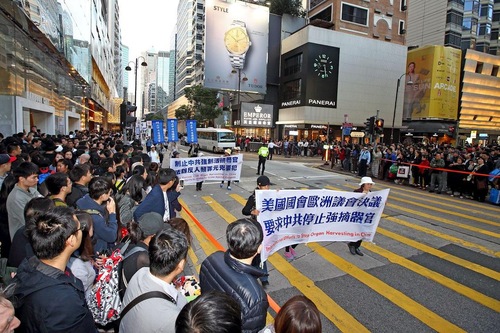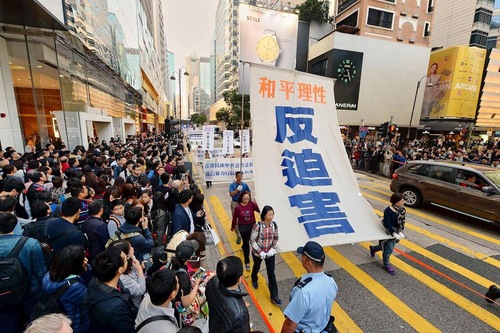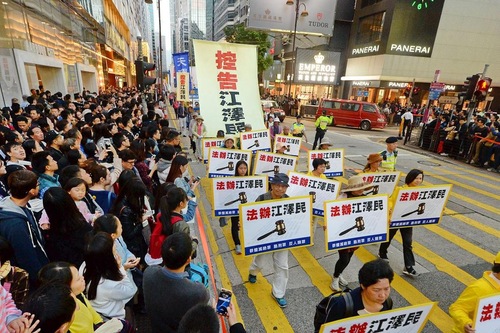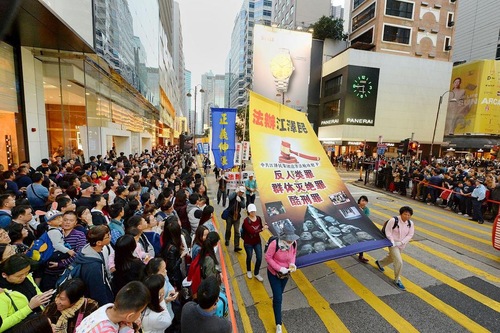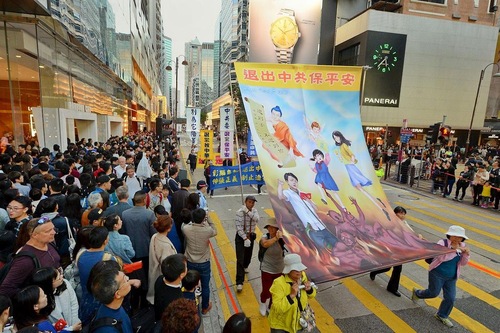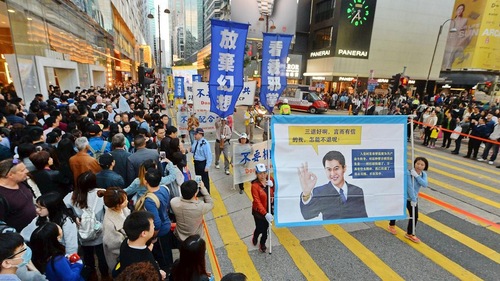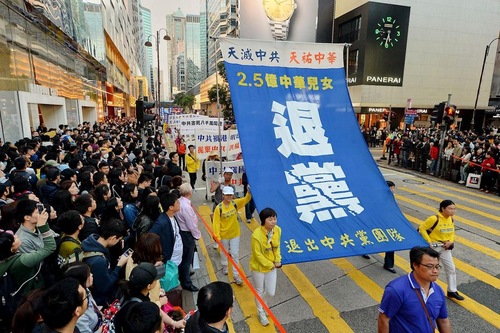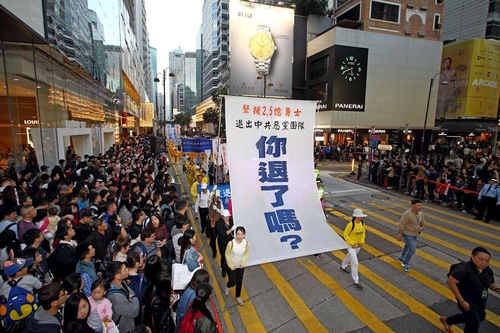 Crowds gather to watch the parade.
Many Chinese tourists had a chance to see what Falun Gong is all about, which is quite different from what the communist regime's media portrays.
Mr. Luo and Mr. He from mainland China had never seen a Falun Gong parade before. Mr. Luo said, "Many Chinese people don't have access to the facts. Some do, but they don't dare to speak out. We don't have freedom of speech. Nobody dares to point out in public the Party's wrongdoing. If the Chinese media have the freedom that Hong Kong media do, then many problems of our society will be exposed."
A senior couple from Shanghai kept taking pictures of the parade. The husband, a government official, said, "I support Falun Gong. I agree with them that the culprits of the persecution should be brought to justice. Falun Gong hasn't done anything wrong. It has had a positive impact on society."
"I saw the banners in the parade, which call for arresting former communist head Jiang Zemin for launching and directing the persecution. He deserves it. He and his gang are rotten. Everybody in China curses him," the husband said.
A young woman from Chongqing, China, was shocked by the scene.
"There are so many Falun Gong [practitioners]. Even the police support and protect them," she said. "It is so different here. I have been deceived by the Communist Party. I want to learn more about Falun Gong. I think that before long, mainland China's people will have a positive view of Falun Gong, too."
According to the organizer of the parade, practitioners passed out thousands of Falun Gong flyers during the parade.
The parade lasted three hours, ending at the Star Ferry Pier.