Practitioners in the U.S. and Canada Urge Chinese Government to Re-Issue Passport to Wang Zhiwen
August 16, 2016 | By Minghui correspondents in North America
(Minghui.org) Upon hearing that Wang Zhiwen, once a coordinator of the former Falun Dafa Research Society, has been prohibited from traveling outside China to visit his family, practitioners held rallies in Vancouver, Los Angeles, and St. Louis, calling on the Chinese government to address the issue.
Wang, 67, was arrested on July 20, 1999, the day the Chinese regime began its persecution of Falun Gong (also known as Falun Dafa). After being detained for 15 years, he was finally released in October 2014.
His daughter, Danielle, and her husband went to China to help Mr. Wang obtain a visa and come to the United States. Mr. Wang was stopped by border control officers on August 6, 2016, who destroyed his passport and gave no explanation.
"He is a Very Nice Person"
As practitioners gathered in front the Chinese Consulate on August 12 in Vancouver, Zhang Su, spokesperson for the local Falun Dafa Association, said they hope the Chinese government will re-issue a passport to Mr. Wang soon, so that he can reunite with his family.
Having known Mr. Wang since 1998, Zhang said that she and some other practitioners in Tianjin visited Wang before the suppression started. "He helped us a lot with understanding the cultivation practice of Falun Gong, especially how to follow the principles of Truthfulness-Compassion-Tolerance."
"He is a very nice person," Zhang remarked, "and he should be free."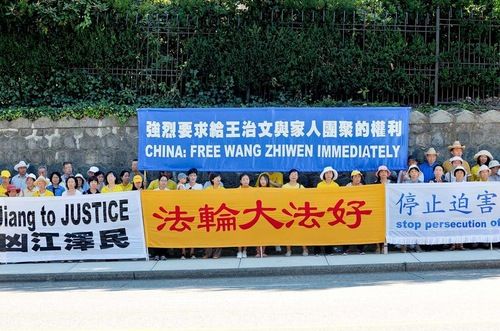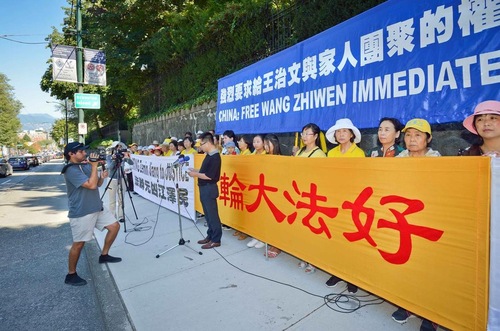 Rally in Vancouver on August 12, urging Chinese officials to re-issue Mr. Wang's passport.
Dennis Watson, a social advocate, came to support the practitioners. Looking at the security camera at the Chinese Consulate, Watson said he knew that the Communist Party used its media exhaustively to defame Falun Gong. "People will know the truth sooner or later, because no one can lie forever."
Both Roundhouse Radio 98.3 FM and The Rebel Media in Vancouver reported on the event.
A Highly Visible Case
Practitioners in Los Angeles also gathered at the Chinese Consulate on August 12 to protest the mistreatment to which Mr. Wang was subjected. Wu Yingnian, spokesperson for the Los Angeles Falun Dafa Association and a professor at UCLA, said that what Mr. Wang experienced represented the brutality of the 17-year-long persecution against innocent practitioners.
During a U.S. Congressional Hearing on December 5, 2013, Christopher Smith, senior member of the House Foreign Affairs Committee and chair of its subcommittee on global human rights, highlighted Mr. Wang's case and called for his release and visit to the U.S.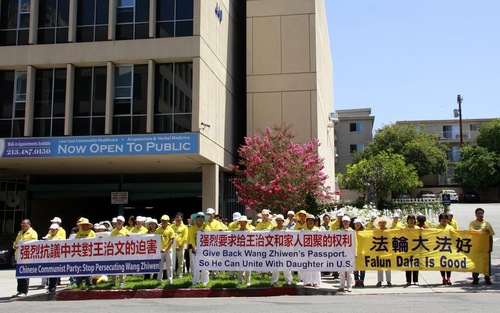 Practitioners gathered at the Chinese Consulate in Los Angeles on August 12.
Arthur, a software developer working in Los Angeles, attended the rally with his family. He said that this was a good opportunity to educate his 10-year-old that people should always step forward to speak up for the truth and help the innocent.
The Persecution is Unlawful
Practitioners gathered at the Old Courthouse and The Arch, two of the most popular tourist attractions in St. Louis, Missouri, on August 13 to raise awareness of Mr. Wang's situation.
Zhang, one of the practitioners participating in the event, said that the suppression launched by Jiang Zemin has always been secretive, as is the case involving Mr. Wang. He said the persecution itself is unlawful and that more people should know about it.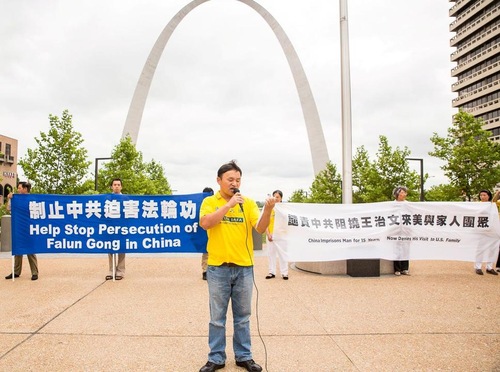 Falun Dafa practitioners rally by The Arch in St. Louis, Missouri on August 13, 2016.
Shocked by the atrocities practitioners suffer in China for their belief, many passersby signed petitions to help practitioners. Robert said it is a shame that the killing of practitioners in China for their organs has continued long after it was exposed to the world.
"This is not just an issue of China, because crimes against humanity affect us all," he said.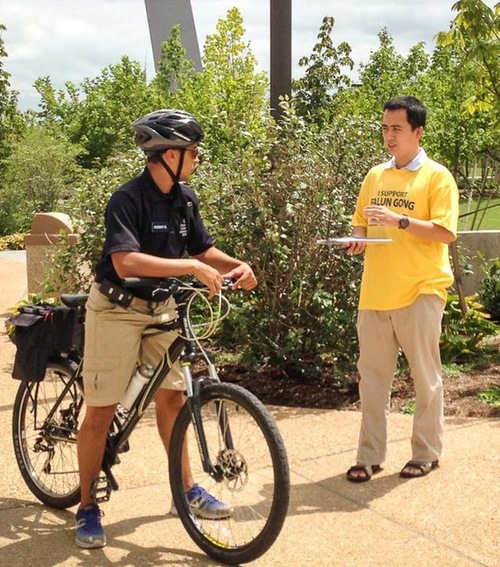 Robert said the killing of Falun Gong practitioners in China for their organs must stop.
Related articles in Chinese:洛杉矶法轮功学员中领馆前声援王治文(图)圣路易学员抗议中共阻挠王治文父女团聚(图)