Young Woman Pleads For Help at a US Congressional Hearing: "Help Get Our Fathers Released from Prison in China!"
December 06, 2013 | by Minghui correspondent Lucas Silverman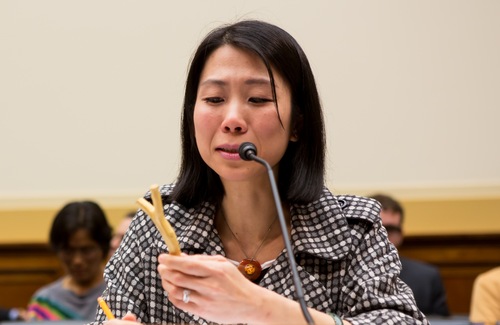 Danielle Wang calls for her father's release at the "Let Our Fathers Go" congressional hearing in Washington DC. The small tree branch she showed is the only thing she has got from her father in the past 15 years. Her father, a Falun Gong practitioner, was arrested and sentenced to 16 years in prison at the beginning of the persecution of Falun Gong in China.
(Minghui.org) The "Let Our Fathers Go" congressional hearing focusing on five daughters and their courageous plight to help release their dads from persecution in mainland China was held by the human rights subcommittee of US House Committee on Foreign Affairs on December 5, 2013, the same day that the US Vice President Joe Biden was visiting China.
Among the five daughters was Ms Danielle Wang, whose father, Wang Zhiwen, was wrongfully accused and sentenced to 16 years in prison in mainland China. Danielle hasn't seen her father since July of 1999.
For the past decade and a half Ms. Wang has always felt obligated to dedicate 100% of her efforts to raise awareness about the persecution and help free her dad from this suffering.
Danielle cried during her speech when showing a small tree branch that her father polished in prison, "15 years, this is the only thing I get from him." This small token of love arrived two months ago via a relative who visited her father in prison.
Her dad began to practice Falun Gong in 1992 and became an active practitioner, volunteering to help other practitioners learn the principles and the exercises. When the persecution began, he was targeted by Chinese Communist Party (CCP) thugs who then arrested him and subjected him to torture including brainwashing, bamboo sticks in the fingernails, and sleep deprivation.
In an interview after the hearing, she said, "I hope to rescue my father so he can lead a normal life again. I hope to repair for him all the teeth he lost in prison due to tortures. I hope he can eat meat again and can walk outdoors and enjoy nature."
The five daughters gathered to appeal to United States elected officials including the President to help reunite with them with their Fathers.
Representative Smith responded affirmatively and said that the girls testimonies will be sent to every member of the United Nations Human Rights council.
Rep Smith went on, "Americans everywhere should see that this is the pride of China, (these women in the room testifying today)."
Another of the five women was the daughter of Gao Zhisheng, a human rights lawyer who has been called "The conscience of China" for his activism including support for Falun Gong freedom in China.
When asked by Rep. Smith, "If you could speak to Xi Jinping, President Obama, or Ban Ki-moon, what would you say?"
Ms. Wang answered, "I would like to explain to Xi Jinping that the principles of Falun Gong are good. Falun gong teaches Truth, Compassion, Tolerance, and should not be persecuted any longer."
Ms. Wang also noted that these men are fathers of daughters of their own, and asked them to show compassion to help end the persecution going on in mainland China today.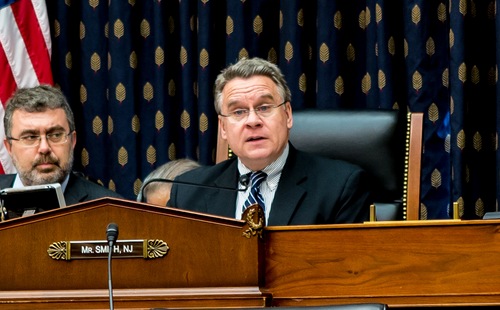 Congressman Chris Smith, Chairman of the Subcommittee on Africa, Global Health, Global Human Rights, and International Organizations of US House Committee on Foreign Affairs initiated and hosted the hearing.
The meeting was met by sentiments of support and commitment by the members of the hearing committee. One of the members, Mr. Mark Meadows, the congressional delegate to the United Nations, promised, "As a father speaking on behalf of your fathers, I am proud of you...and my commitment to each one of you is that you will see your dads soon."
Mr. Meadows apologized to the five women that he had thought that this would just be another hearing, since he had been to a number of them. But he was deeply moved, "My commitment to each one of you is that as discussions go on with those in official positions in China that not a single one of those conversations or negotiations will happen with my staff or me without the faces of each one of you being at the forefront of our mind."