Activities in New Zealand Mark 17 Years of Resistance to Persecution
July 31, 2016 | By Zhang Lexin, Minghui correspondent in Auckland
(Minghui.org) Falun Gong practitioners in New Zealand held a series of activities in July 2016 to mark the 17th year of peaceful resistance to the Chinese Communist Party's persecution of the spiritual practice.
The practitioners held an rally and an exhibition against torture, and collected more than 4,000 signatures calling for an end to the persecution. The events took place in Hamilton on July 14, Auckland on July 16, and Wellington on July 20. Prime Minister John Key's office made a phone call to the Falun Gong rally on Aotea Square in Auckland to express the Prime Minister's best wishes.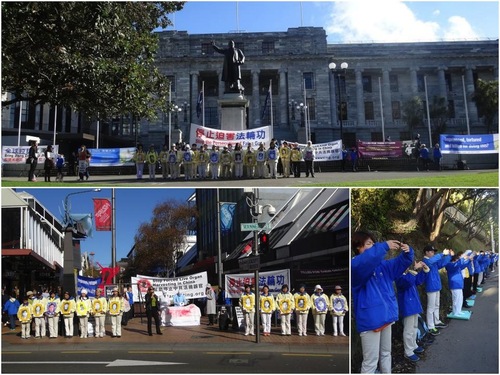 Activities in Wellington: rally (top), rally in Cuba Street District (lower left) and group exercises in front of the Chinese Embassy (lower right)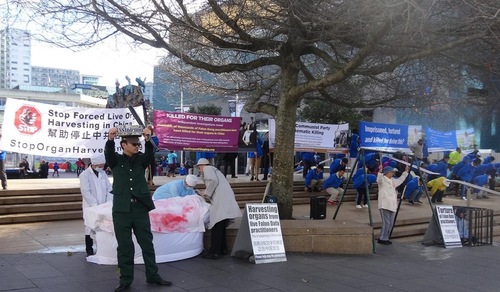 Anti-torture exhibition in Auckland

Rally in Hamilton
President of Auckland Council for Civil Liberties: Proud to Support Falun Gong
Mr. Barry Wilson, lawyer and president of the Auckland Council for Civil Liberties, spoke at the rally and said he admired Falun Gong practitioners' global effort to expose the evil persecution.
Mr. Wilson strongly condemned the Chinese regime's harvesting organs from living practitioners and called U.S. House Resolution 343 a breakthrough. He hopes the practitioners in New Zealand would continue with their work to expose the persecution.
"I'm very proud to be able to support Falun Gong!" he added.
Human Rights Lawyer: Practitioners Innocent
Renowned human rights lawyer Mr. Kerry Gore expressed his support at the Falun Gong activities and said practitioners safeguard their belief with tremendous courage and tenaciousness, which in itself proves the power of Falun Gong and the principles of Truthfulness, Compassion, and Tolerance in practice.
Mr. Gore said the persecution is a serious violation of the Chinese Constitution and international conventions on citizens' rights. He said history would prove these brave Falun Gong practitioners innocent, and that it would be the most clear and definite judgment of history.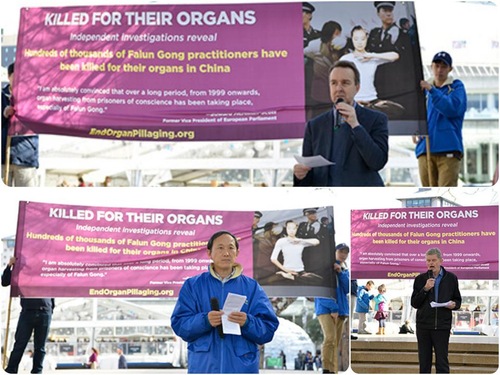 Human rights lawyer Mr. Kerry Gore (top), Falun Gong practitioner Mr. Huang Guohua (lower left), and President of the Auckland Council for Civil Liberties Mr. Barry Wilson (lower right) speak at the rally in Auckland.
Chair for Patients' Rights Advocacy Waikato: No Words Can Describe Organ Harvesting
Ms. Carolyn McKenzie, Chairperson for Patients' Rights Advocacy Waikato, said it is hard for most people in New Zealand to imagine that the Chinese government couldn't stand to see and even killed a group of people of faith so peaceful and so kind. She condemned the harvesting of organs from prisoners of conscience for profit, and said no words can describe its evilness. She calls for the government of New Zealand to protest China's organ harvesting and brutal persecution of Falun Gong practitioners.
Personal Testimony of Organ Harvesting
Mr. Huang Guohua, a Falun Gong practitioner, recounted how his wife, Luo Zhixiang, had died in the persecution. She was arrested when she was three months pregnant and fell off the third floor of a building while under custody. The hospital announced that she was brain-dead and stopped treatment while her heart was still beating. However, Guohua was forbidden to see his wife.
Four months later, they needed Guohua for his wife's cremation paperwork. Guohua was pulled out of his labor camp and finally saw his wife's shriveled body. He suspected that her organs had been removed. Years later, he found her hospital was on the list of hospitals involved in organ harvesting.
Guohua himself was forcibly given blood tests multiple times in the labor camp, including three times in one day.
Support from the Public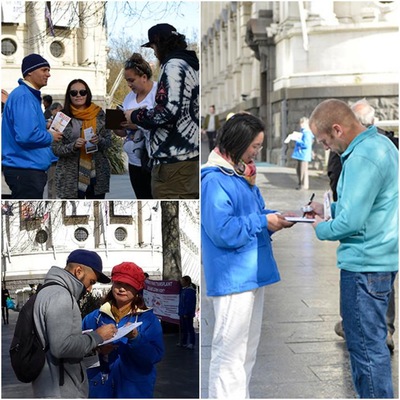 Passersby stop to learn about organ harvesting and sign a petition.
Many people expressed their strong wish to end the persecution immediately.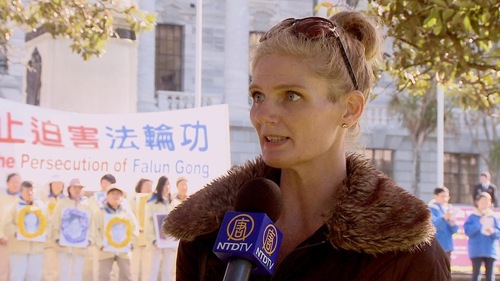 Ms. Traci Rugkin being interviewed.
Ms. Traci Rugkin said, "I learned about it from my father. He went to a small village in China. He met a family. They told him what had happened to one of the family members. They told him not to tell anybody there because they could be persecuted...We can't keep silent. They did nothing wrong. Persecuting them would be a crime, so the Chinese government has to stop the persecution."
Mr. Leen, a tourist from Germany, told the reporter, "We need to stand up and speak up for human rights. We need to make people aware of what's happening in China. What's happening in China can't be tolerated. We also need to inform the governments. They should stand up and speak for human rights in China."
Andy, a local resident, said, "More people will have to stand up. Remember, people have the power. We give them the power. I hope our Prime Minister of New Zealand will stand up and say 'Enough is enough.' Yes, we need trade, but we have stand up for what's right."
Renee said she had heard about the persecution and even fasted to raise awareness of the organ harvesting. She said, "It's a tragedy. Eventually people will look back on this time, and this will be considered the worst systematic human rights abuse of the late 20th century."
Chinese Student Quits Communist Organization
A nineteen-year-old Chinese student learned about the self-immolation hoax on Tiananmen Square that was staged by the communist regime as part of its propaganda campaign against Falun Gong. He said, "I won't watch the news in China anymore, or I'd be deceived by their lies. I have to tell my parents and grandparents about it."
The student happily quit the Communist Party organizations he had joined before and wanted to help practitioners stop the persecution. He signed the petition and said he hopes his voice would be heard by the United Nations.