Falun Gong at a Multicultural Festival in Germany
(Minghui.org) Falun Gong practitioners demonstrated the ancient Chinese cultivation practice of Falun Gong on the stage at a local multicultural festival in Aschaffenburg, Germany, on July 16.
The organizers of the 33rd Fest Bruederschaft der Voelker are familiar with Falun Gong, having invited practitioners of this peaceful group to perform at the opening ceremony several years in a row.
Besides teaching the exercises, practitioners also gave out information on the 17-year persecution of Falun Gong in China.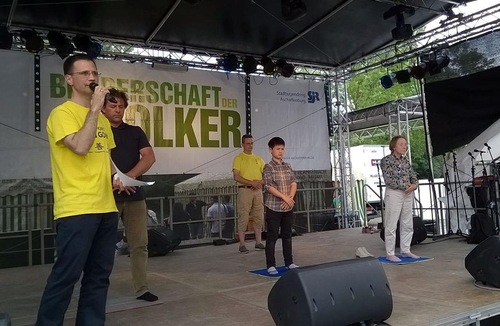 Demonstrating the exercises at the festival
Several practitioners, ranging in age from a teen to a 70-year-old, demonstrated the exercises, as another practitioner explained the movements. The audience was told that Falun Gong's teachings are based on Truthfulness-Compassion-Forbearance. Many people imitated the practitioners doing the exercises, and some of them asked for detailed information about how to start practicing.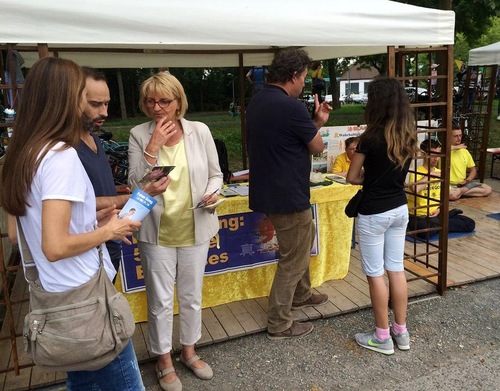 At the practitioners' booth, a young couple (left) condemns the brutal persecution of Falun Gong in China.
The residents of Aschaffenburg, a small town 20 miles southeast of Frankfurt, come from all over world and all different ethnicities. People from many different cultural backgrounds stopped by practitioners' booth during the two-day festival and signed the petition to support Falun Gong's peaceful resistance to the persecution.
A young man watched the exercises for a long time. He told practitioners that he had learned Falun Gong in India and asked them to correct his movements. He was pleased to learn of the local exercise site nearby and wanted to participate.
On the first day of the event, a 15-year-old German girl told practitioners she had a short temper, which bothered her, but she wanted to change. "You all look so peaceful and happy," she said. "I want to stay with you."
The second day she came again and asked to learn the exercises. "Actually, I have seen you guys every year," she said. She now believes that Falun Gong can improve her temper.