Victims Call for an End to the 17-Year Long Persecution, Gain Strong Support
July 24, 2016 | By Minghui correspondents and Falun Gong practitioners in the U.S.
(Minghui.org) Seventeen years ago, on July 20, 1999, the Chinese Communist Party launched the brutal persecution of Falun Gong. At that time, Falun Gong practitioners started the peaceful resistance with great courage. Last week around July 20, victims of the persecution spoke at various events all over the United States, calling for an end to the brutality, and obtained strong support from people of all walks of life.
At a candlelight vigil in front of the Chinese consulate in Los Angeles on July 20, 2016, Falun Gong practitioner Ms. Chen told the attendees how her late husband, Li Xiwang, 49, was tortured to death in prison in 2011.
Li was sent to prison on July 18, 2011, because of his Falun Gong belief. He was locked on the floor in an extremely painful position for more than ten hours, which led to his death.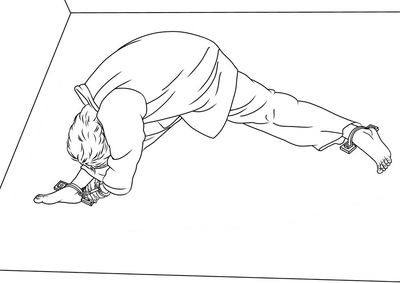 Illustration of the torture that caused Li Xiwang's death. His hands and feet were locked into two rings which were affixed to the floor.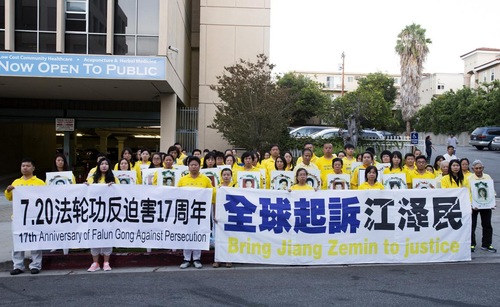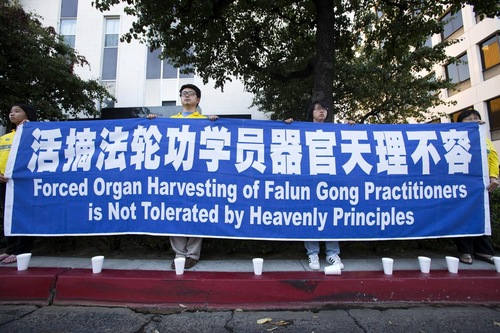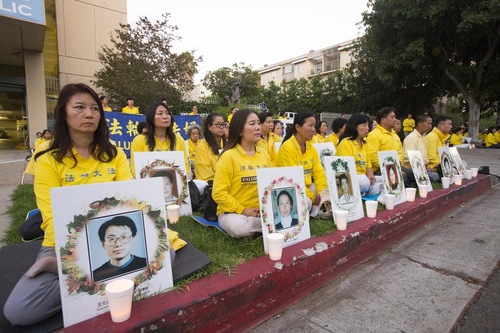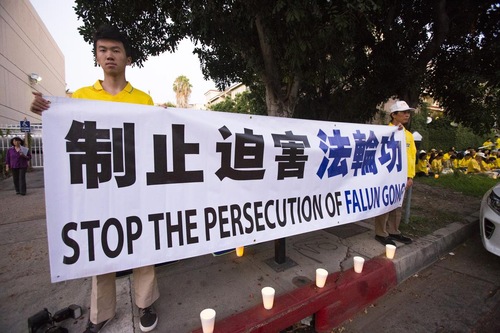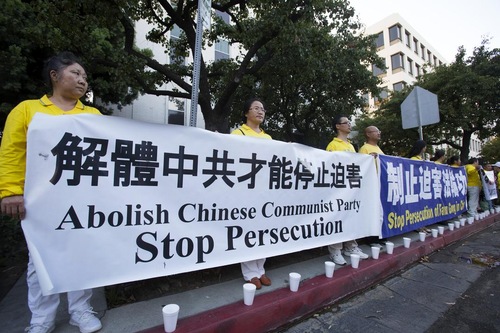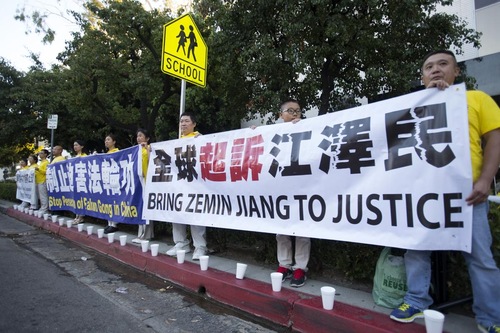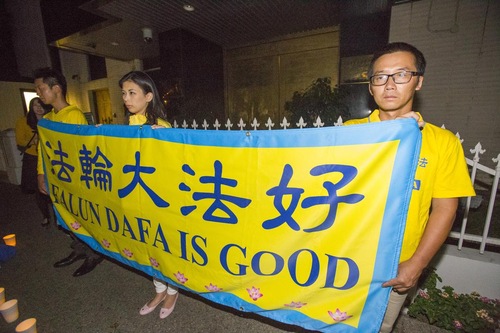 The candlelight vigil memorialized those who have been tortured to death during the persecution.
Practitioners in San Diego held a series of activities on July 17, including a rally, group exercise, and a candlelight vigil, to raise public awareness of the persecution.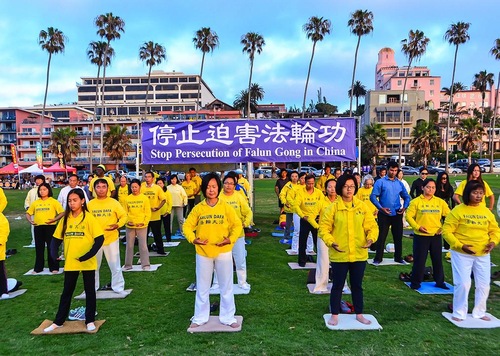 The group exercise at La Jolla Cove, a famous tourist spot.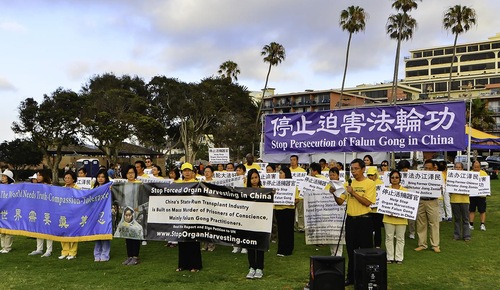 Rally at La Jolla Cove.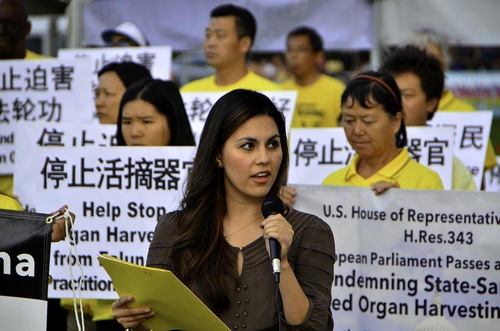 A practitioner at the rally tells the public about the persecution.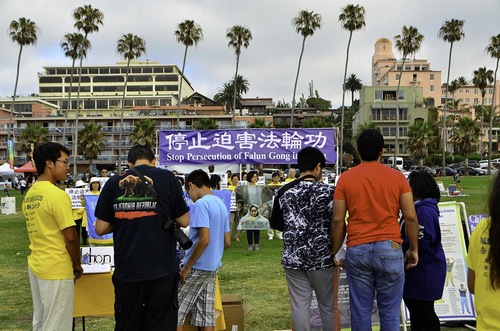 People wanted to learn about the persecution.
Two practitioners at the rally told their experiences of being tortured in China.
Ms. Ren Guoxian was jailed in labor camp for three and half years, where she was brutally beaten with electric batons, and was often deprived of sleep for long periods.
Mr. Wang was arrested five times, and sent to a labor camp twice for his belief in Falun Gong. He gave an example of the tortures he was subjected to.
"I was jailed in the First Labor Camp of Guangzhou City from June 2003 to August 2004. One night, a few inmates, under the order of guards, took me to a small cell, where they smashed my fingers. One of them kicked my kidney. I passed out due to the great pain."
"They then wrapped my arms and legs with clothes, and tied me up into a spherical shape. Then, they pulled the two ends of the rope that tied me. I felt that my bones were about to break. They pulled for a few minutes, and then paused for a while, and repeated the torture six times."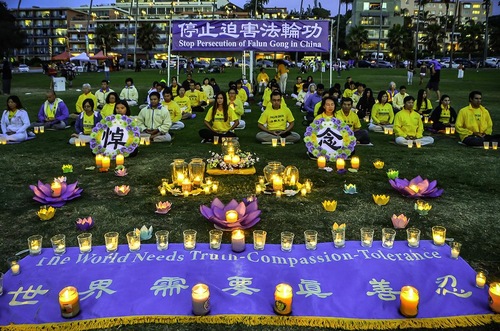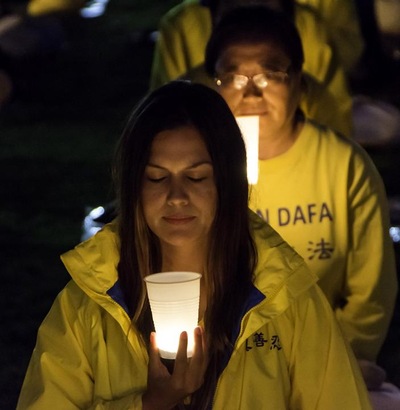 The candlelight vigil in San Diego.
Practitioners in Houston also held a rally and candlelight vigil in front of the Chinese consulate.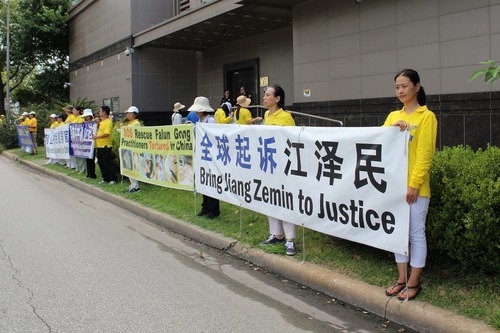 Rally in front of the Chinese consulate in Houston.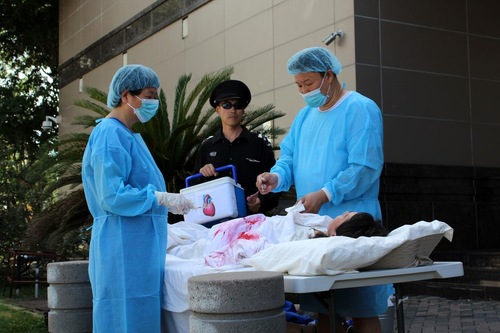 Practitioners re-enact the forced organ harvesting in China.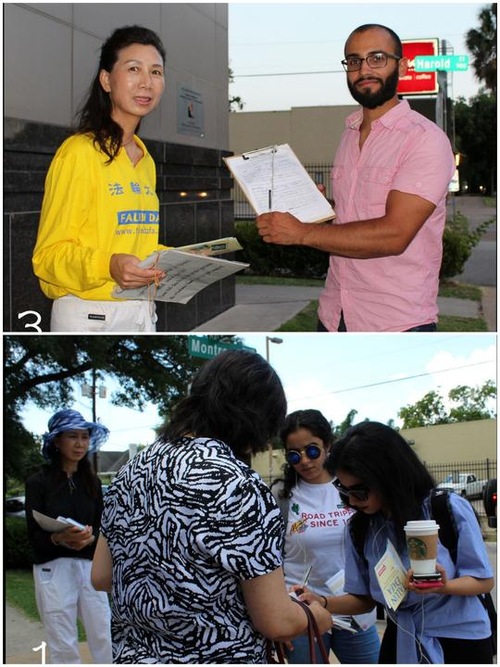 People sign the petition condemning the state-sanctioned forced organ harvesting.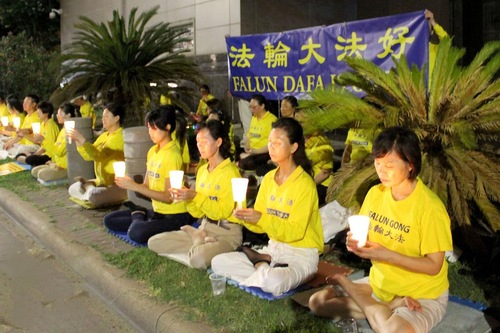 The candlelight vigil in Houston.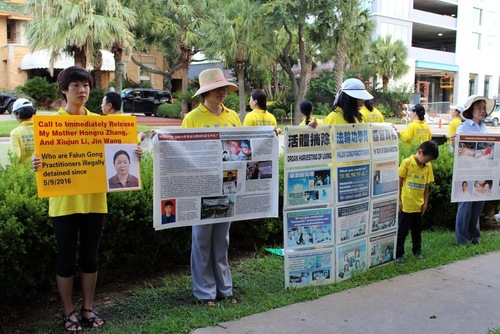 Ms. Yang (left) calls for the release of her mother Zhang Rongru, who has been jailed in a detention center in Qingdao because of her belief in Falun Gong.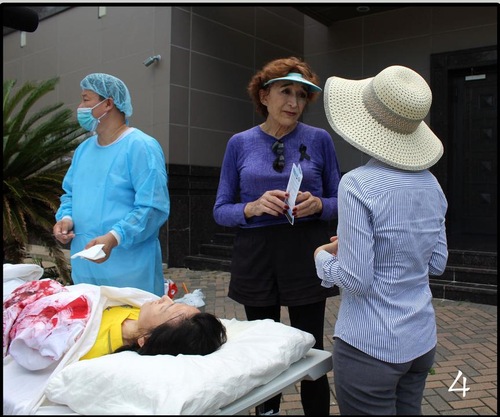 Arlin (middle), a local resident, was shocked by the forced organ harvesting in China. She signed the petition, and said that she will tell more people about the crime.
In Dallas, practitioners collected signatures at local park and held a rally in front of a wall with Martin Luther King Jr.'s quote: "Until justice rolls down like water and righteousness like a mighty stream."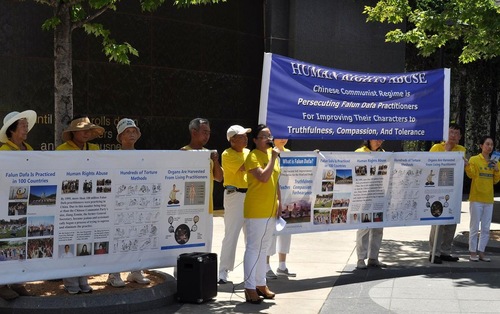 Professor Wu (holding microphone) told the story of her mother, who was forced to do heavy labor in a forced labor camp.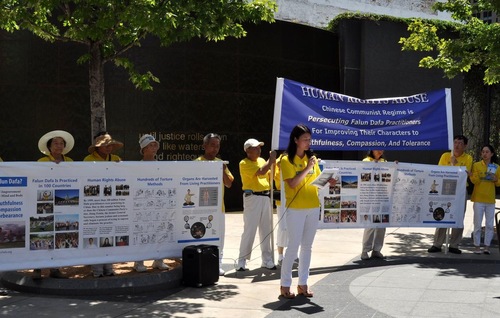 Ms. Yang tells the story of Gao Rongrong, whose face was burned with electric batons in prison, and who was later tortured to death.
A local woman was shocked by the brutality exposed at the rally. She said, "I just realized how serious it is. I will help you to spread the information. I know a lot of people who will also spread the information in communities. From now on, I will stop buying stuff made in China."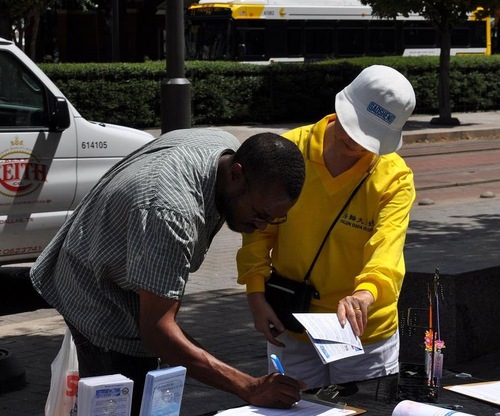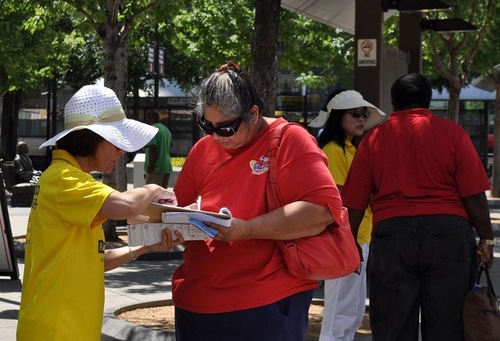 People sign the petition to support Falun Gong's peaceful resistance.
In St. Louis, Missouri, Dr. Geng Sa and Mr. Zhang Guoliang told the public about their own experiences of being tortured in China, during a rally held in front of the famous local tourist spot, the Old Court House.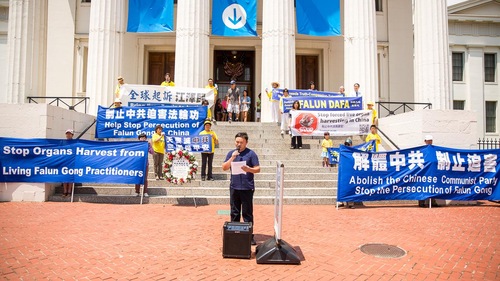 Dr. Geng Sa, a biologist, told the public that his wife was tortured to death in a detention center. During the forced feeding, police knocked out most of his teeth.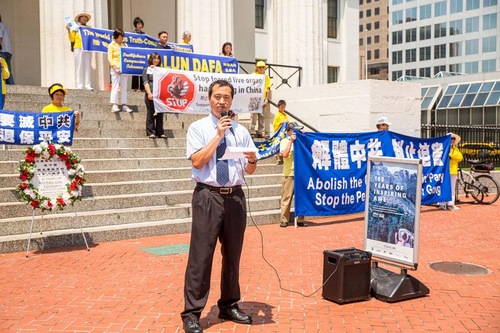 Former pilot Mr. Zhang Guoliang was arrested four times, and imprisoned in a labor camp, prison, and brainwashing center for six years.
At the same rally, Dr. He Mai, the vice director of the organization "Doctors Against Forced Organ Harvesting," introduced the results from a latest independent investigation, which exposed solid evidence of the massive state-sanctioned organ harvesting from Falun Gong practitioners in China.
Congressman Lacy Clay, from the the first district in Missouri, sent a letter to the rally, in which he expressed his support for Falun Gong's peaceful resistance, and called for help in stopping the crimes.
Practitioners in Atlanta held a rally outside of Centennial Olympic Park.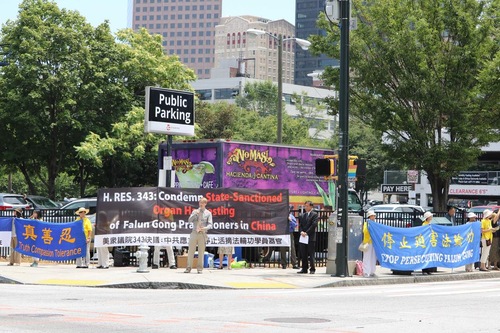 The rally in Atlanta
Practitioner Ms. Li said that she was arrested in June 2000, because she went to Beijing to appeal for Falun Gong. She was sentenced to a five-year prison term. In prison, police beat her, because she persisted in doing the exercises. She was locked to window bars for a long time. Since she refused to watch the propaganda video that slandered Falun Gong, she was not allowed to use the bathroom for a few days. She was also forced to do heavy labor seven days a week, for 16 hours per day.
Ms. Li called on people to take action, "The persecution has been going on for 17 years. Everybody in the world should wake up. Let's stand together and stop it."
Related articles in Chinese:圣地亚哥纪念法轮功和平反迫害17年(图)
亚特兰大法轮功学员集会 谴责中共暴行(图)
达拉斯法轮功学员七二零集会 呼吁法办元凶(图)
圣路易法轮功学员举行七二零反迫害集会(图)
洛杉矶法轮功学员烛光夜悼 呼吁法办江泽民(图)