Alberta, Canada: Introducing Falun Gong at the North Country Fair
June 30, 2016 | By a Falun Gong practitioner in Edmonton
(Minghui.org) Falun Gong practitioners in Alberta, Canada had a booth at the North Country Fair from June 17 to June 19, 2016, where they introduced Falun Gong and exposed the ongoing persecution of this peaceful practice in China. Around 5,000 people from Alberta and British Columbia attended this popular annual music festival and fair. Many took the opportunity to find out more about Falun Gong, and many people learned the exercises over the course of the two-day event.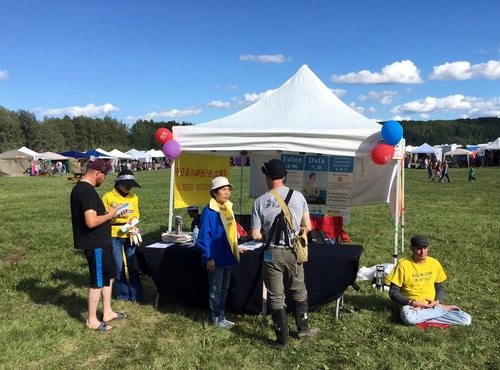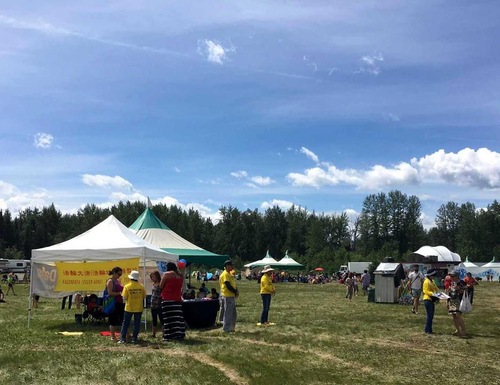 Falun Gong practitioners introduce Falun Gong at the North Country Fair.
Dressed in bright yellow T-shirts, Falun Gong practitioners demonstrated the gentle and relaxing exercises under a blue sky. They talked about the benefits of Falun Gong and exposed the Chinese Communist Party's (CCP) brutal persecution of innocent Falun Gong practitioners in China, including the crime of harvesting organs from living practitioners.
Many people were touched by Falun Gong's peaceful spirit, and condemned the persecution of such a great traditional cultivation practice. They signed a petition supporting Falun Gong practitioners' lawsuits against Jiang Zemin, the chief perpetrator who launched the persecution. Many people took printed materials to share with their families and friends.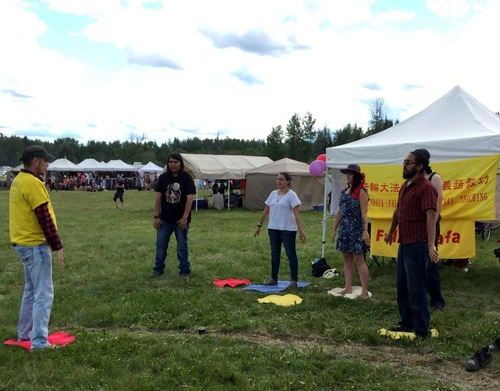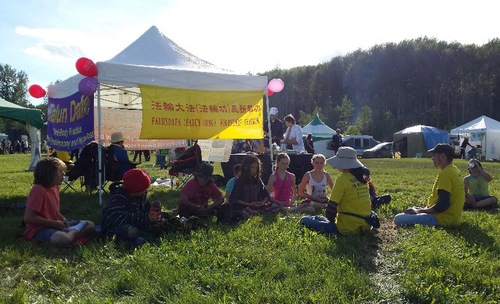 Festival visitors learn the Falun Gong exercises.
One man signed the petition and then spent some time around the Falun Gong booth playing with his daughter. He told a Falun Gong practitioner that he felt a strong and pure energy, which brought him to tears.
He wasn't the only one. People of different ethnic backgrounds were touched by the peaceful practice and many took the time to learn the exercises. A number of people expressed their gratitude to Falun Gong practitioners for being a part of the festival, and encouraged practitioners to keep up with their work to end the persecution.