Toronto: Falun Gong Practitioners Participate in Global Village Festival
June 30, 2016 | By a Falun Gong practitioner in Toronto
(Minghui.org) Falun Gong practitioners in Toronto, Canada, participated in the annual Global Village Festival on Mel Lastman Square on June 24th and 25th. This popular event has come to be known as Canada's largest multi-cultural festival. The practitioners set up a booth to introduce this ancient mind and body cultivation practice, and demonstrated the Falun Gong exercises on the festival's center stage.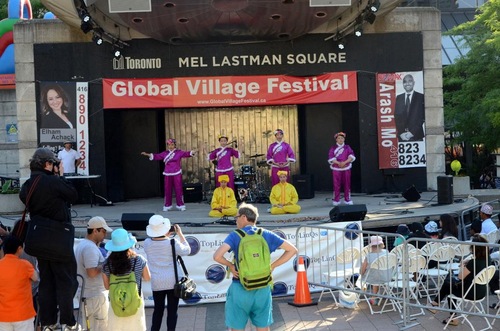 Falun Gong practitioners in Toronto, Canada, demonstrate the Falun Gong exercises at the annual Global Village Festival.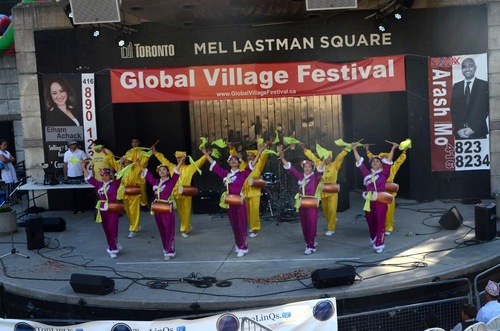 Falun Gong practitioners give a lively waist drum performance.
At the booth was a photo display, and many flyers were available in different languages. Practitioners demonstrated the exercises next to the booth. Many people stopped by to learn about the benefits of Falun Gong and the practice's core principles of Truthfulness, Compassion, and Forbearance. They were happy to find introductory materials in their native language, and many expressed an interest in learning Falun Gong.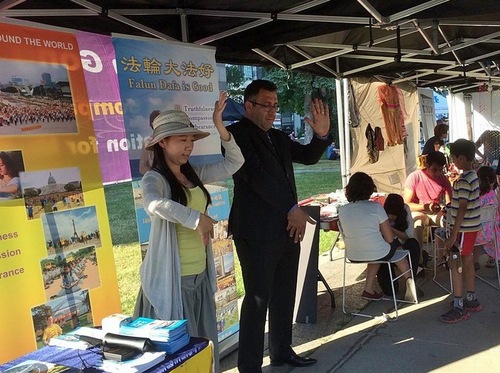 Visitors to the Falun Gong booth learn the exercises.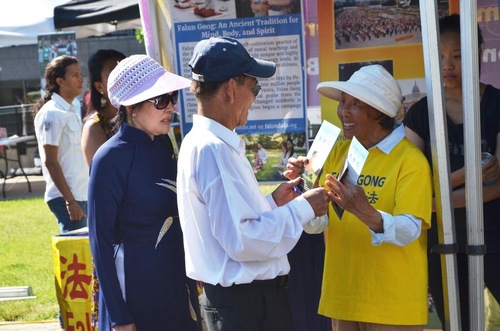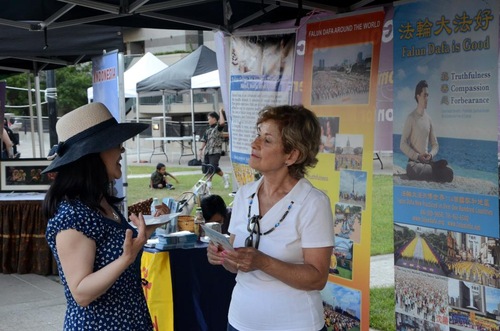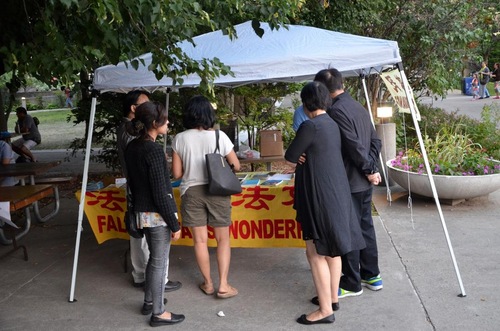 There was a steady stream of visitors at the Falun Gong booth throughout the festival.
Several tourists from mainland China were surprised to see so many people practicing Falun Gong, as accurate information about the practice is difficult to obtain in their home country. Practitioners told them that people in more than 100 countries are practicing Falun Gong, and the book Zhuan Falun has been translated into more than 40 languages. The tourists were pleased to take a variety of materials to read.
Some Chinese visitors had already learned about Falun Gong. One Chinese couple kept saying "Falun Dafa is great!" when they passed the booth. A Chinese woman said that she had heard about the persecution through the media, and she had witnessed how Falun Gong practitioners persisted in holding activities to draw attention to the persecution, rain or shine. She expressed her admiration of practitioners with a heartfelt, "I support you!"
A Canadian woman showed great concern about the persecution. She not only signed the petition calling for its end, but also invited many other people to stop and sign. She was very encouraging of the practitioners' efforts to expose the persecution. "What you are doing is very successful! It's wonderful! Truthfulness-Compassion-Forbearance has given you inner strength. It's so powerful!" she said.
Tianti Bookstore, which carries Falun Gong books and other educational materials, was also represented at the Global Village Festival. Many visitors took the bookstore's cards, and said they planned to stop by to purchase Falun Gong books and attend upcoming Falun Gong workshops.