Ontario, Canada: Falun Dafa at the Bread and Honey Festival in Mississauga
June 11, 2016 | By Minghui correspondent Zhang Yun
(Minghui.org) The Bread and Honey Festival has been an annual event in Mississauga since 1973. Mississauga is part of the Greater Toronto Area, and is itself the sixth largest city in Canada. The Falun Dafa contingent in the parade featured the Divine Land Marching Band and a group of waist drummers. Their performances were well received.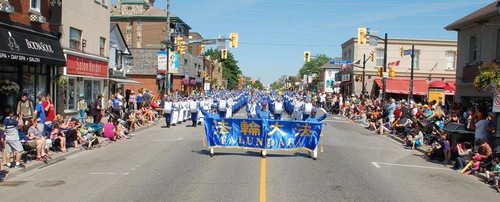 The Divine Land Marching Band led the Falun Dafa procession.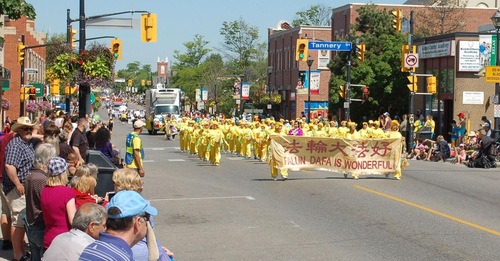 Waist drummers in the Bread and Honey Parade on June 4.
"Everything about This Group Is Great"
Brad Butt, former Parliament Member of Canada, offered the following praise, "I strongly support the Falun Gong community and the great things they are doing! It is such a wonderful faith and a group of wonderful people." He also mentioned that he is upset by the severe persecution of Falun Gong in China.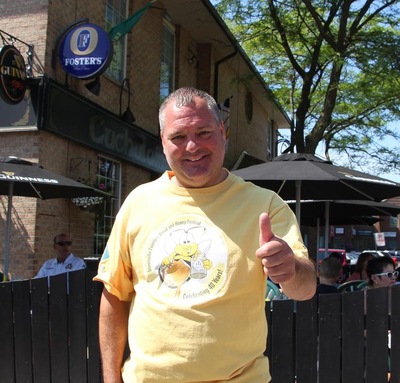 Former Member of Parliament Brad Butt gives a thumbs-up to Falun Gong.
Janice, who came from Europe to visit her family in Toronto, applauded the Falun Gong performances. "I am so excited to see this group. From the color, music, costumes, and positive energy, everything about this group is great."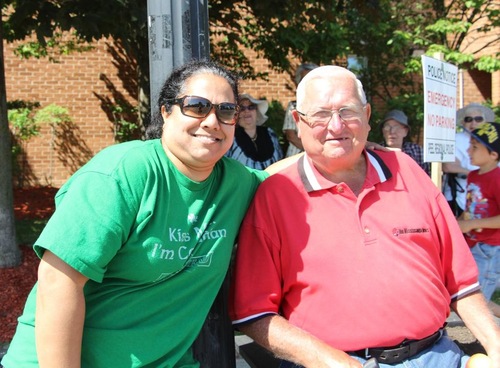 Janice enjoyed the Divine Land Marching Band.
Lorena Backowski greeted practitioners in front of her shop, "I love this group because the music is powerful. And every band member is so happy to share the joy with the community."
A man named Abbas agrees, "I have seen all groups in the parade today. Falun Dafa is the best, especially because of the beautiful music and uplifting energy." He said he had seen practitioners' parade in Hong Kong previously and is glad to see so many practitioners across different regions in the world.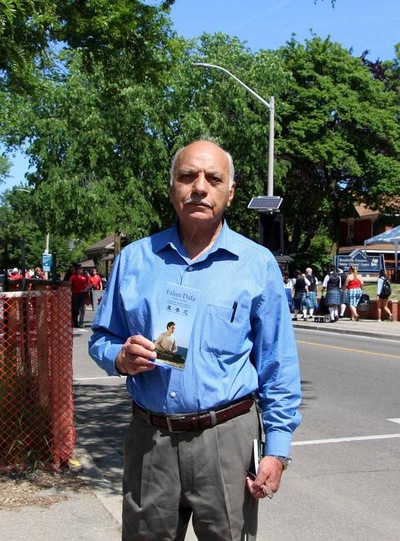 A man named Abbas said the Falun Gong performance was the best.
Another woman said, "We have seen the Shen Yun performance twice—one last year and one in April. We really enjoyed them and learned a lot from them."
Chinese Learn About the Persecution
Ms. Liu, an immigrant from Shanghai, watched the performance with her friends, "We have taken lots of pictures and videos of the Divine Land Marching Band and we will send them to China through social media."
Having heard the defamatory propaganda from the Chinese Communist Party (CCP), Ms. Liu said both she and her friends were astonished by the Falun Gong performance. "Back in China, one could be arrested or detained for practicing Falun Gong, but here these practitioners are all happy and full of energy." She knows practitioners follow principles to become better people and she is deeply touched by their courage.
At least 33 Chinese people agreed to separate themselves from the CCP regime after learning the facts of Falun Dafa. Among them were four old Chinese men who also participated in the parade as a senior group. "I have been a member of the Party for decades," said Mr. Wang from the group, "but I don't want to be involved with it anymore."