British Columbia, Canada: Falun Dafa Welcomed at Hats Off Festival Parade in Burnaby
June 11, 2016 | By Minghui correspondent Zhang Ran
(Minghui.org) For 11 years, the Hats Off Festival has been a community favorite in Burnaby. Burnaby is part of the metropolitan Vancouver area, and the third largest city in British Columbia, Canada. Many people attended the parade, a tradition since 1989. The Falun Dafa parade contingent impressed thousands with a performance by the Divine Land Marching Band, a Falun Dafa exercise demonstration, and a colorful group of waist drummers.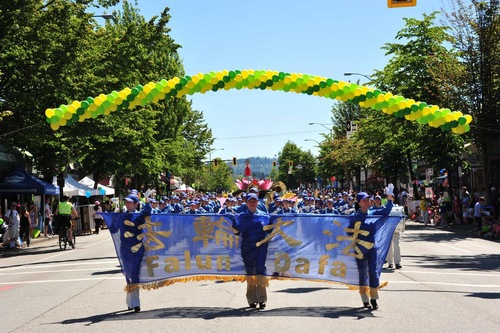 The Divine Land Marching Band in the Hats Off Festival Parade on June 4.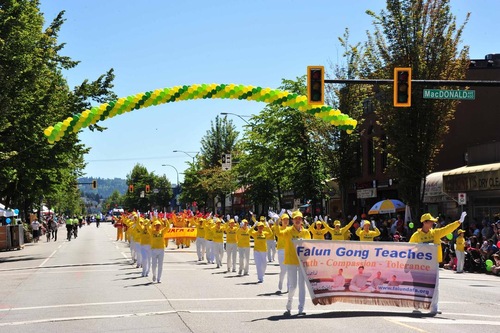 Exercise demonstration in the parade.
Building a Strong and Friendly Community
Glen Hierlihy, a renowned artist in the movie industry, said watching the Hats Off Festival Parade has been a routine for him for many years. "To build a strong and friendly community, it relies on each of us to respect each other and care about each other."
As an immigrant from Ireland, he said he is happy to see the diversity in the community. "Canada has a history of less than 150 years, while China already has a history of thousands of years." He is interested in learning more about the Chinese culture especially Falun Dafa.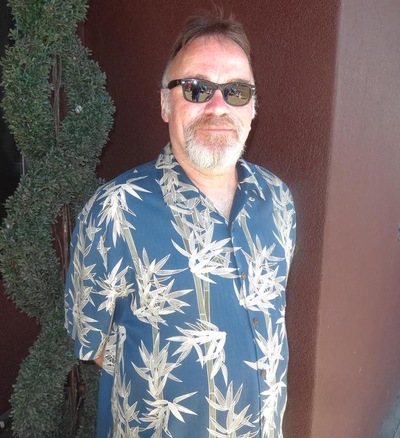 Glen Hierlihy said he likes the long history and traditional culture of China.
Hierlihy said he particularly liked the Falun Dafa float, "It [the float] gives us happiness and makes our community better."
Many community organizations and government agencies had booths at the event. Janet Routledge, a New Democratic Party candidate, said she likes to see people from various ethnic groups and cultural background coming to this event. It's a great opportunity to share and celebrate our cultures, she said.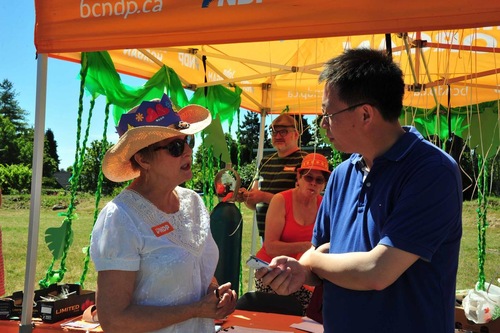 New Democratic Party candidate Janet Routledge welcomes Falun Dafa practitioners.
Best Group in the Parade
Ladek and his girlfriend moved to Burnaby about one month ago. "This is the first time we have been to the Hats Off Festival and I think we made a good decision," explained Ladek.
He said he had not heard about Falun Dafa in the past, but today's experience was good. "The Divine Land Marching Band is the best group in the parade. The color is excellent and the music is great." He took some materials and said he would read them later.
Bob, an immigrant from Vietnam, was very excited to see the practitioners' performance and took many pictures. As he was waving to some practitioners, he said he lives in Burnaby and watches the parade every year. "I like the band [the Divine Land Marching Band] because of the costumes and music. It is just awesome!" he exclaimed with a thumbs-up.