Finland: Celebration of World Falun Dafa Day Held in Downtown Helsinki
May 09, 2016 | By a Falun Gong practitioner in Finland
(Minghui.org) May 13 is the 17th World Falun Dafa Day, which marks the date on which the practice was first introduced to the public. Falun Gong (also known as Falun Dafa) practitioners in Finland held a celebration event in downtown Helsinki on May 7, 2016.
They demonstrated the Falun Gong exercises, raised awareness of the Chinese Communist Party's brutal persecution of the practice, and called on people to help stop the Chinese regime's harvesting of organs from living practitioners imprisoned for their faith.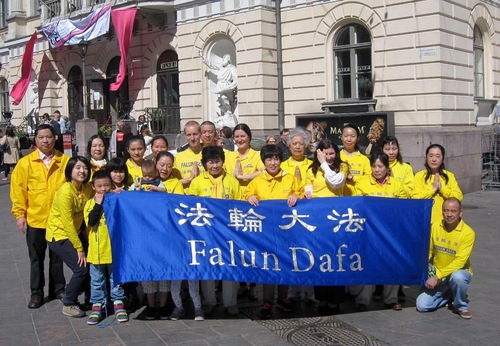 Falun Gong practitioners participate in a celebration in downtown Helsinki.
Many people paused to learn about the persecution. A gentleman signed the petition condemning the persecution in China. He bought a fresh flower a few minutes later and presented it to Ms. Zhu, who had talked with him. He said, "Thank you very much for spending your precious time to let me know the human rights violations in China. It was my biggest gain today."
Anna from Norway and her friends met with a practitioner collecting signatures. Anna said, "I never imagined that our tour in Finland led us to learn about [the persecution in China]. It is important to learn about it and resist the persecution."
Miva, a professional coach, expressed interest in learning Falun Gong after seeing the practitioners demonstrate the exercises. After learning that Falun Gong practitioners have been persecuted in China for the past 17 years, she said in sympathy, "Freedom of belief is a basic right and should be supported."