On a Hunger Strike over a Year, Mr. Zhou Xiangyang Being Force-Fed
May 28, 2016
|
By a Minghui correspondent from Tianjin, China
(Minghui.org) Mr. Zhou Xiangyang has been on a hunger strike for over 370 days to protest being persecuted for his belief in Falun Gong. He has been force-fed and handcuffed behind his back. He was arrested in March 2015 and is being held at the Dongli Detention Center in Tianjin.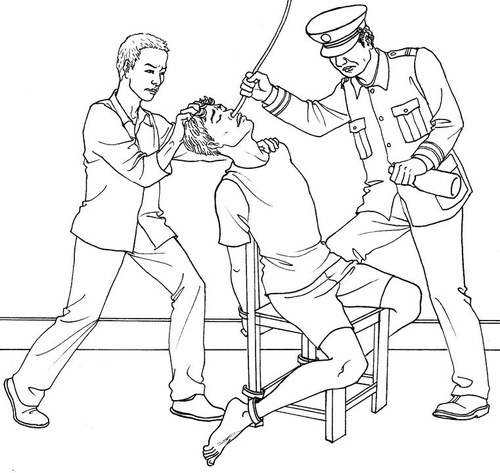 Torture Illustration: Force-feeding
The guards thrust a tube up his nose and into his stomach. They didn't pull the tube out after the force feeding so that it would be convenient for them when they do it again later.
When Mr. Zhou pulled the tube out, the guards cuffed his hands behind his back for a long time, injuring his shoulder.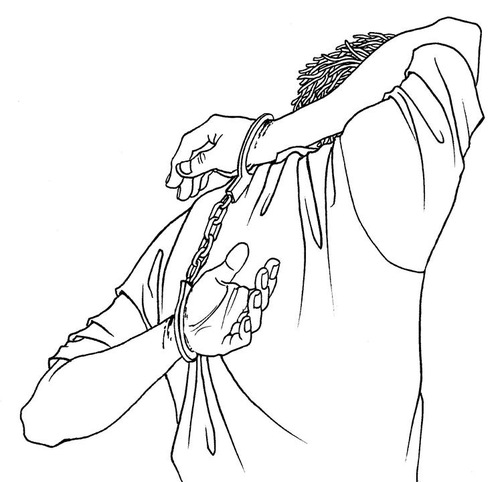 Torture Illustration: Handcuffed behind one's back
Mr. Zhou's parents have submitted their appeal to the procurator who works in the detention center.
Mr. Zhou used to be an engineer at the Tianjin Third Railway Exploration and Design Institute. He was sentenced to nine years in prison in May 2003 for practicing Falun Gong and was severely tortured.
Related reports:
Surveillance Leads to More Arrests and Trial Without Legal Representation
Young Couple Arrested Again after 10 Years Spent Trying to Rescue Each Other from Prison
Ms. Li Shanshan Leaves Labor Camp with Dignity after Closure of Hebei Women's Forced Labor Camp
Young Couple Subjected to Extreme Torture and Forced to be Apart
A Young Couple's Journey: Zhou Xiangyang's Fiancee Appeals Seven Years for His Release