More Celebrations of Falun Dafa Day in Germany
May 26, 2016 | By Minghui correspondent Xiang De
(Minghui.org) Like other countries, World Falun Dafa Day was recently celebrated by practitioners in Germany, the more populous EU country. In addition to events held in Berlin and Hamburg, here we report more activities in Düsseldorf, Frankfurt, and Munich.
Düsseldorf
Known for its academy of fine arts, Düsseldorf on the Rhine River is also an international business and financial center. Many people were drawn by the peaceful meditation by practitioners near Schadow Arkaden shopping mall on May 8. Some said they felt a strong energy field of the exercise and some began to learn the movements. One woman said she had been searching for a meditation method that suits her for three years, but had been unable to find one. "Now Falun Dafa seems to be a good choice for me," she added.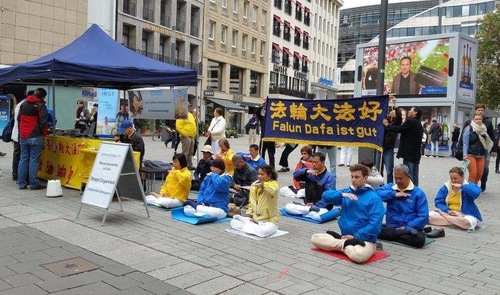 Group practice near Schadow Arkaden shopping mall in Düsseldorf.
People signed petitions to offer their support. Chinese tourists were also interested in the information and materials displayed by practitioners. Upon learning how the Chinese Communist Party (CCP) systematically deceived and harmed people in previous political campaigns, 30 of Chinese tourists agreed to renounce membership of the regime.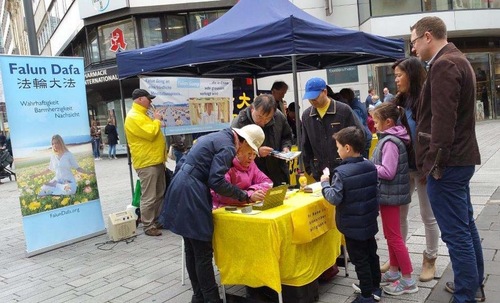 Passersby stopped to learn Falun Dafa and the suppression in China.
Frankfurt
Celebration at Frankfurt, the most important financial center of the European continent, occurred at St. Paul's Church. Ms. Zhu, who began to practice Falun Dafa in 2004, shared with residents and tourists how the meditation had improved her physical health. "More importantly, the principles of Truthfulness-Compassion-Forbearance gave me guidance in my life," she explained.
When she offered some Chinese tourists materials that were unavailable in China, hoping they could know the real story of Falun Dafa, one tourist from Shanghai said officials had told them not to accept Falun Dafa materials oversea, "Otherwise, the entire touring group would be in trouble."
Ms. Zhu explained to her how the Party had brainwashed Chinese people and the severe harm it had brought. In the end, the tourist was moved by her sincerity, "To be honest, we ordinary citizens know who are good and who are bad." She and 20 other tourists agreed to quit the CCP organizations.
Munich
Practitioners from Bavaria and Austria joined the celebration at St. Michael's Church in Munich, the third largest city in Germany. Impressed by the beautiful music, many people stopped to watch and some began to learn the exercises.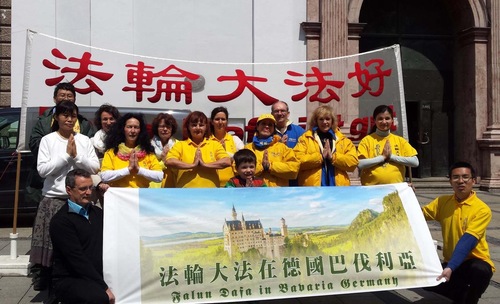 Practitioners wish happy birthday to Mr. Li Hongzhi, founder of Falun Dafa.
After learning the brutality against practitioners in China, some people signed petitions to support Falun Dafa practitioners. One Chinese tourist thanked a practitioner for telling her the persecution in China and said, "I hope the CCP regime will come to an end soon."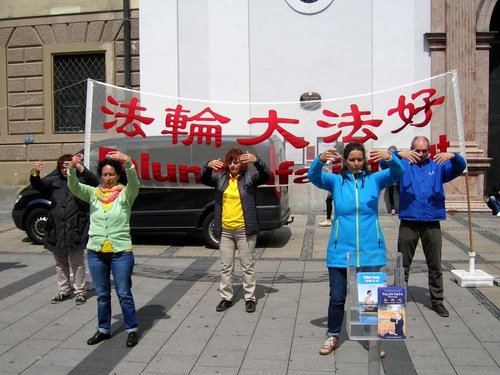 Standing exercises at St. Michael's Church in Munich