Repeated Torture Paralyzes Mr. Zhang Jinku, Prison Authorities Deny Maltreatment and Threaten Family
February 07, 2016 | By a Minghui correspondent in Heilongjiang Province, China
(Minghui.org) Since he was sent to Hulan Prison in Heilongjiang Province to serve a five-year sentence in 2013, Mr. Zhang Jinku has been subjected to repeated torture that has left him paralyzed. His condition continues to deteriorate.
Prison authorities have denied any maltreatment and threatened his family not to say anything publicly about his situation. The local 610 Office provided cover for the prison, refusing to investigate the family's complaint.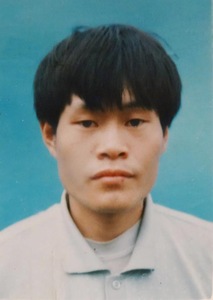 Mr. Zhang Jinku
Mr. Zhang's mother visited him in prison in October and November 2015. Two inmates wheeled him out in a cart and had to prop him up in a chair. He could not raise his head or arm. One inmate held the telephone headset for him. Tears ran down his cheeks when Mr. Zhang saw his mother on the other side of the glass. He attempted to speak but could not make a sound. One of the inmates said, "He cannot walk on his own. His leg muscles are atrophied. He cannot speak and eats very little."
As he struggled to speak, he appeared to be in severe pain. His mother noticed a bandage on his left index finger. She asked him to nod if he was beaten and he struggled to nod his head slightly. He fainted after about ten minutes, which happened several times during recent family visitations. He told his mother during past visits, when he could still speak, that he was beaten.
His mother was extremely worried for his life. She went to the local 610 Office to request his release, only to be manhandled herself. As she cried and pleaded in front of the 610 officials, they shouted at her and shoved her around.
Desperate and having no other means, his family joined two detained practitioners' families in filing complaints with the Provincial Bureau of Prison Management in November 2015. They were told that the case would be transferred to the 610 Office for further investigation. Later they also filed complaints with the procuratorate office.
When the families went to the prison that same afternoon, they were denied visitation. When asked why, an officer said, "Don't you know what you did to cause this?" The families then realized it was retaliation for their complaints to the Bureau of Prison Management.
Later when Mr. Zhang's family called Zhang Hepeng, an official from the prison supervisory office, they were told, "I have completed my investigation. You have wasted two days of my time because your accusations are not true at all. Zhang Jinku was carried in a cart because he did not want to walk himself. He could not raise his head, but it was not caused by any beating or maltreatment. You have made false accusations, and I could notify the local police to take action against you for that."
An official from the Hulan Prison's supervisory office telephoned Mr. Zhang's family in December 2015 again and repeated their claim that no beating ever happened.
Mr. Zhang's case and the previous developments have been reported on the Minghui website extensively. Details can be found at the following links.
Zhang Jinku in Critical Condition from Torture, Family Renews Call for His Release
Mr. Zhang Jinku Tortured While Imprisoned—Can No Longer Speak
Mr. Zhang Jinku in Critical Condition—His Family Given Runaround Concerning Medical Parole
Mother Distraught as Son Is Seriously Ill from Torture
Zhang Jinku's Life in Danger, Family Calls for Urgent HelpPractitioner Near Death, Prison Refuses to Release Him for Medical Care