Mother Distraught as Son Is Seriously Ill from Torture (Photo)
June 02, 2014 | By a Minghui correspondent from Heilongjiang Province, China
(Minghui.org) Mr. Zhang Jinku's mother was overwhelmed by sadness and pain when she saw her son. She broke down in tears when she saw how he was extremely weak and listless after enduring a year of torture in prison.
Mr. Zhang's mother and his wife traveled to Hulan Prison on the afternoon of April 14, 2014. After a long wait, they were finally allowed to see him.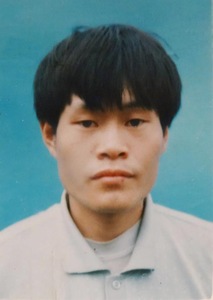 Mr. Zhang Jinku
Dull and Lifeless from Torture
Mr. Zhang was wheeled to the visiting room. He got up, with the aid of two inmates, and walked slowly to the viewing window. His face looked dull and lifeless. His mouth opened involuntarily and his tongue hung out.
This was the first time his mother had seen him since his arrest in 2013. He was strong and healthy at that time. His mother was shocked by his appearance and felt like she was losing her son. She broke into tears, and the guard repeatedly threatened to throw her out if she kept crying. She turned to the guard and said over and over again, "This is my son, my son …"
Tortured in Prison
Mr. Zhang talked to his wife through the telecom system. When she asked him about his appetite, he told her that he ate one steamed bun every day. She then asked if he had been beaten, to which he replied, "Not now, but I used to be beaten." Mr. Zhang's wife knew that he suffered from headaches and asked him if it was a result of being beaten. He said, "Yes, Wang San beat me with a club."
The inmate monitoring the visit immediately grabbed the phone and said to Mr. Zhang's wife, "No one beat him."
Once Mr. Zhang was back on the phone, he was heard saying to the inmate, "You were at the scene when that guy beat me." The inmate then tried to grab the phone again and wanted to end the conversation, saying, "If you keep talking nonsense, there will be no more family visits for you." Mr. Zhang's wife shouted into the phone in frustration: "He said that he was beaten. That's his right to let me know."
Mr. Zhang spoke with great effort and kept telling them that he felt ill and that he was in bad shape. He said that he had difficulty moving his legs and felt sleepy all the time.
Mr. Zhang kept touching his head, face and throat. He said he coughed constantly and had contracted tuberculosis, which caused the pain in his throat. He had lost some of his teeth and his chest was injured.
The visit ended after 30 minutes. When Mr. Zhang stood up to leave, he appeared to be in great pain. He walked away very slowly with the support of the two inmates.
Background Information
Mr. Zhang was arrested in Yilan County on March 29, 2013. He was brutally beaten, and handcuffed with one arm behind his back and the other over his shoulder. He developed inflammation in his lungs, which turned into tuberculosis.
The beating and abuse continued after he was sentenced to 5 years in Hulan Prison. His health deteriorated and he was in critical condition many times.
Family visits were denied visitation three times by director Wang Xiaochen of the prison 610 Office, because Mr. Zhang refused to renounce his belief in Falun Gong.
Related articles:Practitioner Near Death, Prison Refuses to Release Him for Medical CareMr. Zhang Jinku in Critical Condition—His Family Given Runaround Concerning Medical ParoleZhang Jinku's Life in Danger, Family Calls for Urgent HelpMr. Zhang Jinku Near Death Due to Torture and Abuse in DetentionImprisoned and Emaciated Practitioner on Hunger Strike Still Tortured