Brainwashing Centers Continue Former Labor Camps' Role in the Persecution of Falun Gong Practitioners
June 02, 2014 | By a Falun Gong practitioner from Beijing
(Minghui.org) Although the labor camp system in China has been closed down, the systematic persecution of prisoners of conscience, especially Falun Gong practitioners, continues in China to this day. Brainwashing centers have taken the place of labor camps and have become the Chinese Communist Party's (CCP) primary locations where Falun Gong practitioners are incarcerated and tortured.
This report summarizes recent cases of Falun Gong practitioners being incarcerated and persecuted in brainwashing centers in the Beijing area. Most of the Falun Gong practitioners arrested in March and April 2014 in Beijing have been incarcerated in brainwashing centers outside Beijing.
In March and April 2014, forty-seven practitioners in Beijing were illegally arrested and held in brainwashing centers. One practitioner was tortured to death in custody.
On April 21, officials from the Fangshan District Political and Legal Committee arrested Ms. Wang Shuwen. They also attempted to arrest Ms. Wang Xiufeng who had no choice but to become homeless in order to avoid certain arrest.
On April 12, a practitioner from Caiyu Township was first detained for fifteen days, then incarcerated in the Beijing Institute of Printing to undergo brainwashing in an attempt to force her to renounce her belief. Ms. Xu Qingjian, a college English instructor, was arrested at the same time.
Ms. Liu Fen was arrested on April 10 for talking to people about Falun Gong, and was incarcerated in the Fengtai District Brainwashing Center.
In April, several practitioners from Liangxiang Township in Fangshan District were arrested. The local government planned to run a brainwashing center there.
Ms. Wang Zhiyao was arrested on March 5, and two other practitioners, Ms. Liu Yuhua and Ms. Geng were also arrested outside Ms. Wang's apartment that day. All three were detained for 35 days, and were later released on bail awaiting trial. On April 23, when Ms. Wang Zhiyao went to the police station to ask for the return of her personal belongings, which the police had confiscated, she was locked up in a brainwashing center.
On March 21, practitioners from Jiansanjiang City in Heilongjiang Province and their attorneys were arrested and tortured in detention. Authorities in Beijing and the Beijing Bureau of Justice prevented attorneys from Beijing from going to Jiansanjiang to show their support for their colleagues. In addition, officials in Beijing also persecuted attorneys who entered not-guilty pleas for Falun Gong practitioners. Lawyers in Beijing were required to sign statements swearing to the government that they would not represent Falun Gong practitioners or enter innocence pleas for them, otherwise their annual license renewal would be denied or their license would been revoked altogether.
In addition to practitioners being incarcerated in brainwashing centers, the following cases of severe persecution have been reported.
April 25 - Police on Full Alert in Haidan District
On April 25, 1999, over ten thousand practitioners went to Beijing to quietly protest activities that were against Falun Gong and to appeal to the government for the return of a peaceful environment in which to practice their belief. From then on, the CCP treated April 25 as one of its "sensitive days" on which the persecution of Falun Gong practitioners is intensified.
On April 24, 2014 local police from Haidian District prohibited practitioners in the area from leaving their homes regardless the reason, including grocery shopping.
On the evening of April 24 and the entire day on April 25, local police and security guards took turns monitoring practitioners. Because many understood the truth of Falun Gong, a number of them expressed resentment at how much money and effort the CCP puts into persecuting ordinary Chinese people who follow the principle of Truthfulness-Compassion- Forbearance.
Mr. Ge Peijun Injected with Unknown Drugs, Suffered Organ Failure
A Beijing practitioner, 76-year-old Ge Peijun was arrested in May 2008 while distributing materials which contained information about Falun Gong. He was sentenced to five years of imprisonment and taken to Qianjin Prison where he was tortured and injected with unknown drugs. The drugs, coupled with the years of brutal persecution at Qianjin Prison, eventually caused Mr. Ge's death on April 14, 2014 from systemic organ failure.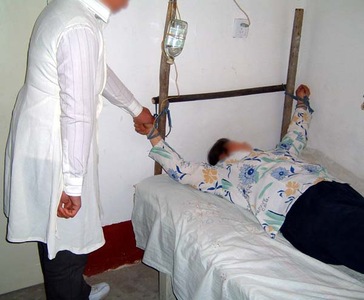 Torture reenactment: injection of unknown drugs
Full report: Mr. Ge Peijun Dies from Systemic Organ Failure Caused by Years of Brutal Persecution
Mr. Yue Nanming's Whereabouts Unknown
Mr. Yue Nanming went out on April 26, 2014 and has not returned since. His current whereabouts are unknown.
On April 29, police collected DNA from personal items in his home. They refused to inform his family of his whereabouts. Mr. Yue's family is very concerned that those who took him might have already killed him. They do not understand why the police needed his DNA.
Full report:Mr. Yue Naiming Missing, Police Take DNA Samples from His Home