Mexico City: Forum on Falun Gong Held in Chamber of Deputies
December 09, 2016 | By practitioners in Mexico
(Minghui.org) A forum entitled "Falun Gong—Improving Health in Mind and Body" was held at the Chamber of Deputies on November 25, 2016 in Mexico City, Mexico. Practitioners presented how Falun Gong has brought positive changes to those who practice it around the globe.
With 500 federal representatives, the Chamber of Deputies is the lower house of Mexican Congress. Members first listened to practitioners explain ancient Chinese culture, the prehistoric civilization in Mexico, and their connection to nature and the earth.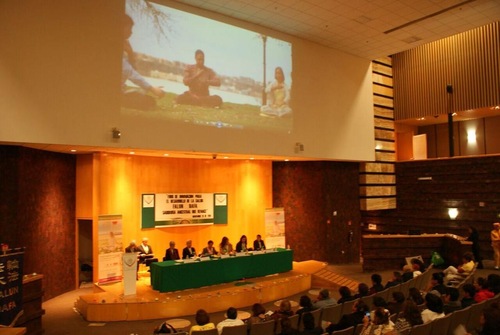 Practitioner introduces Falun Gong at the Chamber of Deputies on November 25, 2016.
In the follow-up discussion focusing on human rights and humanity, speakers illustrated how practitioners have been severely persecuted in China since 1999, including the forced organ harvesting crimes. They pointed out that by suppressing Falun Gong and the principles of Truthfulness-Compassion-Forbearance, Jiang Zemin and the Chinese communist regime was undermining basic humanity and human rights.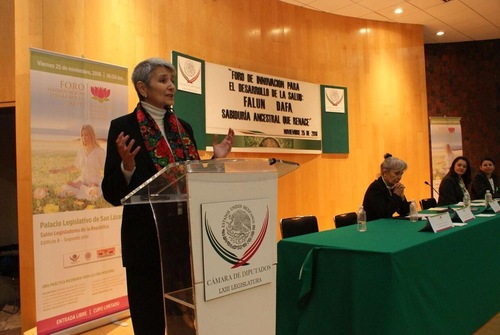 A practitioner speaks at the conference.
The last session covered Falun Gong's health benefits. Surveys have shown that the practice has improved the physical health and mind nature of people in many countries. Officials discussed if the practice could be introduced in schools, communities, or the healthcare system.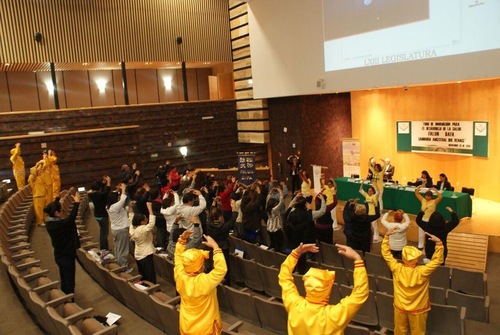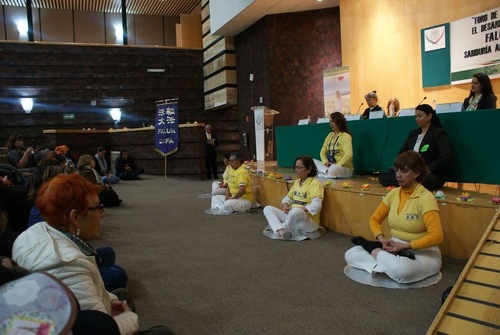 Demonstrating the exercises from Falun Gong practitioners at the Chamber of Deputies.
Falun Gong was introduced to Mexico in 2001, and practitioners have since been telling others about the meditation and raising awareness of the suppression in China. Human Harvest, a documentary film on forced organ harvesting in China, was screened at the National Autonomous University of Mexico on August 24, 2016. The Independent Singapore reported that hundreds of police officers congregated in Mexico City in July to practice Falun Gong as a means of quelling violence.