Minghui Report: 258 Cases of Falun Gong Practitioners Sentenced for Their Faith Newly Reported in September-October 2016
November 15, 2016 | By a Minghui correspondent
(Minghui.org) According to information compiled by Minghui.org, September and October of 2016 recorded 258 new cases of Falun Gong practitioners sentenced to prison by the Chinese Communist Party (CCP)'s court system.
The majority of the practitioners were sentenced for making and distributing materials, or talking to people about the communist regime's persecution of Falun Gong. The remaining 35 were sentenced for filing criminal complaints against former Chinese leader Jiang Zemin, who ordered the brutal persecution of Falun Gong in 1999.
Mr. Pan Shuicai of Huangxi Town, Jiangxi Province was recently given three years in prison for suing Jiang. The police declined to grant him a temporary release to visit his dying father. Officer Zeng said, "We allow murderers and arsonists to see their families, but not Falun Gong practitioners!" Mr. Pan's father passed away without seeing him.
In addition to sentencing the practitioners to prison, the court also fined 43 practitioners a total of 501,400 yuan. The fines ranged from 2,000 to 30,000 yuan, with an average amount of 11,660 yuan and a median value of 10,000 yuan.
As no law in China criminalizes Falun Gong, the guilty verdicts against Falun Gong practitioners were often preceded by courts' blatant violation of legal procedures. Sixty-four practitioners filed appeals requesting to have their prison sentences overturned. While one practitioner got her local higher court to throw out the original verdict and order a new trial, nine other practitioners have already seen their appeals turned down.
Delayed Reporting on Sentencing of Practitioners
Due to the CCP's information blockade, the persecution of Falun Gong practitioners cannot always be reported in a timely manner, nor is all the information readily available.
There is no information on when the guilty verdicts were issued against 97 of the affected practitioners. The remaining 161 practitioners were sentenced in 2016, with the monthly tally reading: January (2), February (0), March (1), April (2), May (4), June (13), July (20), August (35), September (55), and October (29).
Practitioners All Across China Targeted
The newly reported cases concern practitioners hailing from 27 provinces and centrally-controlled municipalities. Shandong Province registered the most newly reported sentencing cases (44), followed by Liaoning (36), and Heilongjiang (20).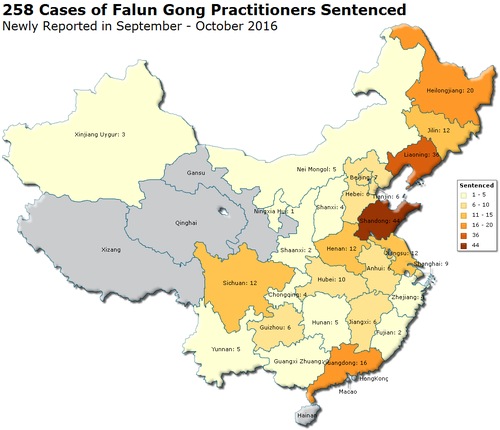 Violation of Court Procedure
In many cases, the courts violated legal procedures and illegally sentenced the practitioners, from sending practitioners to prison without holding a trial to failing to notify family and/or lawyers of upcoming trials. When lawyers were allowed to represent practitioners, they often faced obstacles while trying to meet with their clients and make preparations for their defense.
Woman Sentenced to Prison Without Trial
Ms. Hu Gaohua was arrested on April 14, 2016, and sentenced to three years without a formal trial. The Xiangyang City, Hubei Province resident has been transferred to Wuhan Women's Prison to serve her time.
Courts' Excuses for Secret Trials
Four Falun Gong practitioners in Gaomi City, Shandong Province were tried without their families' knowledge. Ms. Shan Jihua's and Ms. Zhang Xiuhua's families hired lawyers as soon as they found out about the secret trial. The court, however, refused to allow the lawyers to represent the practitioners, with the excuse being that the hearing had already concluded.
When the families questioned why the court failed to give advance notice of the trial, a court president named Zong Minghai said, "We just didn't want you to know about the hearing!"
Ms. Shan was later sentenced to 3 years, Ms. Zhang and Ms. Xu Xiaolan were each given 1.5 years, and Ms. Li Shumei received 2 years.
Mr. Yu Wuping of Yichun City, Jiangxi Province was sentenced to 3 years on August 10, 2016 without the knowledge of his family. The court claimed that he was an adult and thus there was no need to notify his family.
Higher Court Orders Retrial of Falun Gong Practitioner Who was Sentenced Without Legal Representation
An intermediate court in Guan County, Shandong Province recently overturned a guilty verdict against a local resident who had been sentenced for her faith, on the grounds that the court failed to inform her lawyer of the hearing as required by law.
Ms. Ni Ruju was arrested on October 28, 2015, for sending out information related to Falun Gong on cell phones. The Procuratorate returned her case to the police department in May 2016, citing insufficient evidence.
The police soon gathered more "evidence" against her and re-submitted her case to the Procuratorate.
Ms. Ni's family hired a well-known human rights lawyer, Mr. Zhang Zanning, to defend her constitutional right to freedom of belief.
Chen Yanmin, the public prosecutor in charge of the case, personally accepted Ms. Ni's power of attorney document when Mr. Zhang visited the Procuratorate to review her case file.
The police showed up at Ms. Ni's home three times and tried without success to pressure her family into dropping the lawyer.
The Guan County Court tried Ms. Ni on June 15 without notifying her attorney. Ms. Ni herself didn't realize she was about to be tried until she was brought to the courtroom.
When she questioned why her lawyer wasn't present, prosecutor Chen claimed that Mr. Zhang hadn't provided the required defense arguments.
The lawyer inquired about her case five days after the trial and was told that the court had not received her power of attorney, and thus assumed that she didn't have a lawyer.
Ms. Ni was sentenced to a two-year prison term on July 20, 2016.
She filed an appeal with the Liaocheng City Intermediate Court. Mr. Zhang met with judge Wang Yali of the higher court, who agreed that the trial court had indeed violated legal procedure.
The Intermediate Court issued a decision on September 22, nullifying the lower court's verdict against Ms. Ni, ordering a retrial, and allowing Mr. Zhang to represent her in court.
Tianjin Couple Given Prison Term for Their Faith, Vow to Appeal Unjust Sentence
Mr. Zhou Xiangyang and his wife, Ms. Li Shanshan, were arrested on March 2, 2015, and first appeared in court on November 30, 2015. Ms. Li's lawyer was not able to make it that day, and Mr. Zhou's lawyer was repeatedly interrupted by judge Zhang Yaling while trying to present his defense argument.
Mr. Zhou wanted proper legal representation for both his wife and himself, so he decided to drop his lawyer in the middle of the hearing. By law, the presiding judge is required to halt the hearing, allow the defendants to hire new lawyers, and hold a new hearing at a later date.
Judge Zhang, however, proceeded with the hearing.
The couple filed a complaint against Judge Zhang a month later, and the Dongli Court agreed to grant the Tianjin couple a second hearing. Judge Zhang, however, repeatedly postponed the new court date, most recently a month and a half before the eventual hearing.
Mr. Zhang Zanning, one of the couple's new lawyers, had already arrived in Tianjin on July 31, 2016 when he received a phone call from Judge Zhang informing him of the sudden cancellation of the hearing set for August 2.
Mr. Zhang protested the repeated delays and argued that by law, his clients should be released on bail given the situation. His request was turned down.
The new hearing did not take place until September 13, 2016, with the same judge at the helm. One month later, the judge announced a guilty verdict, sentencing Mr. Zhou to 7 years and Ms. Li to 6 years. The couple are appealing their sentences.
Both Lawyer and Defendant Deceived
Mr. Gao Zhiyong, a Tianjin resident, was arrested on November 5, 2015. His attorney was told by the Wuqing District Detention Center and Procuratorate that his client had no interest in meeting with him before the hearing.
When Mr. Gao appeared in court on May 20, 2016, his lawyer asked him, "I went to the detention center twice, but was told that you didn't want to see me. Your family was deeply worried about you. Why did you decline a meeting with your lawyer?"
"I didn't know you came to visit me!" Mr. Gao responded. "No one ever told me about it." He also stated that he didn't know he was about to be tried until he was brought to the courtroom.
Mr. Gao was sentenced to 4.5 years on September 29.
Lawyer Not Notified of Sentencing Hearing
Weicheng District Court in Weifang City, Shandong Province held a sentencing hearing on September 6 without informing the defense lawyers. Sun Jianchun and Xian Chunwei were each given 4 years and Li Zuping 3.5 years. They have filed appeals.
Judge Becomes Puppet of Political and Legal Affairs Committee
Ms. Zhao Liya of Ye County, Henan Province was sentenced to 4 years in prison on September 7, 2016. When her lawyer questioned the legal basis for such a heavy sentence, the judge replied, "I have no choice. The Political and Legal Affairs Committee made the decision, and I must follow it."
Heavy Fines
Four practitioners in Nanjing City, Jiangsu Province were arrested on March 23, 2015, and tried on September 17, 2015, after which their case remained dormant.
Qinhuai District Court officials summoned the practitioners' families for a talk on October 12, 2016, but mentioned nothing about an imminent hearing.
The families were stunned when they found out that their loved ones had been sentenced to prison on October 14. Ms. Xie Lihua was given 3 years and fined 30,000 yuan, Ms. Tang Jingmei and Ms. Pan Xiaoqin were each given 2 years and fined 20,000 yuan, and Ms. Pan Qingning was given 1 year and fined 10,000 yuan.
In addition to the four practitioners, 39 other sentenced practitioners from various regions were also ordered to pay fines.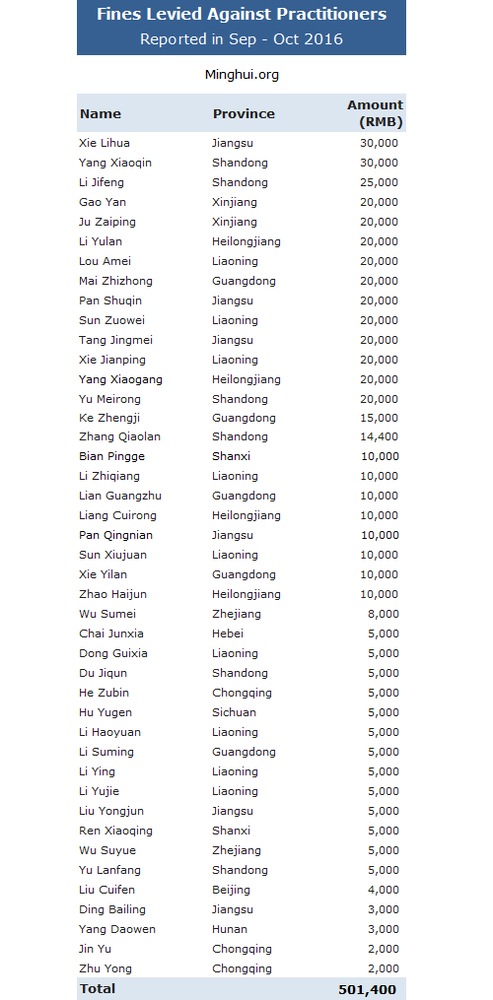 While the courts levied heavy fines against sentenced practitioners, it has also been reported that the police had confiscated a total of 348,000 yuan in cash from five practitioners.
Ms. Xu Ruiping from Jiedong, Guangdong Province was arrested on February 25, 2016. Police confiscated more than 300,000 yuan in cash and other valuables from her home. Her lawyer notified her family on September 21 that she had been sentenced to 10 years, the longest term among all the 258 sentenced practitioners.
Related Reports:
Minghui Report: 230 Falun Gong Practitioners Illegally Sentenced between July and August of 2016
Minghui Report: Overview of Persecution of Falun Gong in First Half of 2016 (Part 2 of 2) – 510 Sentenced, 801 to Face Punishment for Their Faith