Former Military Officer Sues Jiang Zemin for Torture in Prison and Labor Camps
January 28, 2016 | By a Minghui correspondent from Shenyang, Liaoning Province
(Minghui.org) Mr. Cui Dejun, 45, a former military officer from Shenyang, Liaoning Province, filed a criminal complaint against former head of the Chinese communist regime in August 2015 for years of imprisonment and torture for his spiritual belief in Falun Gong.
For refusing to renounce his faith, Mr. Cui was forced to leave his post in the military in 2000. When he started a small business, police twice broke into and ransacked his shop. He and his wife were arrested twice and sentenced to a total of eight and five years, respectively, in prisons and forced labor camps.
At the notorious Masanjia Forced Labor Camp, Mr. Cui was subjected to many forms of torture. "The torture I experienced there were beyond comprehension. The persecution is taking humanity away from the guards and turning them into demons," wrote Mr. Cui.
Encountering Falun Gong
At a young age, Mr. Cui suffered from many stomach problems. A gastroscopy revealed that his stomach was riddled with holes.
He began to practice Falun Gong after his wife introduced him to the practice. A few months later, he was surprised to find that his health problems had disappeared.
He wrote, "In the days of the persecution, despite all the intensive force-feeding I suffered, I never had long-term stomach problems again. I think the practice is truly miraculous!"
Forced to Leave His Post
Mr. Cui was rising in his military career when the communist regime launched its persecution of Falun Gong in 1999. He was promoted to a transportation chief in 2000. However, because of the regime's guilt-by-association policy, his would face the pressure of being dismissed if anyone in his unit practiced Falun Gong.
"I didn't want my supervisor to be implicated because of me. I also didn't want to give up practicing Falun Gong, so I chose to leave the military, only one day before my new position became effective," wrote Mr. Cui.
He opened a small computer repair shop. Soon, on October 25, 2000, a group of police officers raided his shop. They took away everything and arrested him. His wife was also arrested from her workplace at the same time.
After being held for 14 months at Wafangdian Detention Center, the couple were sentenced to five and three years in prison, respectively.
Force-Fed Concentrated Salt Water
At Dabei Prison, Mr. Cui started a hunger strike to protest the persecution of Falun Gong practitioners like himself. Guards began to force-feed him two weeks later–not with food, but concentrated salt water.
"This is a detrimental measure against people who are on a hunger strike, as it will cause one's body to be severely dehydrated. When they force-fed me with the salt water, I felt my stomach was burning, as if it was being turned inside out," Mr. Cui recalled.
"There was one time after force-feeding that I felt my body was so weak and I couldn't sit at all, and my head was in a daze. I suspected that they added drugs into the water."
Sent to Forced Labor Camp Again
Mr. Cui was released on October 25, 2005, after five years of imprisonment. He came home to an empty house that had been raided by the police, and both he and his wife were unemployed. With their limited savings, they opened a convenience store. When their business grew larger, they sold the convenience store and opened an office supply shop.
Their peaceful life, however, didn't last very long. Police broke into his store on July 9, 2007, and arrested him, his wife, and their six employees. Their store and home were ransacked.
Although their employees were later released, Mr. Cui and his wife were sent to forced labor camps. He later found out that the police had arrested him and his wife to meet a quota.
"The police sent us to the labor camps in a rush, without filling out all the proper paperwork. Our address was even wrong." Mr. Cui said, "My wife and two other female Falun Gong practitioners were taken to the Masanjia Forced Labor Camp. Three male practitioners and I were first taken to Dalian Forced Labor Camp. They locked me to the ground for a month and transferred me to the Masanjia Labor Camp."
Torture Beyond Comprehension
At the notorious Masanjia, Mr. Cui was subjected to all kinds of torture. The guards often said to him, "We don't follow the law here. If we did, the entire labor camp would be gone."
With help from some kindhearted inmates, Mr. Cui escaped the labor camp on August 12, 2008 during the Beijing Olympics. He was listed as the top wanted person and hunted by police all over Shenyang. Meanwhile, many of his family members were arrested, tortured, and interrogated.
"I think they feared that I would expose the persecution and torture in the labor camp to the outside world," Mr. Cui wrote.
He was captured three days later. This time, the labor camp extended his term by one year and escalated his torture.
The guards did all kinds of things to him, including spraying wasabi paste into his nose, spreading chili oil on his genitalia, inserting burning cigarettes into his nose, shocking him with high voltage electric batons, forcing him to do splits, tying him to a "death bed," hanging him up for long time, and other torture methods.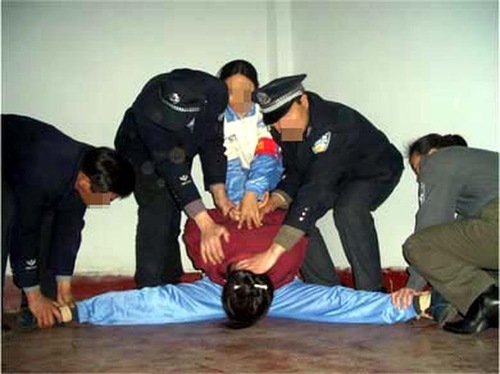 Torture re-enactment: Splitting the legs
Related report:
Unimaginable Cruelty at Masanjia Forced Labor Camp
Background
In 1999, Jiang Zemin, as head of the Chinese Communist Party, overrode other Politburo standing committee members and launched the violent suppression of Falun Gong.
The persecution has led to the deaths of many Falun Gong practitioners in the past 16 years. More have been tortured for their belief and even killed for their organs. Jiang Zemin is directly responsible for the inception and continuation of the brutal persecution.
Under his personal direction, the Chinese Communist Party established an extralegal security organ, the "610 Office," on June 10, 1999. The organization overrides police forces and the judicial system in carrying out Jiang's directive regarding Falun Gong: to ruin their reputations, cut off their financial resources, and destroy them physically.
Chinese law allows for citizens to be plaintiffs in criminal cases, and many practitioners are now exercising that right to file criminal complaints against the former dictator.