Japan: Over 4,000 People Sign Criminal Reports Against Jiang Zemin in Kansai
(Minghui.org) A two-week-long signature drive in the Kansai area was successfully completed before the end of August, where more than 4,000 people co-signed on a criminal report against Jiang Zemin, the former Chinese dictator who ordered the persecution of Falun Gong.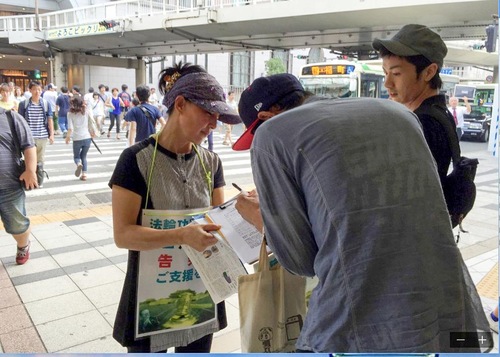 Japanese people sign the criminal complaint forms against Jiang Zemin.
Many people immediately signed their names when they learned that the criminal report was charging Jiang Zemin, as they wished to bring Jiang to justice as soon as possible.
One lady brought cold drinks for the practitioner volunteers who were working under the summer sun. After learning about the evil deeds of Jiang Zemin, she signed the criminal report without hesitation. She then took a blank form and helped the practitioners to collect more signatures.
A middle-aged woman encouraged practitioners to continue their efforts, saying that the expression of their will was important, and world peace is the people's will.
By the end of August, more than 4,000 people had signed criminal reports charging Jiang Zemin. All the reports were mailed to the Supreme Procuratorate and the Supreme Court in China.