Taiwan: 20,000 Sign Criminal Reports Against Jiang Zemin
September 25, 2015 | By Zheng Yuyan in Taiwan
(Minghui.org) More than 20,000 residents in Taiwan's Taoyuan City, including several public officials, signed criminal report forms against former Chinese dictator Jiang Zemin.
Since May 2015, Jiang has been charged with crimes in thousands of lawsuits filed with China's Supreme Court and Supreme Procuratorate. Jiang is the target of the lawsuits because he is responsible for launching the persecution of Falun Gong in 1999, which includes the state-sanctioned organ harvesting from executed Falun Gong practitioners.
According to Chinese law, a criminal report form signed and dated by any individual with knowledge of a crime can be submitted to the Supreme People's Procuratorate and Court for investigation.
The huge number of signees from Taoyuan City on this criminal report form was made possible by an policy amendment made to China's legal framework in May. Since the amendment, which gave Chinese citizens more rights to have their cases heard in the courts, Falun Gong practitioners who have suffered illegal detention, torture, and forms of financial persecution have filed lawsuits. Many practitioners in China were arrested soon after filing their lawsuits, which must be mailed to the courts through post offices. Some practitioners were arrested at the post office before they had the chance to file.
To date more than 180,000 people have filed criminal complaints against Jiang, both in China and abroad, according to copies of the criminal complaints coupled with mail confirmations that were sent to the Minghui website since May.
Many elected officials from Taoyuan City took a stance against the Chinese Communist Party's persecution of Falun Gong by signing criminal report forms against Jiang.
Former Taoyuan City Councilman Guo Rongzong condemned the Chinese Communist Party's persecution of Falun Gong. He signed a criminal report form against Jiang Zemin.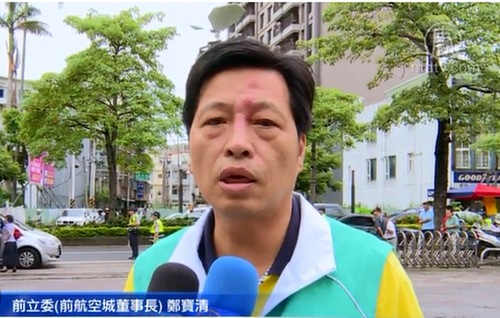 Former President of the Board of Taoyuan International Airport Zheng Baoqing signed the criminal report form against Jiang Zemin. He called on the Chinese Communist Party to respect freedom of belief.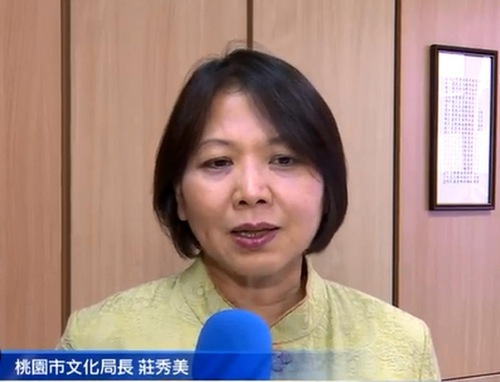 Director of Department of Culture Taoyuan City Zhuang Xiumei condemned the Chinese Communist Party's persecution of Falun Gong.
Zhuang Xiumei, director of the Department of Culture for Taoyuan City, said she and Taoyuan's people respect the sacrifice of the people in mainland China who have risked their lives to sue Jiang Zemin. "The Communist Party knows how to use terror to control Chinese people. When you have no fear, however, the regime is scared," she said.
She encouraged more Chinese people to step forward and join the lawsuits against Jiang. "When people are awakened and aware of the situation, that the regime has been using high pressure to maintain a surface harmony, the regime is doomed," Zhuang said.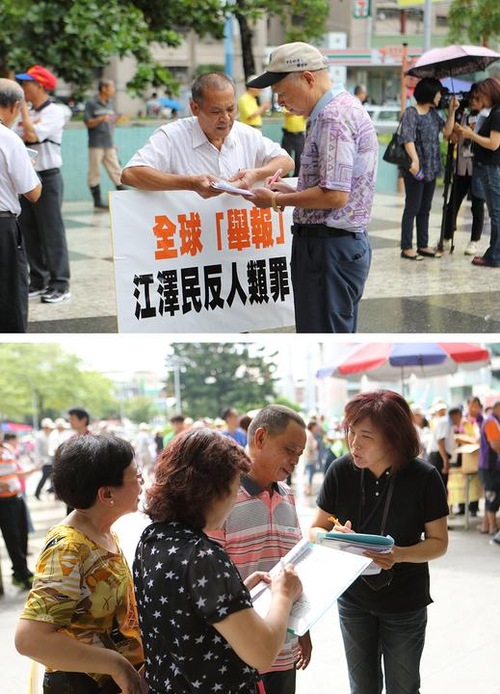 People of Taoyuan City sign the criminal complaint against Jiang Zemin.
Taoyuan City resident Mr. Cai told Minghui that Jiang Zemin must be held responsible for the systematic human organ harvesting crimes in China. "We must use the world's media to stop this atrocity," he said emphatically.
Taoyuan residents Mr. Hu and Mr. Mai were discussing the regime's news censorship, autocracy and brainwashing of Chinese people to maintain control. They speculated that the regime would collapse if uncensored media was possible in China.
Another Taoyuan resident, Mr. Lu was standing at the plaza in front of the Taoyuan Gymnasium. He said that he heard of the organ harvesting crimes in China 10 years ago.
"Jiang Zemin is crueler than the Nazis," he said. "Anyone who has a conscience and a sense of justice should participate in suing Jiang Zemin."