Rally in Israel: We Do Not Want to Turn a Blind Eye or Keep Silent
(Minghui.org) "In fact, a holocaust is going on in China and people are aware of it," said journalist Billy Beserglick, daughter of holocaust survivors. "It has been going on for many years now and nothing is changing. Those who keep silent end up being accomplices."
"I cannot imagine how the perpetrators can sleep at night. Have you forgotten what you did yesterday in the torture cellar? Have you forgotten who you have beaten, who you killed yesterday?" she asked, looking at the Chinese Embassy.
Ms. Beserglick was one of more than a hundred people who gathered to rally on July 20, 2015 in front of the Chinese Embassy in Tel Aviv, Israel, to mark the 16th year of the persecution of Falun Gong in China.
Banners called to end the persecution in China and support the recent wave of legal complaints against Jiang Zemin, former head of the Chinese Communist Party (CCP), who initiated the persecution in 1999. In two months, the number of these complaints has exceeded 100,000.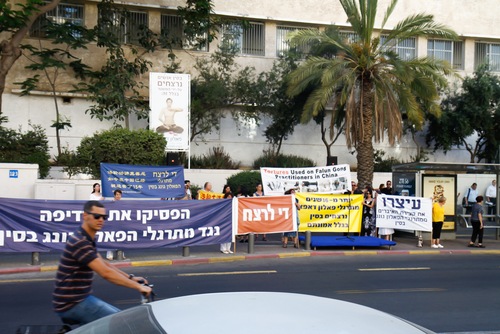 July 20th rally in front of the Chinese Embassy in Tel Aviv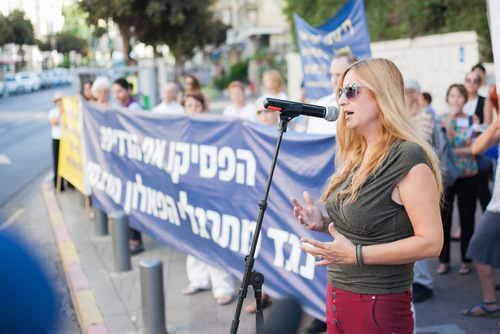 Journalist Billy Beserglick, daughter of holocaust survivors: "I cannot imagine how these perpetrators can sleep at night."
Horrifying testimonies about organ harvesting from living practitioners were read aloud and attracted passersby and people from nearby shops. They heard how practitioners have been butchered alive and sent to the crematorium while still warm, and sometimes still breathing.
Resisting the Persecution
Vadim Berestezky, a representative of the Israeli Falun Dafa (Falun Gong) Association, spoke about how, before the persecution, one could hear Falun Dafa music in every park in China, and how the practice's principles–Truthfulness, Compassion and Forbearance–gave hope to the Chinese people.
However, the head of the Communist regime at the time was so fearful of such popularity that he launched an unprecedented suppression campaign. Wielding the power of the state, including the police force, the army, and the media, he gave an order to eliminate Falun Gong: "Destroy the practitioners physically, ruin their reputations, and bankrupt them." And he set a time limit–three months–to make it happen.
"Yet, something happened that no one expected. That well-oiled murdering machine known as the Chinese Communist Party, which had accumulated so much experience over the years, could not do it. Months and years went by, and today we mark 16 years," said Mr. Berestezky.
"So how did Falun Gong practitioners manage to resist the ruthless murdering machine?" he asked. "The secret is simple: those same three principles–Truthfulness, Compassion and Forbearance. Those people who seemed so easily taken advantage of–those good and kindhearted people–succeeded where no one before had, and they paid a heavy price for it."
Refusing to Stay Silent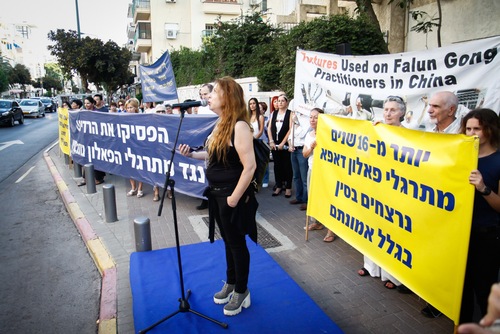 Actress Sarit Vino-Elad addressed the Chinese Embassy
Actress Sarit Vino-Elad, a strong supporter to end the persecution, reminded the audience how, four years ago, she spoke at a similar gathering to say that it was a shame that the persecution was "celebrating a Bat-Mitzvah" (12 years is a celebrated event for a Jewish girl). Now, the persecution has reached "Sweet Sixteen," yet it has nothing to do with sweetness.
"It depends on you," she said as she addressed the Chinese Embassy staff who were photographing her from the Embassy window. "We can stand here and support you, but it is in your own hands to return the key and say, 'Enough is enough and we won't take part in it anymore.'"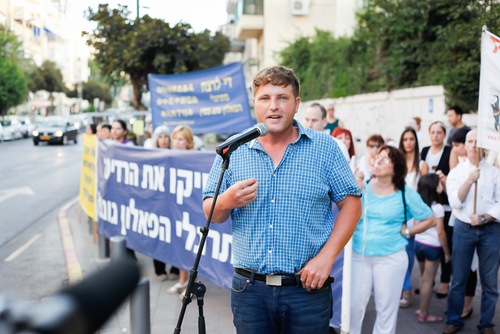 Lawyer Rami Greenberg, a city councilman, spoke about ending the city's relationship with its twin city in China, where the persecution against Falun Gong is ongoing.
"Evil can thrive only where good people do nothing," said lawyer Rami Greenberg, a Member of Petah-Tikva's City Council, "but where there are good people who take a step against evilness, the evil cannot thrive."
Greenberg spoke about his efforts to persuade the City Council to end its relationship with its twin city in China, where the persecution of Falun Gong is being perpetrated.
Berestezky, chairman of the Israeli Falun Dafa Association, concluded his speech with the same idea: "We are here because we do not want to turn a blind eye, nor do we want to keep silent. We want to take responsibility for our future and the future of our children. We cannot accept that in our world, people are killed just for trying to be good people."
"The CCP acts not only in China, but also outside its borders, including here in Israel," he added. "Only the methods are different. The CCP brings money, offers cooperation, and asks for just one tiny thing: that we will keep our eyes closed and be silent."
A Chinese practitioner who resides in Israel addressed the Embassy staff. She told them about the brutality of the persecution and about the opportunity to quit the Party to avoid sharing the shame and the guilt for its crimes against humanity. She told them that more than 200 million Chinese have already quit the CCP and its affiliated organizations.
Rabbis Speak Out
Three rabbis spoke at the rally, offering their support from the point of view of a human being as well as of Jews who abide by the Bible.
Rabbi Haim Cohen addressed the Chinese regime: "Stop persecuting, stop cutting up people, and stop hating. Adopt Truth, Compassion, and Tolerance. It's a part of your people's character for hundreds and hundreds of years," he said.
Rabbi David Spitz was asked, "Why should we interfere with what's happening ten thousand miles from us?" and answered, "The role of the Jewish people is to be a moral compass to all people."
Rabbi Ronen Lubitsch said, "Behind me there are many millions who suffered, were tortured, and were denied their freedom. On behalf of all those people, I want to call for an end of the torture this regime is perpetrating, its abuse of its people. I stand here as a Jew…deeply sympathizing with those members of Falun Gong, whose only crime is doing things that contribute to society and to themselves, doing no harm whatsoever. I stand here on behalf of Judaism, which had raised the banner of 'all people are made in the image of God.'"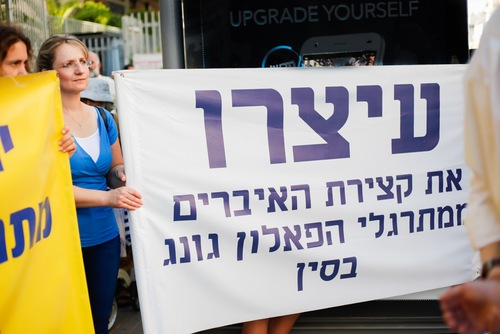 "Stop the forced organ harvesting from Falun Gong practitioners in China"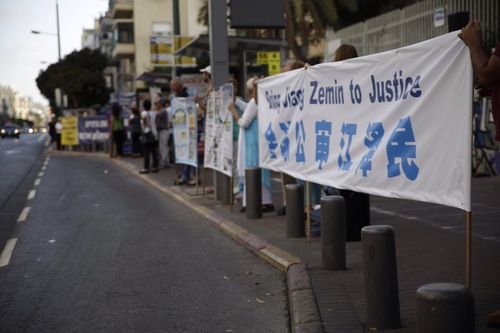 "Bring Jiang Zemin to Justice"