Australia: Gold Coast Falun Dafa Practitioners Call Attention to 16 Years of Persecution in China
July 27, 2015 | By Australian Dafa practitioners
(Minghui.org) Australian Falun Dafa practitioners gathered from all parts of the Gold Coast on July 17, 2015, to speak out against the brutal persecution in China, which marked its 16th year on July 20.
In a busy shopping area of the suburb of Surfers Paradise, Queensland practitioners displayed banners and distributed flyers to passersby.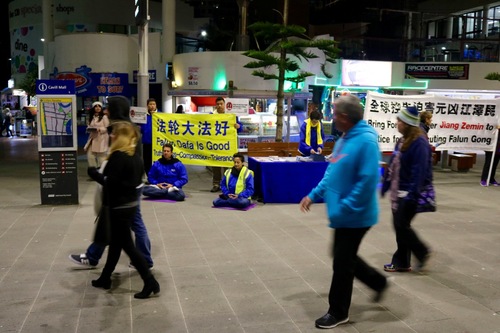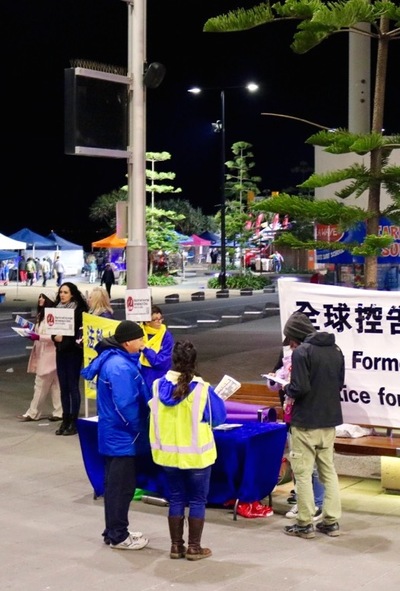 Although many people walked past very quickly, they often still took the time to show their support. A young man from France accepted a flyer and read the banner about the criminal complaints against the former Chinese leader as he walked by, saying "Oh, Jiang Zemin." A practitioner responded, "Yes, very bad." The tourist replied, "I know. Be strong!" and he raised his flyer in the air.
Another woman nearly declined to take a flyer, but when she and her friend noticed that there was a petition to sign to help end the persecution in China, they stopped to give their signatures and learn more about the persecution.
An Australian student who had not heard about the Chinese Communist regime's forced organ harvesting of prisoners of conscience was shocked to learn that the regime harvests organs from living Falun Dafa practitioners to sell for profit. He said he would watch the Special Broadcasting Service's TV documentary, "Human Harvest: China's Organ Trafficking" online and would share the information with his friends.
A couple from Europe spoke about how dangerous communism was for Europe. They said, "Now that communism is gone, Europe is free." After learning more about the persecution of Falun Dafa, they compared the current persecution with experiences from their own history. Through further conversation with the practitioners, they gained a deeper understanding of events in China, and wished the best for practitioners, especially those in persecuted in China.