Candlelight Vigils in Melbourne Australia and Auckland New Zealand Oppose the Persecution
July 25, 2015 | By Falun Gong practitioners in Australia and New Zealand
(Minghui.org) As in many other countries, practitioners in Australia and New Zealand recently held activities commemorating the 16th anniversary of the persecution of Falun Gong, which started in China in July 1999.
Melbourne, Australia
A candlelight vigil was held at 7:00 p.m. on July 20, 2015, in front of the Chinese Consulate in Melbourne, to mourn the practitioners who died as a result of the persecution. The event was also held to support the increasing number of criminal complaints against former Chinese communist leader Jiang Zemin for persecuting Falun Gong.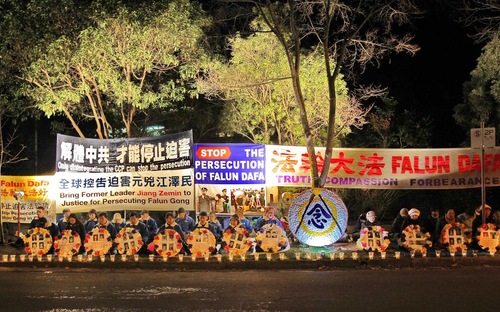 Candlelight vigil in front of the Chinese Consulate in Melbourne.
Michael Pearson-Smith, a spokesperson for the Falun Dafa Association in Melbourne, said the practitioners' peaceful manner amid such a brutal persecution was unprecedented. "We are glad to see that more and more human rights lawyers and supporters have stood forward helping practitioners. This means they have known the truth and are willing to risk their life to support the righteous."
Mr. Fan, coordinator with the Falun Dafa Association in Melbourne, emphasized that Falun Gong practitioners had no political pursuits. "Over the past 16 years, we only want to stop the persecution, so that we are able to practice the principles of Truthfulness-Compassion-Forbearance. More than 100 practitioners here have also filed criminal complaints against Jiang, because he and his followers are responsible for the persecution."
The practitioners, ranging from two to over 80, sat in the cold winter evening.
Rally and Candlelight Vigil in New Zealand
Practitioners held a rally and march in New Zealand's capital city, Wellington, on July 16, 20150. With banners reading "Falun Dafa is Good" and "Stop Organ Harvesting from Living Practitioners," they walked from Cuba Street in downtown Wellington, through the business district of Lambton Quay, to the Parliament House.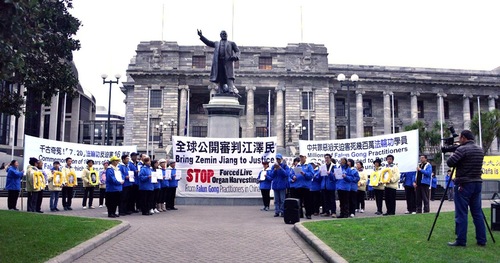 Rally in Wellington on July 16 calls for ending the persecution.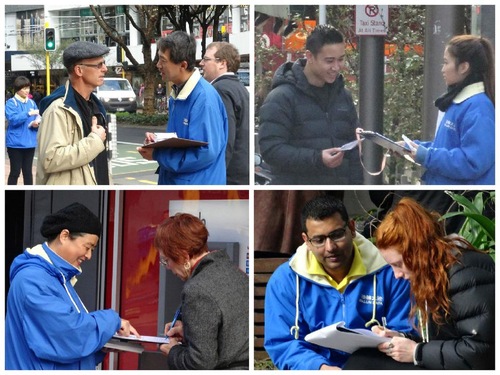 Practitioners tell passersby about the severe suppression in China.
Nearly 1,500 signatures were collected from spectators who called for an end to the severe suppression. These petitions will be submitted to human rights agencies of the United Nations.
Actor Johnny Cool said he had heard about Falun Gong in the past few years. "I agree with the principles of Truthfulness-Compassion-Forbearance." He said everyone should have the freedom to practice his or her belief. "What the Chinese communists did to Falun Gong practitioners is horrible." He said he would put the information on Facebook so that more people could learn the truth and support practitioners.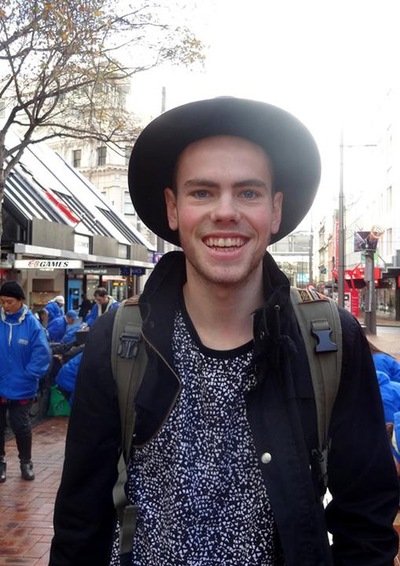 Samuel Nimmo, a sophomore in a seminary, said that the principles of Falun Gong, Truthfulness-Compassion-Forbearance, were universal.
Samuel Nimmo, a sophomore in a seminary, was astonished by the atrocity of live organ harvesting. "I fully support you. I think people from all over the world should stand forward to support this. After all, we all need justice."
Chelsea Kenzie, who works at a law firm, said that live organ harvesting was "disgusting" and "inhuman." Because of self-defense, her uncle was imprisoned in China for five years, where he witnessed mistreatment, forced-labor, and corruption. "I believe what these practitioners have said, because Chinese communists could do all these bad things." In the end, she thanked practitioners for informing the public of such important information.
A rally was held at noon at Queen Elizabeth Square in Auckland on July 18, 2015, followed by a candlelight vigil outside the Chinese Consulate in Auckland on July 20. Margo MacVicar, coordinator of the event, said, "Sixteen years [of persecution] is too long. We will continue our peaceful demonstration, and we sincerely hope more people can join supporting us."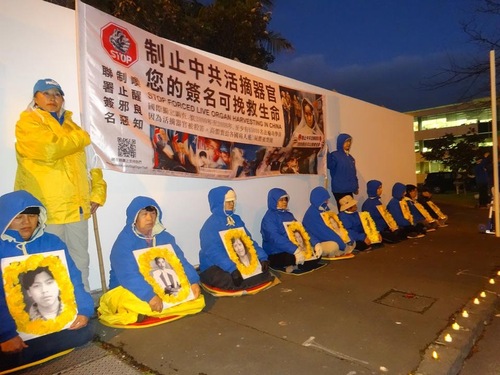 Candlelight vigil outside Chinese Consulate in Auckland on the evening of July 20, 2015. The banner reads, "Stop Live Organ Harvesting by the CCP. Your Signature Will Save Lives."