Canadian MPs Voice Support for the Movement to Prosecute Jiang Zemin
June 26, 2015 | By Minghui correspondent Ying Zi in Ottawa, Canada
(Minghui.org) Over 10,000 Falun Gong (Falun Dafa) practitioners have pressed criminal charges against former Chinese dictator Jiang Zemin with China's highest court between May 27 and June 18, 2015. Three Canadian MPs (members of parliament) expressed their support for the movement during recent interviews.
"It makes absolutely perfect sense; to peel off the layers of the onion, as it were. They will get into the heart of the darkness of it, which is the human rights violations and the murders and the torture and all these types of things," said MP Rob Anders.
MP Rob Anders: Those Who Most Heavily Persecuted Falun Gong "Overstepped the Bounds of Decency the Most"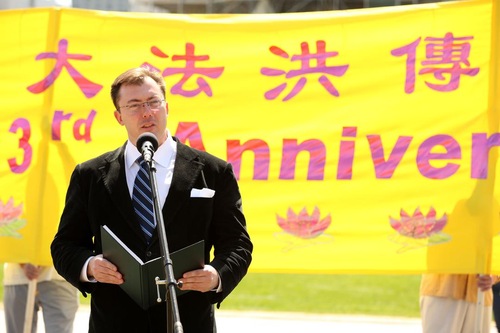 Canadian MP Rob Anders
The number of lawsuits filed against Jiang Zemin grows by the day, and MP Anders commented that this will develop a catalogue of the human rights abuses of the regime, and the perpetrators will be held accountable. He said that the justice system will eventually "turn on those people who were the most corrupt and villainous and tyrannical and oppressive with regard to Falun Gong."
He said that those who were most heavily involved in persecuting Falun Gong "are the ones who overstepped the bounds of decency the most." He further explained, "They didn't just take money. They took dignity, they took integrity, they stole traditions away—they did all these things. They committed incredible human rights violations."
Mr. Anders said he believes that the perpetrators will be held accountable when the communist regime starts to collapse and that they will face criminal charges in China. Should they attempt to flee to Canada or some other country, they'll still face accountability, he said.
MP Wladyslaw Lizon: "The Huge Power of Lawsuits Against Jiang Will Make a Huge Change"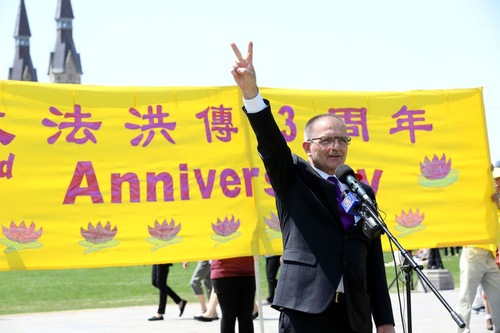 MP Wladyslaw Lizon
"I am a strong believer that justice will come to every single one of them," said MP Wladyslaw Lizon.
Referring to the fact that over 10,000 Falun Gong practitioners have recently pressed charges against Jiang Zemin, Mr. Lizon said, "It's a huge power, and even if it starts rolling slowly, it will gain momentum, it is a huge power. It will make a huge change."
MP Judy Sgro: "Chief Culprit Will Be Held Accountable"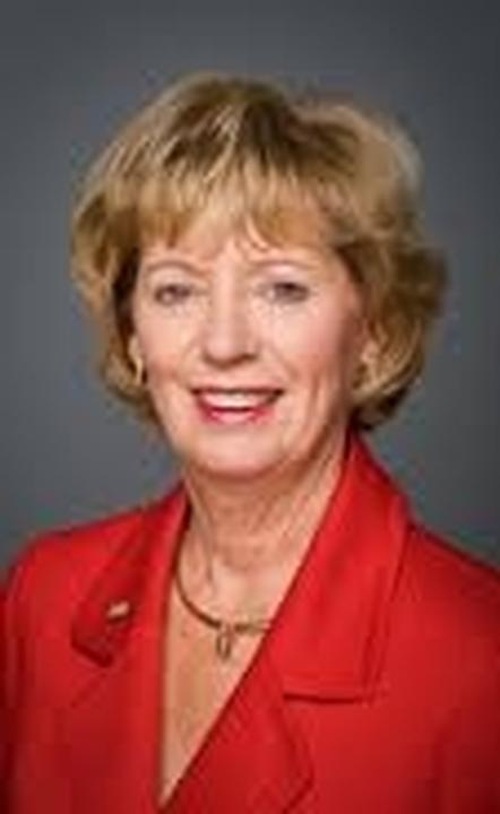 "The more people file complaints, the more voices there are heard around the world standing up for Falun Gong practitioners, then at some point, the top guy in command is going to be held accountable for the kind of persecution that he has done to innocent people," said MP Judy Sgro.
Background
In 1999, Jiang Zemin, as head of the Chinese Communist Party, overrode other Politburo standing committee members and instigated a violent persecution of Falun Gong.
The persecution is believed to have resulted in the deaths of tens of thousands of Falun Gong practitioners over the past 16 years. Countless more have been subject to torture for their belief and even killed for their organs, which are sold for unethical profit. Jiang Zemin is directly responsible for the instigation and continuation of the brutal persecution.
Under his personal direction, the Chinese Communist Party established an extralegal security organ, the "610 Office," on June 10, 1999. The organization overrides police forces and the judicial system in carrying out Jiang's directive regarding Falun Gong: to ruin their reputations, cut off their financial resources, and destroy them physically.
Chinese law allows for citizens to be plaintiffs in criminal cases, and many practitioners are now exercising that right to file criminal complaints against the former dictator.