Former Police Chief Tortured and Sentenced to Six-Year Prison Term
June 26, 2015 | By a Minghui correspondent in Gansu Province, China
(Minghui.org) A role model first-class sergeant and former police chief, was tortured in a detention center and denied from selecting a lawyer to represent him.
Falun Gong practitioner Mr. Chen Zhongxuan was arrested on September 19, 2014 for practicing Falun Gong. He was not allowed to hire an out-of-town lawyer and was sentenced on February 6, 2015 to six-years in prison.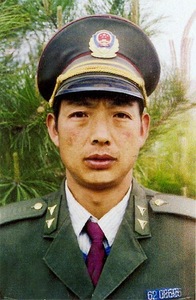 Mr. Chen Zhongxuan
Mr. Chen is imprisoned in the Dashaping prison in Lanzhou and family visits are not allowed.
Torture Legal in Police Investigation Case
"Torture is normal and legal while police investigates a case," said Gao Chengju, the Baiyin District acting chief procurator, when Mr. Chen told him about the torture during interrogation.
Guards in the Baiyin Detention Center beat and forced Mr. Chen to sit on a small stool for a long time. They employed several torture methods during interrogation to elicit a confession of wrongdoing by Mr. Chen.
The inmate in Mr. Chen's cell was given the go-ahead to bully him. He was assigned to a four-hour night shift and forced to mop the floor, sweep, wash dishes, clean the toilet and was verbally abused.
He was transferred to another cell after two months, where his night-shift duty was extended by two hours.
Out-of-Town Lawyer Forbidden to Defend
Mr. Chen's family hired a lawyer from Beijing. The lawyer went to the Baiyin Detention Center and requested to meet his client.
"The Political and Legal Affairs Committee ordered that out-of-town lawyers are not allowed to meet their clients," the director of the detention center said.
He continued, "A local lawyer cannot meet his clients either unless he gets the permission from the respective departments. Only the lawyer designated by the court can meet with the client."
The Baiyin City legal society contacted the Beijing lawyer's boss and the Beijing Law Enforcement Bureau and demanded that the lawyer be removed from the case.
Court Appointed Lawyer Pleads Guilty
The Baiyin District Court secretly tried Mr. Chen without notifying his family on January 21, 2015.
The judge refused the Beijing lawyer from defending Mr. Chen and forced the court-appointed lawyer Zhou Zhaojun to plead guilty on behalf of his client.
The Baiyin District Court sentenced Mr. Chen to six-years in prison on February 6, 2015. He appealed to the higher court, which refused to respond.
He was taken to the Dashaping Prison in Lanzhou City on April 7, 2015.
Persecuted Since 1999
Mr. Chen and a dozen practitioners from Huining County peacefully protested when the Chinese Communist Party (CCP) began to persecute Falun Gong on July 20, 1999. Police from the Lanzhou Police Department arrested them.
Police ransacked his, his mother's, and his brother-in-law's homes the same evening.
Chief Song Ting, deputy police chief, abused Mr. Chen the next day during interrogation. He was detained for 15 days and upon his release he was transferred to a low level job in a remote area.
Mr. Chen, his wife Han Xiufang, and some practitioners were seen and reported at Zhongchuan Village on September 24, 2011.
Officers Li Yonggang from the Domestic Security Division, Zhang Xiaoping from the Huining Police Department, and officers Kang Shizhong, and Zhang Xitong, He Yongshou and Miao Peng were ordered to arrest the practitioners and take them to the Zhongchuan Police Station.
After the interrogation, Mr. Chen escaped. His name was put on the wanted list and he had to stay away from his home. More than 20 police officers came in two police cars and ransacked his home. They confiscated Falun Gong books and valuables, including a refrigerator and Mrs. Chen's gold chain.
His family was also persecuted, His sister Chen Jie, was imprisoned in the Gansu Women's Prison. His sister Chen Shuxian, sister Chen Shumei and his brother-in-law Liu Haixue were frequently harassed and detained by police.