4,300 Signatures Collected: "We Know These Practitioners Are Innocent, We Must Help Them!"
June 12, 2015 | By a Minghui correspondent in Hebei Province, China
(Minghui.org) The Cangzhou City police in Hebei Province arrested 42 Falun Gong practitioners on August 17, 2014, when they met to share understandings about Falun Gong. Nearly 10 months have passed, and nine of them are still detained without trial.
Seven lawyers who defended these practitioners submitted a written request calling for their clients' cases to be dismissed. It is a constitutional right for these practitioners to believe in Falun Gong and to share their experiences with each other. Their gathering together also occurred at a private home and caused no harm to any other parties, stated the lawyers in the request.
Most of these practitioners are from Cangzhou City and nearby Wuqing District in Tianjin.
Residents in these two regions have signed a petition calling officials to release these practitioners. The number of signatures was about 2,400 by mid-April and has now reached 4,300.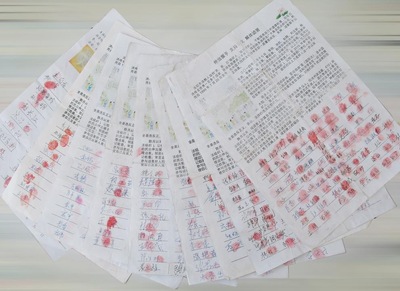 Over 4,300 signatures calling to release nine practitioners detained since August 17, 2014.
Three bus drivers signed the petition without hesitation. "We know these practitioners are innocent. We must help them," one of them said.
An elderly woman living next door to a practitioner said she was no longer afraid of supporting practitioners. She proved this by signing her real name.
"Practitioners are good people," she said. "Even if officials come and ask me about this, I won't be scared—after all, good people deserve our respect."
She then told her daughter-in-law to sign as well.
After hearing about the severe suppression of practitioners by the Chinese Communist Party (CCP), many people have quit the CCP organizations to separate themselves from the brutality.
"I have never been interested in politics," said an illiterate woman who came from another city, "but I have to help them. Please accept my fingerprint as a signature."
Children also participated in this signature-collection. When at least seven elementary schoolstudents heard about this rescue effort, they thanked the practitioner for telling them about Falun Gong and signed the petition. "We feel so good to do something like this," a student exclaimed.
People have come to realize their efforts will make a difference.
"Everyone's signature counts," said a company manager while signing, "The more signatures we have, the sooner they [detained practitioners] will be released."
These practitioners are Ms. Liu Lixin (刘立新) and Ms. Zhao Xiang ((赵翔) from Wuqing District, and the following practitioners are from Cangzhou City: Ms. Li Li (李丽), Ms. Cao Yanxiang (曹延香), Ms. Kang Lanying (康兰英), Ms. Zhao Junru (赵俊如), Mr. Xu Kai (徐凯), Mr. Chang Shouxuan (常寿轩) and Mr. Hou Dongliang (侯东亮).
The persecution of Falun Gong and its practitioners has no legal basis, as claimed by the lawyers who defended these practitioners. Moreover, China's constitution grants its citizens freedom of belief, making a large number of practitioners and their families stand together to defend their rights.
Many lawsuits have recently been brought against Jiang Zemin for initiating and intensifying the 16-year-long persecution against Falun Gong in China. According to information received by Minghui, at least 70 lawsuits were submitted within in three days between May 28 and May 30. The numbers grew to 162 on June 1 and 145 on June 2, respectively.