In 19 China Provinces, 232 Lawsuits against Jiang Zemin Filed in Four Days
June 07, 2015 | By Minghui correspondents
(Minghui.org) Former Chinese Communist Party head Jiang Zemin initiated the brutal suppression of Falun Gong in July 1999, causing untold suffering for tens of millions of Falun Gong practitioners and their families over the past 16 years.
While the persecution continues, practitioners are increasingly exercising their legal right to seek legal action against the former dictator. Between May 28 and 31, 2015, practitioners in China filed at least 232 lawsuits against Jiang. According to information provided to Minghui, these practitioners represent 16 provinces and provincial-level municipalities.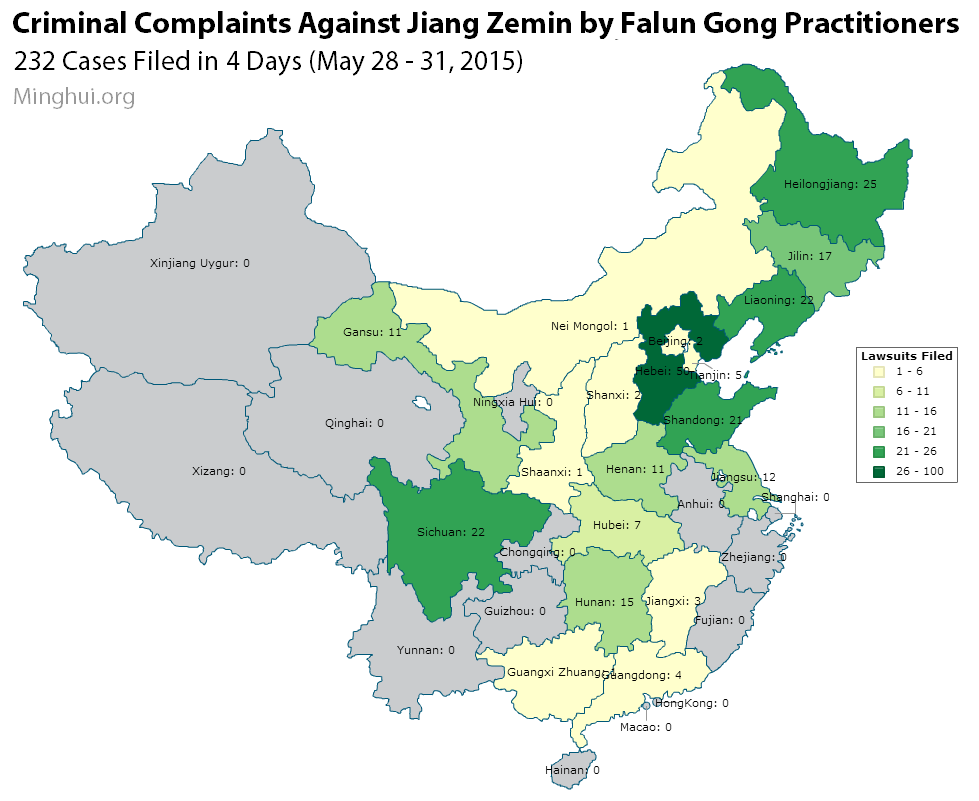 Most of the cases involve severe and lengthy torture. Ms. Li Xiuying, 62, is a former hospital employee in Tonghua City, Heilongjiang Province. She was sent to a forced labor camp twice, held in detention centers six times, and her home was ransacked twice. She was subjected to brainwashing multiple times by officials at her workplace, agents from the 610 Office, and coworkers. She was beaten, kicked, force-fed, injected with drugs against her will, handcuffed, and shackled. The torture left her with injuries to her head and legs, as well as missing teeth.
Mr. Chen Mingan, 56, who lives in Xi'an City, Shaanxi Province, was detained in a forced labor camp four times between 1999 and 2008, for a total of 6.5 years. He was sent to brainwashing centers four times between 2001 and 2008 for a total of 6 months. He was held in detention centers four times, for six months, between 1999 and 2010. He was fired from his job in February 2000. His wife, Ms. Huo Meilian, was sent to a forced labor camp in June 2007, where the hard labor and torture damaged her health. She died in January 2014.
They were all mistreated for one reason: their belief in Falun Gong's principle of Truthfulness-Compassion-Forbearance.
Although their experiences differ, all these practitioners were mistreated under Jiang's campaign to eradicate Falun Gong. Ms. Dong Jingya, an architect, was arrested in March 2015 for taking care of Ms. Gao Rongrong (a practitioner whose face was disfigured in 2004 and who later died of torture in 2005). She was sent to the notorious Masanjia Forced Labor Camp for three years, where she handcuffed to heating pipes, force-fed, and injected with unknown drugs, among other forms of torture. She was conditionally released when her condition became life-threatening.
Below is a list of the 232 practitioners (name, gender, and age) who filed criminal complaints against Jiang Zemin between May 28 and 31:
Beijing
Shao Changyong (M, 44)
Zhao Zhaoyu (F, 52)
Tianjin
Yue Huaifang (F, 39)
Liu Changjing (F, 49)
Yang Jianguo (M, 44)
Yang Jinghua (F, 67)
Wang Yingmei (F, 73)
Li Xiuying (F, 62)
Yang Rui (M, 39)
Li Yuemei (F, 63)
Sun Yan (F, 53)
Jiang Jingyun (F, 80)
Wang Shufen (F, 73)
Zhu E (F, 58)
Zhao Yuqin (F, 74)
Zhang Junyun (F, 62)
Li Mingxia (F, 54)
Guo Shuxue (F, 60)
Liu Jingxiu (F, 62)
Sun Lijie (F, 42)
Tian Yumei (F, 44)
Liu Jingxiu (F, 62)
Sun Yanxia (F, 50)
Yu Jianping (F, 24)
Liaoning Province
Ma Lianxiao (F, 68)
Dong Jingzhe (F, 42)
Liu Xianyong (M, 41)
Dong Jingya (F, 43)
Cheng Yuanyi (M, 65)
Guo Yunlan (F, 54)
Teng Xiuling (F, 49)
Jia Naizhi (F, 66)
Qu Cailing (F)
Yang Xiufang (F, 53)
Liu Pintong (F)
Di Na (F, 34)
Zhang Sirong (F, 62)
Yingkou (M, 64)
Zhu Ruijia (M, 64)
Zhang Xiaodong (M, 52)
Cai Furong (F, 50)
Zhang Yunxiang (F, 68)
Li Jinhua (F, 51)
Yang Qiufang (F, 52)
Miao Sumei (F, 59)
Li Ying (F, 56)
Li Weitao (M, 49)
Qu Jingbin (M, 45)
Heilongjiang Province
Liu Shuwen (F, 62)
Li Yuhua (F, 58)
Fan Yusheng (M, 62)
Fang Guilan (F, 53)
Cui Hongyi (M, 82)
Liu Ying (F, 46)
Cong Lixia (F, 56)
Chang Shumin (F, 55)
Song Guoqin (F, 68)
Zhu Xiumei (F, 48)
Wang Dongzhe (M, 55)
Wang Lianfang (F, 52)
Li Dongmei (F, 49)
Zhang Xiaolin (F, 51)
Zhao Fengying (F, 54)
Zhang Kemei (F, 57)
Gong Yubo (M, 38)
Zhao Jingru (F, 53)
Wang Wenhua (F, 49)
Li Chunhua (F, 64)
Gu Yunpeng (M, 37)
Xiao Yanhua (F, 41)
Zhang Shuying (F, 45)
Liu Guipeng (M, 41)
Guangdong Province
Wu Yongjian (M, 43)
Wang Sutong (M)
Liang Qinglian (F, 63)
Yu Kaiping
Guangxi Province
Jiangsu Province
Wang Shixin (M, 58)
Liu Qihui (F, 67)
Yao Xingying (F, 68)
Yuan Chunli (F, 42)
Jiao Jiaqian (M, 55)
Zhang Guiqun (F, 70)
Zheng Jun (F, 60)
Zhong Chongzhen (F, 52)
Zhang Hui (F, 63)
Cheng Haiyan (F, 61)
Wang Sanxiu (F, 57)
Huang Dongmei (F, 51)
Li Tingchun (M, 49)
Shaanxi Province
He'nan Province
Deng Xianglian (F, 71)
Xia Yinlan (F, 68)
Xu Meirong (F, 67)
Jiang Junfeng (F, 50)
Chen Pengfei (M, 60)
Jiang Benli (M, 82)
Jia Xinmin (M, 50)
Shi Zhisong (M, 46)
Guo Guiying (F, 72)
Xu Weiqin (F)
Sichuan Province and Chongqing
Pu Mingfang (F, 59)
Ye Wenjun (F)
Song Degui (F, 80)
Shi Xianyue (F, 75)
Jiang Xiren (M, 72)
Wang Guoqun (F, 62)
Jiang Ping (F, 52)
Pi Kairong (F, 63)
Chi Pengfei (M, 42)
Zhao Jie (F, 44)
Yang Rongsen (M, 54)
Su Tan (F, 46)
Fan Caixia (F, 40)
Wang Yuefa (M, 42)
Wang Dehui (F, 50)
Li Tongying (F, 79)
Huang Zhiping (F, 47)
Shi Xianyue (F, 75)
Zhang Guorong (F, 64)
Guo Lirong (F, 54)
Chang Xiaochun (F, 41)
Hebei Province
Li Guangyi (M, 71)
Zhao Shuqin (F, 53)
Zhang Yuexin (F, 53)
Liu Xiufeng (F, 53)
Ma Qingyun (F, 54)
Wen Huimin (F, 52)
Li Yingliang (M, 60)
Chen Jianying (F, 43)
Liang Jinping (F, 40)
Song Baolin (F, 42)
Liu Cuiyu (F, 47)
Tang Lianzhen (F, 55)
Hu Ruiqin (F, 60)
Zhang Zhongfei (M, 42)
Ren Huiqing (F, 42)
Zuo Shili (F, 46)
Liang Runmei (F, 75)
Liu Hening (M, 62)
Li Xiufeng (F, 61)
Li Xiuyan (F, 39)
Cao Xiaomei (F, 45)
Fu Jinhua (F, 54)
Ba Hongfang (F, 35)
Jia Suxia (F, 46)
Li Meiran (F, 51)
Ma Huilan (61)
Yu Lanpu (F, 52)
Liu Jianmin (M, 40)
Liu Rongbing (M, 44)
Li Yaxin (F, 37)
Wang Yuhai (M, 63)
Zhang Guangcai (M, 54)
Lu Zhanping (F, 40)
Liang Jinping (F, 40)
Tian Guizhi (F, 56)
Zhang Limei (F, 47)
Liang Guiqin (F, 56)
Song Jinzhi (F, 49)
Wang Guiming (65)
Gao Shuling (F, 60)
Qin Juanjun (F, 53)
Liu Xiaoai (F, 68)
Cui Xiaodi (F, 69)
Qi Fangwei (F, 58)
Wang Fenghua (F, 71)
Zhao Yanlai (M, 63)
Gu Xiangrui (F, 59)
Li Ruixin (F, 69)
An Dasheng (F, 67)
Zhang Shufang (F, 40)
Hubei Province
Xu Changhong (M, 49)
Liu Yuan (F, 38)
Zhou Shuxiang (F, 64)
Gu Zehua (F, 46)
Liu Shulan (F, 54)
Zhu Xiying (F, 48)
Guo Ping (F, 68)
Hu'nan Chen Tingjun (M, 57)
Li Guoquan (M, 65)
Li Wolong (M, 53)
Zhu Puzhao (M, 40)
Zhang Anning (F, 44)
Dai Xinlan (F, 66)
Li Qiuxiang (F, 59)
Lei Anxiang (M, 65)
Wang Jianshe (M, 59)
Shandong Province
Cai Ying (45)
Ma Qin (F, 47)
Luan Qingling (F, 48)
Lu Chunhua (F, 52)
Jiang Yuzhi (F, 53)
Yin Guixiang (F, 69)
Wang Cuifang (F, 56)
Xu Yonglan (F, 57)
Xu Li (F, 37)
Zhang Xiulian (F, 64)
Lu Yuying (F, 51)
Song Guixiang (F, 70)
Wang Xiulian (F, 44)
Gao Guiying (F, 64)
Wang Hongwei (F, 49)
Liu Chunyan (F, 48)
Zhang Xiuqiang (M, 39)
Sui Hongju (F, 52)
Jia Jitang (M, 45)
Zhang Xiuqiang (M, 39)
Liu Xiufang (F, 54)
Jiangxi Province
Huang Xiaosen (M, 50)
Yu Wuping (M, 49)
Yang Dexin (M, 47)
Shanxi Province
Kang Lihong (M, 42)
Ji Guoxiang (M, 54)
Gansu Province
Chong Jinxia (F, 42)
Ru Xianglan (F, 66)
Zhang Ximei (F, 73)
Wang Yongfang (F, 47)
Hu Xiangxue (M, 75)
Zhu Lanxiu (F, 61)
Kong Shuying (F, 70)
Yuan Xiuying (F, 48)
Cao Shenming (M, 74)
Wu Yongjian (M, 43)
Inner Mongolia