Taoyuan City, Taiwan: Celebrating World Falun Dafa Day
May 06, 2015 | By Minghui correspondent Huang Yusheng
(Minghui.org) Taoyuan City celebrated World Falun Dafa Day at the scenic Cihu tourist site on May 3. Practitioners from Taoyuan and nearby Hsinchu City in northern Taiwan gathered to do the exercises together, hoping to spread the word about the practice so that more people could benefit from it.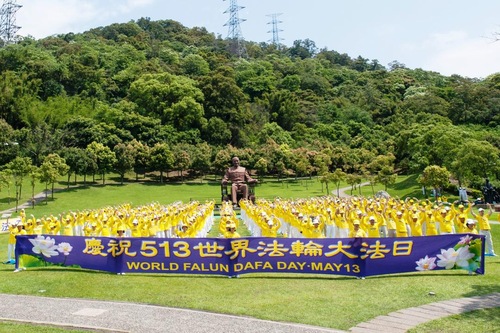 Practitioners doing the exercises together in Taoyuan City on May 3 to celebrate World Falun Dafa Day
Ms. Xin, the event organizer, said that practitioners celebrate May 13 every year, because it was on that day in 1992 that Falun Dafa was first introduced to the public. The date also coincides with the birthday of Mr. Li Hongzhi, the founder of Falun Dafa. "Such a celebration is particularly important considering that millions have been persecuted in mainland China for their belief over the last 16 years," explained Ms. Xin.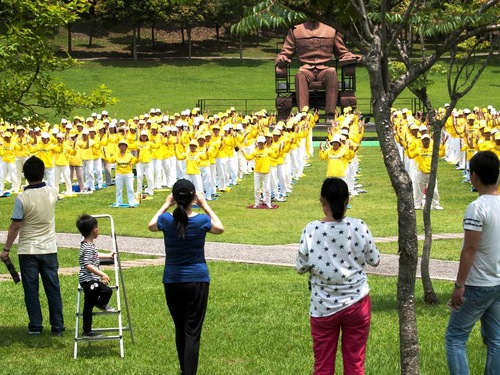 Tourists and residents photograph the event
Chinese Tourist: "I'm Glad You Have Freedom Here"
Mr. Zhang, a visitor from Gansu Province, China, was in Taiwan on an 8-day tour. He took many pictures at the event, which left a powerful impression on him: "I'm glad that you have freedom here. We do not have this in mainland China."
A tourist from Kaohsiung in southern Taiwan stood with the practitioners and said, "I know people in mainland China cannot see this. What you are doing is important."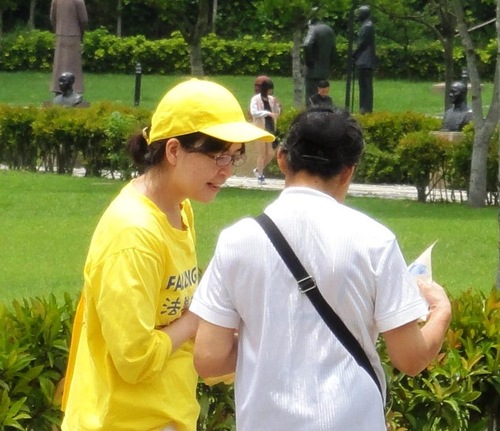 A practitioner tells a tourist about Falun Dafa
Several police officers praised the peaceful activity. One said, "I see you [practitioners] have been sitting here for several hours, yet everyone is so calm. Truthfulness-Compassion-Forbearance is great!"
Improvement of Mind and Body
Falun Dafa Day is a special time for the many practitioners who have benefited from the practice.
Ms. Lai, 40, has practiced Falun Dafa for 10 years. "I used to have a very cutthroat mentality; Falun Dafa has taught me how to be considerate of others," she said.
Her coworkers noticed how she changed for the better, that she was more willing to help and was no longer attached to personal gain. If there was a conflict, she was more tolerant. "Interestingly, practicing Falun Dafa also makes me calmer and clear-minded." She is now also more efficient and productive at work.
Ms. Wu, 48, said she started to practice Falun Dafa because she was suffering from a serious illness. "My friend recommended Falun Dafa to me and asked me to give it a try." Not only did her illness disappear, she now no longer has any aches or pains.
These practitioners are happy to share their stories with the world, but also want to raise awareness of the brutal persecution happening in China. "On the other hand, I feel so bad when I hear about the brutal persecution in China, especially the harvesting of organs from living Falun Gong practitioners," Ms. Wu said. "I hope that, some day, the practitioners there can once again practice their belief like we do here."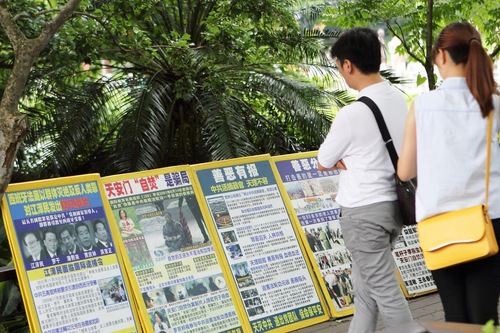 Passersby read posters to learn more about Falun Dafa.