Shen Yun Concludes Its 2015 European Tour
May 06, 2015 | By Minghui correspondent Rachel Wang
(Minghui.org) As the curtain fell at the Gran Teatre del Liceu in Barcelona, Spain on April 25, Shen Yun Performing Arts concluded its 12-nation, 42-show European tour of its 2014 – 2015 season.
Audiences gave Shen Yun rave reviews for its artistic mastery and cultural presentation.
Gran Teatre del Liceu in Barcelona, Spain
Industrialist: "There Is Nothing Like It Anywhere"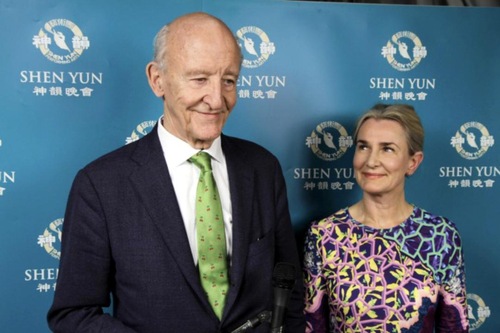 Count Ian Wachtmeister, a Swedish industrialist and politician, with wife Anna
"There is nothing like it anywhere," said Count Ian Melcher Shering Wachtmeister af Johannishus, a Swedish industrialist and politician.
"The lady who played the two-stringed instrument was fascinating," he said of the erhu soloist. "She made the most amazing music."
His wife Anna also enjoyed the performance, "I like how they combine these beautiful classical Western instruments with Chinese instruments...It's such a lovely combination. Very beautiful."
EU Official: "Very Moving"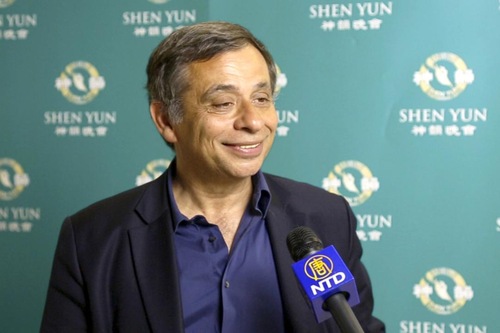 Henri Malosse, President of the European Economic and Social Committee, a consultative body of the European Union
Mr. Henri Malosse, President of the European Economic and Social Committee, appreciated Shen Yun's efforts to revive authentic Chinese culture.
"It is very moving to see that you are seeking your roots, and the roots of your culture and your traditions," he said.
"It's a very interesting show, because it gives you an idea of the Chinese traditions, from 5,000 years before till today," Mr. Malosse said, "For people like me, it is a way of participating today."
Member of the Irish Parliament: Presenting Shared Stories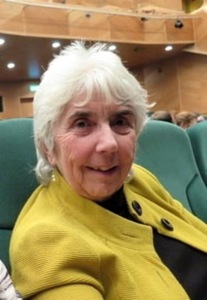 Ms. Maureen O'Sullivan, member of Irish Parliament
"Absolutely wonderful... I'm just delighted to have been there," said Ms. Maureen O'Sullivan, a member of the Irish Parliament.
"I think every country's dance and music tell similar stories, about inspiration and about people doing good and people having to face evil. And the same stories are there tonight that we would see in our dance also, and the dancing culture of other countries," she said.
Ms. O'Sullivan also appreciated the values presented in the show, "Truth and Compassion and Tolerance—we could do with more of that everywhere!"
Broadcast Journalist: "Unique" and "Very Powerful"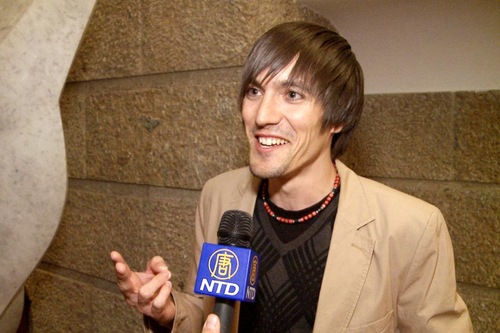 Broadcast journalist Marius Holzer
"The show was unique and very powerful. This show brought out a wealth of feelings in me and gave me insights into the diversities existing in China," said Marius Holzer, a broadcast journalist.
"The erhu appears to me as one-of-a-kind. It elicited a nostalgic feeling in me—a feeling that is truly special," Mr. Holzer noted.
He was also fascinated by the response of the audience, "The feedback I got when I watched the people was unbelievable. They concentrated on and were totally immersed in the show. I could see their shining eyes and smiling faces."
Bulgarian Ambassador: Reaching Deep into the Heart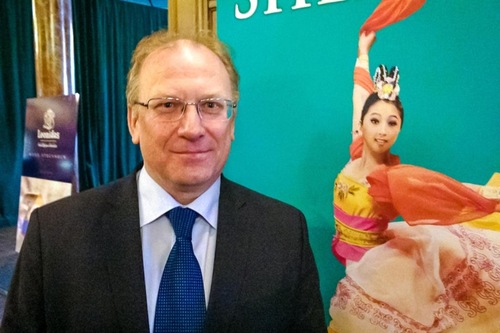 Svetlan Stoev, Bulgaria's ambassador to Sweden
"I felt really honored to sit in the audience and watch it. You could feel that this is something they're doing with love," said Svetlan Stoev, Bulgarian ambassador to Sweden.
"I'm very impressed, frankly speaking," he said. "I liked it very, very much."
Mr. Stoev noticed the dedication of the performers, "You can see that they're feeling it's a great honor to perform on stage and to transmit this kind of tradition to other peoples and nations."
"If you transfer this tradition and this spirituality from one place to another, everybody can learn from it." he commented. "I can say that this kind of combination is the best way to directly get to the hearts of the people who are watching it."
College Principal: "Brilliant" and "Wonderful"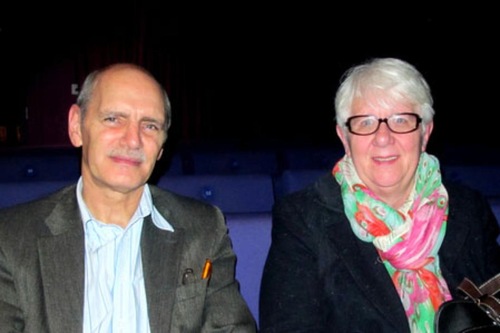 Principal of Langdon College, Christopher Mayho, with wife at The Lowry in Manchester, United Kingdom
"Brilliant…Wonderful choreography and dance," said Christopher Mayho, the principal of Langdon College.
"The values are universal," Mr. Mayho said. He was touched by "the whole storyline."
"Everything was so well timed with the music, the dance and the backdrop," he highlighted the Shen Yun's integration of the screen and the stage.
Chief of Police: "Shen Yun Is The Best!"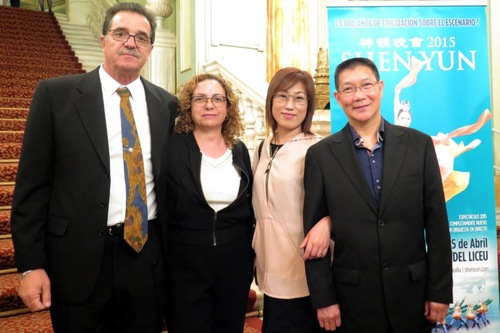 From left to right: Juan Linde, chief of police of the Girona district in Barcelona, and wife Tomi Martinez, a magistrate, and their Chinese friends
"Shen Yun is the best!" exclaimed Juan Linde, the chief of police in the Girona district of Barcelona. He attended the performance with wife Tomi Martinez, a magistrate in Barcelona.
Mrs. Martinez said that the performance exceeded her expectations. She believed that the values presented in the show can positively impact our society and make the world a more beautiful place.
Shen Yun's last shows for the season will take place in the United States in Kansas City, MO on May 5–7, Mobile, AL on May 7, Honolulu, HI on May 8–9, and Philadelphia, PA on May 8-10. For more information on tickets and dates, please visit http://shenyun.com .