Washington, D.C. - Daughter of a Couple Wrongfully Jailed in Beijing Demands Their Immediate Release
May 03, 2015 | By a Falun Dafa practitioner in Washington DC
(Minghui.org) Washington, D.C. resident Teresa You and local Falun Dafa practitioners held a press conference in front of the Chinese embassy on the evening of April 30, 2015. They demanded the immediate release of Teresa's parents, professor You Zhaohe of Department of Philosophy, China University of Political Science and Law, and his wife Wang Lurui, as well as the release of all other Falun Dafa practitioners unlawfully jailed in recent weeks.
Falun Dafa practitioner You Zhaohe and his wife were among many Falun Dafa practitioners arrested in sweep made on April 21, 2015. Police ransacked their home and took away four desktop and laptop computers.
Others arrested include Wang Xiuying, Zhu Shan (daughter of Wang Xiuying), Zhang Nairong, Pei Lanfeng, Niu Haixia, Li Huilai, Hu Jinfan (daughter of Li Huilai), He Weidong, Zhao Songlan, Ma Xiuyun and her husband.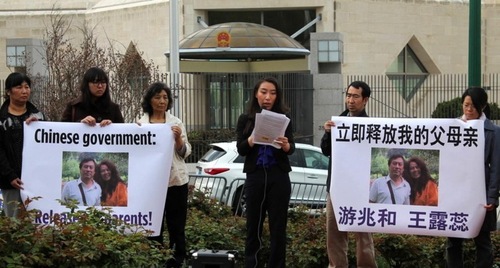 Washington DC resident Teresa You and local Falun Dafa practitioners hold a press conference in front of Chinese Embassy to demand the immediate release of Teresa's parents, jailed in Beijing.
"Release My Parents Immediately."
Teresa said, "On the morning of April 23, I was stunned to learn that my parents were arrested two days earlier. I could not believe that my parents were behind bars as they had just cautioned me to be careful in our phone conversation a few days earlier. I also heard that my father was later taken to a police hospital his heart condition.
"The police did not even inform my family that they had abducted my parents. It was not until my aunt went to police station to report them missing that the police told her their whereabouts."
Teresa continued, "My mother started practicing Falun Dafa in spring 1996. She was quite sick before then. She had numerous chronic illnesses including hemangioma, hepatitis and anemia. I remember my parents traveling to many places looking for cures but always disappointed afterwards. However, after several months of practicing Falun Dafa, she became healthy and all of her illnesses were gone one by one.
"My father was deeply touched by the great changes in my mother, so he began to practice Falun Dafa as well. I joined them too. We often went to public parks along with other people in the community to practice the exercises together.
"However, everything in our lives was turned upside down on July 20, 1999 when Jiang Zemin, head of the Chinese Communist Party, started the nationwide persecution against Falun Dafa. My parents were arrested several times in 2000 when I was 9-year-old. In February, 2001, in order to avoid being arrested again, my parents left home. I did not see them in the next one year for safety concerns.
"In April 2002, police told my family that they found my parents and arrested them. Without any legal procedure, my dad was sent to one and half years in forced labor camp, and my mom for one year. My parents were humiliated, beaten, and deprived of sleep. They were forced to work in the camp from 7 a.m. to 10 p.m."
Teresa said, "Along with my parents, there were about 10 Falun Dafa practitioners I personally know were arrested recently. They were rounded up because of practicing Falun Dafa. I am deeply worried about their safety. The Falun Dafa Information Center has confirmed the deaths of over 3,000 Falun Dafa adherents, as a direct result of the CCP's persecution campaign. However, it is feared that the actual number of deaths—due to torture, malnutrition, exhaustion, medical neglect in detention centers, and especially live organ harvesting in hospitals—is well in the tens of thousands."
At last Teresa called for urgent help, "Here I sincerely hope that you can urgently assist me in rescuing my parents and friends, since their lives are in grave danger in every minute."
Spokesperson of Falun Dafa Association in Washington DC: Perpetrators Will Be Brought to Justice
Ms. Yanqing Chen, spokesperson of Falun Dafa Association in Washington DC, said, "Falun Dafa Practitioners gather here today to demand the Communist Party to immediately release fellow practitioners recently arrested in Beijing. Minghui has reported more than 30 practitioners including Teresa's parents were arrested during recent two weeks."
Ms. Chen pointed out that these practitioners did not commit any wrongdoing but strive to be good people by following Truthfulness-Compassion-Forbearance. The CCP's persecution of the innocent practitioners also infringes basic rights of all Chinese people.
She said, "The perpetrators in the persecution need to know that they persecute kind-hearted people and will be brought to justice in future."
Chinese Human Rights Lawyer: This Is a Human Rights Disaster in Human History
Former Chinese human rights lawyer Jin Guanghong, in exile in the United States said, "There is saying, 'Those whom God wishes to destroy, he first makes them mad.' The madder the Communist Party, the nearer to its end. Justice will prevail. I advise the Communist Party officials to return freedom to the people. Otherwise, you will be brought to justice in future."
Chinese scholar and human rights lawyer Tong Biao who is visiting the United States said during interview by The Epoch Times, "Practicing Falun Dafa or spreading relevant information would face grave persecution in China. Some practitioners are sentenced to many years in prison. Many people suffer tortures in jails, forced labor camps and brainwashing centers.
"The Party's persecution of Falun Dafa is a big disaster of human rights in history. I call on international community to pay attention to Falun Dafa practitioners in China and take effective means to stop the persecution as soon as possible."
U.S. Representative: United States and United Nations Should Demand CCP to Stop the Persecution
U.S. House Representative Christopher Smith, chairman of the House International Relations Africa, Global Human Rights and International Operations Subcommittee, Committee on Foreign Affairs, received interview on the day of the press conference. He said that Washington and UN should ask Chinese regime to stop the persecution of the law-binding kind group. Falun Dafa practitioners should not be persecuted.
Former House Representative Jim Webb expressed concern about rampant jailing without legal procedure in China. He pointed out that United States should speak out about the issue and maintain a consistent human rights policy in its dealings with China.