British Columbia, Canada: Two City Mayors Send Congratulatory Letters to Falun Dafa Association
(Minghui.org) "We extend our very best wishes to Falun Dafa and appreciate the work that you do to make our world a better place to live," wrote Mayor Greg Moore of Port Coquitlam to Falun Dafa Association of British Columbia. He extended his best wishes to the Falun Dafa Association for celebration of the Falun Dafa month, May 2015.
The letter went on to state, "British Columbia prides itself in embracing the cultural diversity that makes our province so unique and interesting. We are pleased to recognize the principles of Falun Gong and embrace harmony in society through truthfulness, benevolence and forbearance.
"We are grateful that you continue to raise awareness of those teachings and philosophies, which provide hope to those that do not enjoy the values of openness, tolerance, freedom of conscience and religion as we do in Canada."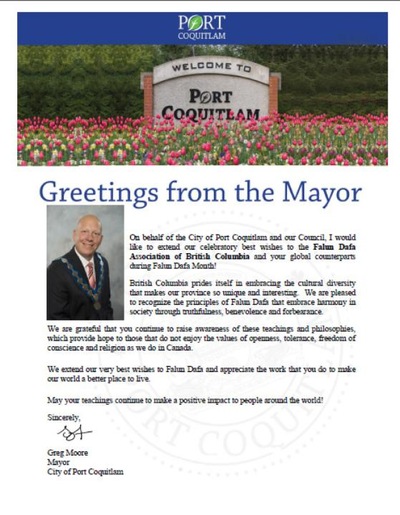 Mayor Randy Hawes of District of Mission also wrote to Falun Dafa Association of BC to celebrate the Falun Dafa month, May 2015.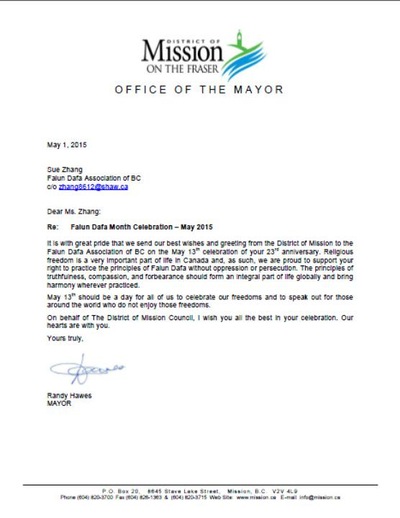 Mr. Hawes wrote, "Religious freedom is a very important part of life in Canada and, as such, we are proud to support your right to practice the principles of Falun Gong without oppression or persecution. The principle of truthfulness, compassion, and forbearance should form an integral part of life globally and bring harmony wherever practice.
"May 13 should be a day for all of us to celebrate our freedoms and to speak out for those around the world who do not enjoy those freedoms."