Western Practitioners Recount 2015 New York Experience Sharing Conference
May 22, 2015 | By Minghui correspondents in New York
(Minghui.org) More than 8,000 Falun Dafa practitioners from over 50 countries participated in the 2015 New York Falun Dafa Cultivation Experience Sharing Conference at Barclays Center in Brooklyn, New York on the morning of May 14. At the conference, they shared how they had improving their character through following the principles of Falun Dafa. Below are responses of some Western practitioners who attended this conference.
Californian Doctor: Medical Community Needs to Know About Organ Harvesting Atrocities in China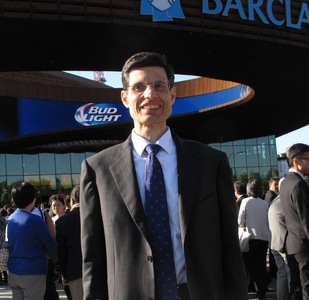 Ale Jandro, a doctor in California, attended the conference in New York City on May 14.
"I started practicing Falun Dafa in April 1999. I came here on this special occasion to learn from others' experiences," said Ale Jandro, a doctor in California who attended the conference on May 14 and returned home on the same day.
He continued, "There are two aspects of Falun Dafa: cultivation of the heart and practicing the exercises. I learned the principles of Truthfulness-Compassion-Forbearance and apply those in my daily life. The practice gives me lots of energy. I can work hard and I don't get tired like I used to."
When asked about the state-sanctioned killing of Falun Dafa practitioners for their organs in China, he said he is "trying to raise awareness of the abuses of organ transplant medicine today. There is an international organization called Doctors Against Forced Organ Harvesting (DAFOH). I am a member of this organization. I think it is very important to raise awareness of this, not only among the general public, but in the medical community."
"Many doctors have not heard of this. It is the biggest abuse, not only of human rights and transplant medicine, but a violation of ethics taking place in the world today. Those involved in the abuse include the military, politicians, and medical professionals. However, the medical community plays a major role in committing this crime in China."
When asked what organizations he has managed to reach and what their responses were, he answered, "I raise awareness in my local community, including my hospital. I wrote some articles to share with the medical community about the abuses in China. I talk to my congressman and state legislature. They were really shocked and had a hard time believing it. Many of them wanted to help, though sometimes they feel they don't have enough power to bring change to it. Every little thing makes a difference. The more people hear about it, the more powerful the response to condemn it in China."
Couple from Scotland: Helping People Learn About Persecution of Falun Dafa in China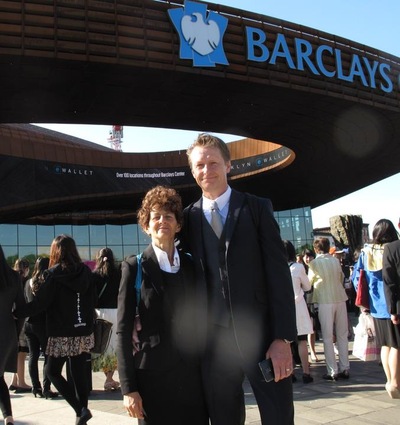 Rosemary and Stephen Byfield from Edinburgh, United Kingdom
Rosemary and Stephen Byfield from Edinburgh attended the conference on May 14. Rosemary started practicing Falun Dafa in June 1999, one month before the Chinese communist regime launched its brutal persecution campaign.
Stephen went to Beijing with three other U.K. practitioners to protest the persecution in 2002. They planned to unfurl banners with the words "Falun Dafa is good" on Tiananmen Square, but police arrested them at their hotel the day before, detained them for a day, and deported them to the U.K.
"We talked with some people in coffee shops and noticed many of them did not know about Falun Dafa. They were shocked when hearing about the persecution in China," said Rosemary.
Stephen mentioned that the day before the conference, they met with a young Chinese man who had been misled by the Chinese Communist Party's propaganda, used to incite hatred of Falun Dafa and gain public support for the regime's suppression campaign. He said, "I felt sad for him, since he was deceived by the Party's lies and had misunderstandings about Falun Dafa. We need to keep raising awareness."
Practitioner From New York: "This Is a Pure Land"
Mark Cnudde from Alabama
Mark Cnudde from Alabama said that the first speaker at the conference struck him. The speaker talked about how he had acted according to Falun Dafa's principles only part of the time, as if it was a job. Mark said, "I now know that I have to practice more diligently. I feel I had been practicing part time. From now on I will become full time."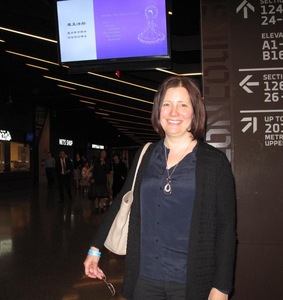 Carita Zoupounidou from Sweden started practicing Falun Dafa in 1998.
"I am encouraged by the sharing of fellow practitioners. During my first year of practicing Falun Dafa, I was very diligent. I slacked off after that, as I was lonely in a small town. Recently I really tried to catch up. We moved to a larger town, and I found many practitioners. We regularly have group study," said Carita Zoupounidou from Sweden.