Canada: Grand Parade in Toronto Celebrates World Falun Dafa Day
May 22, 2015 | By Minghui correspondent Zhang Yun in Toronto, Canada
(Minghui.org) A grand parade swept through the heart of Toronto on May 17, 2015, as hundreds of Canadian Falun Dafa practitioners celebrated World Falun Dafa Day.
The festivities commemorate May 13, 1992, when Falun Dafa was first introduced in China. Twenty-three years later, around 100 million people in over 100 countries practice Falun Dafa.
The practitioners gathered at Nathan Phillips Square in front of Toronto's City Hall for a rally and a demonstration of Falun Dafa exercises ahead of the parade in the afternoon, led by a marching band formed by practitioners from around the region.
Young women dressed as celestial maidens, practitioners bearing colorful flags, and a team of waist drummers suited up in golden Chinese dress, were among some of the most eye-catching parts of the parade.
Practitioners also presented a torture reenactment scene in the parade to show the torture methods used by Chinese communist authorities on practitioners since the regime's brutal persecution of Falun Dafa started in 1999.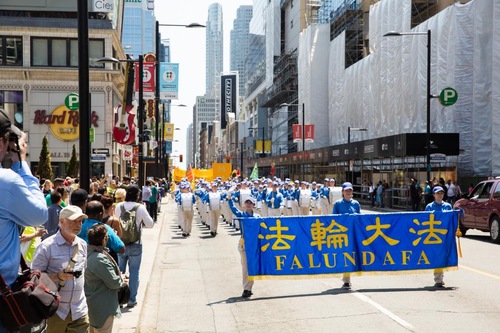 The Divine Land Marching Band leads the procession through downtown Toronto.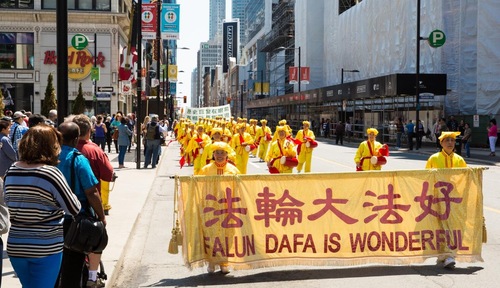 Waist drummers greet spectators with a display of traditional Chinese culture.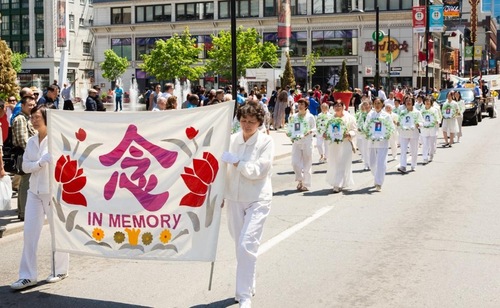 A memorial of Falun Dafa practitioners tortured to death for their belief by the Chinese communist regime
A re-enactment scene to raise awareness of the state-sanctioned killing of Falun Dafa practitioners in China to harvest their organs for profit
"My Heart Goes Out to You"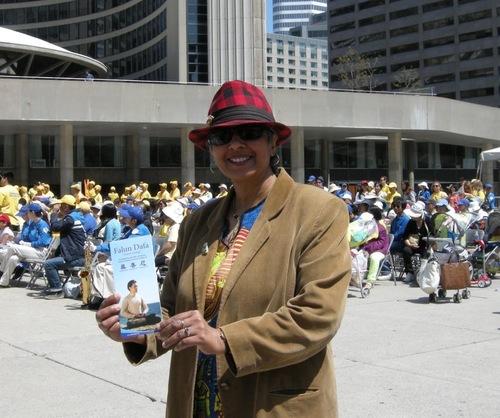 Community worker Pam joins the practitioners' rally and parade in Toronto.
A community worker named Pam joined the rally and parade to show her support for Falun Dafa. She is familiar with the spiritual practice and impressed by the demeanor of members of the Falun Dafa community. "They are very peaceful and compassionate," she said.
"You should be proud of yourself. My heart goes out to you," she said, adding, "I am sorry for what happened to practitioners in China. Let's hope for the best. Peace and harmony will ultimately be achieved."
Member of Provincial Parliament Joins the Parade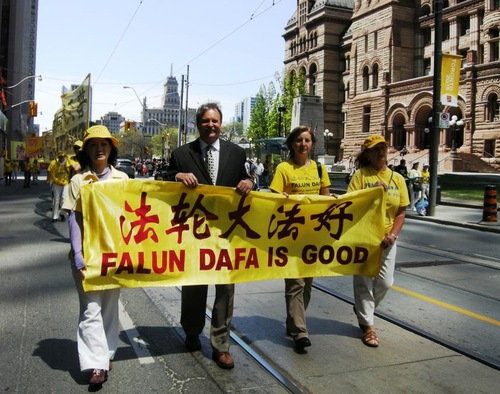 Member of Provincial Parliament Jack MacLaren joins the event.
Jack MacLaren, Member of Provincial Parliament for Carleton-Mississippi Mills, spoke at the rally to support practitioners' efforts to end the persecution in China. He then joined practitioners in the parade and held a banner that read "Falun Dafa is good" before distributing pamphlets about the persecution to passersby.
Falun Dafa Is "Everywhere"
Peter watches the parade in front of a hotel.
"Very magnificent," a tourist named Peter said of the parade. He had heard a lot about Falun Dafa. "I travel around the world, and there is Falun Dafa everywhere. I am totally against the persecution. It has to stop!"
London Man Condemns Persecutors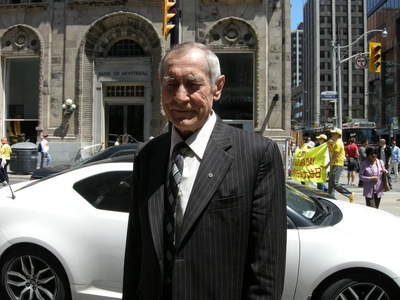 Graham from London watches the parade in Toronto.
Graham was happy to see the parade. "Very inspiring," he said. "It helps more people know about Falun Dafa and what is happening in China. The persecution is too brutal, and a government that suppresses this group of people is too ignorant."
Passersby "Very Glad to See Parade"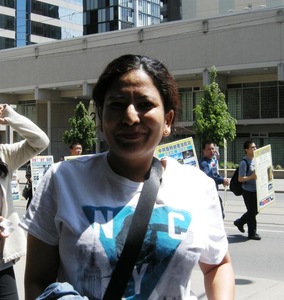 Toronto resident Bindu watched the parade.
A woman named Bindu who works in downtown Toronto became very emotional after she learned about the persecution of Falun Dafa in China.
"I am very glad to see the parade today, because it helps me know about the persecution. I support the practitioners' effort in ending the persecution," she said.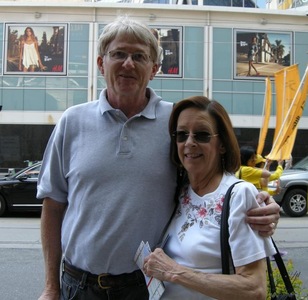 Debby and her husband at the parade
Debby and her husband said they had not seen a Falun Dafa parade before. "It looks like a very good practice," Debby commented. "I am going to find out more about it when I go home. I am lucky to come across the parade today."
Retired Chinese Official Wants to Learn Falun Dafa
Mr. Li, a retired official from Shenyang, China came to the event early in the morning and bought a few Falun Dafa books with him.
His cousin practices Dafa, he said. "She is a teacher, and her illnesses went away after she started practicing....After the persecution began, she was sent to a forced labor camp. I admire her perseverance in the face of persecution."
"I learned about the persecution when I traveled outside of China. I have now bought the books, and I want to know where I can learn the practice," Mr. Li said.
Mr. Shi from northeastern China was excited when he saw the parade. He was visiting Toronto for a month. His wife took pictures and shouted, "Falun Dafa is good!"
"It's wonderful and we have so much freedom here," she said. "I can say what I want and not be arrested!"
Man Starts Practicing Dafa After Past Parade
Shapour Shahidi from Iran started practicing Falun Dafa four years ago after he saw a Falun Dafa parade in Toronto.
"I became a practitioner because of the parade on Falun Dafa Day," he said.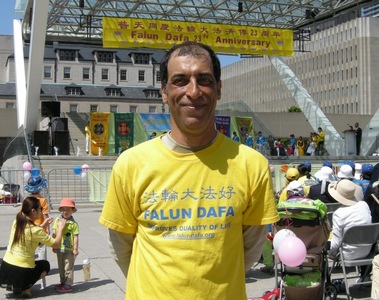 Shapour Shahidi
"I saw a tall man sitting on a golden throne in the sky above the waist drummers waving at everyone, including me. I suddenly had a thought that I want to find this practice," Shahidi said.
"When I opened the book Zhuan Falun, I realized the man I saw at the parade was Master Li Hongzhi (the founder of Falun Dafa). I read the first paragraph and knew it was what I had been looking for all my life. Tears fell from my eyes," he said.
Shapour was addicted to smoking and drinking before he became a practitioner.
"I had been a smoker for 38 years. I was smoking a pack of cigarettes everyday. I was also using marijuana. Four months into the practice, I quit all of it. I couldn't have done that without Falun Dafa," he said.