Canada: Falun Gong Praised for "Positive and Uplifting Energy" in Victoria Day Parade
May 22, 2015 | By Minghui correspondent Zhang Ran
(Minghui.org) A marching band, waist drummers, a lotus flower float, and practitioners demonstrating Falun Gong exercises made an appearance in the 117th annual Island Farms Victoria Day Parade on May 18, 2015, a Canadian federal holiday. In total, 112 groups participated in the three-hour event in Victoria, the capital of British Columbia.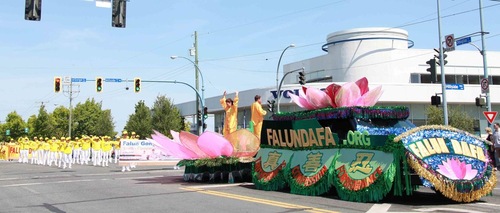 A Falun Gong float bearing Chinese characters for "Truthfulness, Compassion, Forbearance" at the 117th annual Island Farms Victoria Day Parade.
Applauding the the practitioners' performances, some spectators danced along with the music and expressed interest in learning the Falun Gong exercises.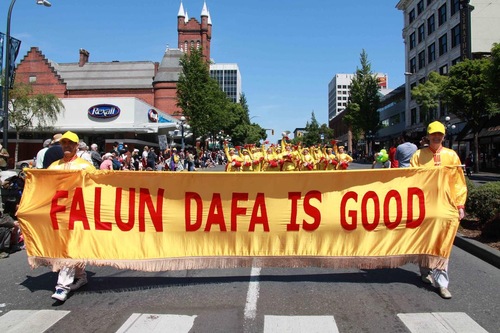 A bright banner leads a team of waist drummers in the parade.
"The exercises are peaceful. It gives me a positive and uplifting energy," said Linda, a woman who followed along with the Falun Gong exercise movements.
Vincent and Laurie, husband and wife, thanked practitioners for participating in the parade. "It is a great performance. I can tell that they [practitioners] worked hard and have put their heart in this. I really like the colors and positive energy from the waist drum team," said Vincent.
"Truthfulness-Compassion-Forbearance is something good to have," he added after being told that Falun Gong was rooted in 5,000 years of Chinese culture.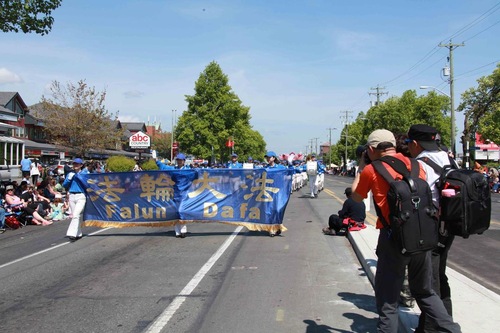 The Divine Land Marching Band comprises Falun Dafa practitioners and performs in parades and other community events.
Spectator Paul commented, "I have heard about Falun Gong in the past. As we can see today, the group is serene. So is the music." He pressed his palms together in a heshi, a hand gesture of the Buddha school, to show his respect towards practitioners.
Ms. Chen, who immigrated from China three years ago, came to the parade with her son by ferry from Vancouver. She applauded the practitioners and said she watches the parade every year. "Glad to see Falun Gong practitioners here again. They are really doing great," she said.