Canada: Practitioners in Vancouver and Calgary Celebrate Falun Dafa Day
May 15, 2015 | By Canadian Falun Gong practitioners
(Minghui.org) Practitioners in Vancouver and Calgary celebrated World Falun Dafa Day, May 13, which marks an anniversary of Falun Dafa's introduction to the public.
Vancouver
Practitioners held the celebration on May 10 in front of the Vancouver Art Gallery.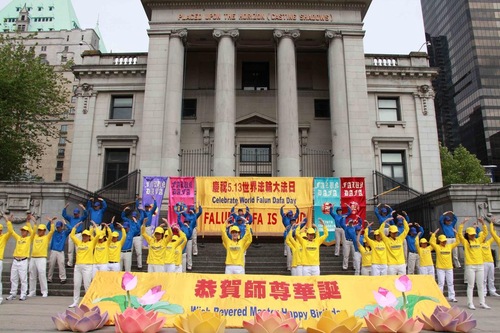 Practitioners demonstrate the exercises at the Falun Dafa Day celebration in Vancouver.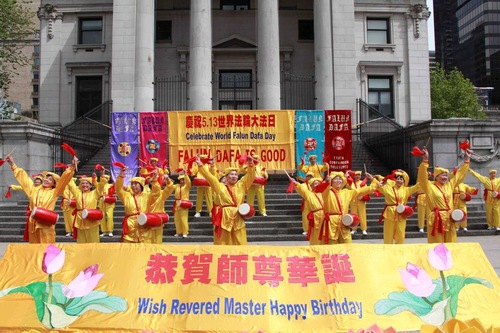 A waist drum performance by Vancouver practitioners
Many government officials in British Columbia had sent greetings in honor of Falun Dafa Day, including five Parliament Members (Kennedy Stewart, Fin Donally, Peter Julian, James Moore, Kerry Linne Findlay) and mayors of eight cities (Port Coquitlam, Penticton, North Vancouver, Mission, Kelowna, Duncan, Chiliwack, Courtney). Among them, James Moore is also the Minister of Industry.
Practitioners come from all walks of life and all ages. Pearl, 12, who will attend the gifted youth program at the University of British Columbia this September, shared her story: "I've practiced Falun Gong with my grandma since I was very young. It keeps me healthy and opens my mind."
Besides her academic achievements, she also learned to follow the principles of Truthfulness-Compassion-Forbearance. "That makes me more considerate of others, and life is now much easier."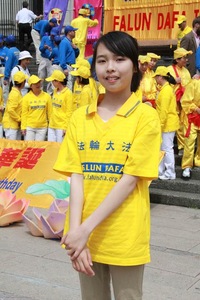 Pearl, 12, will attend the gifted youth program at the University of British Columbia this September.
Mr. Jin, a former sales manager at General Electric, currently owns a software company. After he started to practice Falun Gong in 1995, he found that he was more productive at work.
"Many of our misunderstandings come from emotions and misconceptions. As practitioners, we tend to view things from the other person's perspective and improve ourselves. This quickly resolves conflicts and keeps the team more efficient," he observed.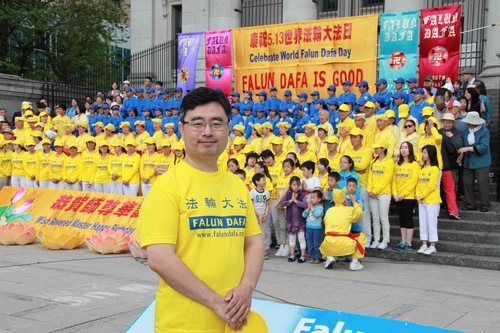 Mr. Jin, owner of a software company
Ms. Li began to practice Falun Gong in 1996 with her husband. "He used to have poor health, and we were looking for something that could keep us fit." Ms. Li says she is grateful for the mental and physical benefits she derives from Falun Gong.
As a member of the Divine Land Marching Band, she spends a lot of time practicing and attending community events. "I feel good, full of energy, and all of this comes from Falun Gong," she explained.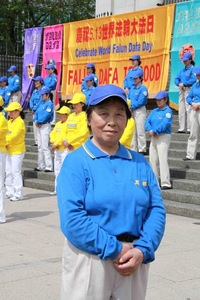 Ms. Li says practicing Falun Gong gives her energy.
Don, an immigrant from Vietnam, first saw people doing the Falun Gong exercises in a park in 1999. "I read about it and found it interesting, so I began to read the books and learn the exercises." He said the practice helps him be more clearheaded and tolerant of others.
When his coworkers noticed and asked him about his changes, "I told them that practicing Falun Gong will give you a clear mind and a better life," said Don with a smile.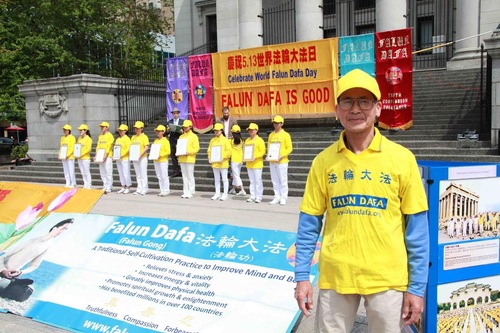 Don says he became more clearheaded after starting to practice Falun Gong.
Calgary
Practitioners in Calgary gathered at Prince's Island Park on May 10 with group exercises and posters. Some pedestrians learned the exercises and asked about nearby group exercise locations.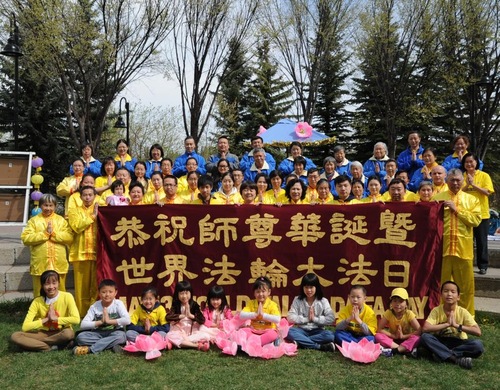 Practitioners celebrate Falun Dafa Day in Calgary on May 10.
Yves and his wife walked through the park and stopped and read the posters. "Oh, Truthfulness-Compassion-Forbearance, that is something we should all embrace." said his wife.
After learning about Falun Gong and how it is brutally persecuted in China, they said, "That is important for us to know. You have made my day."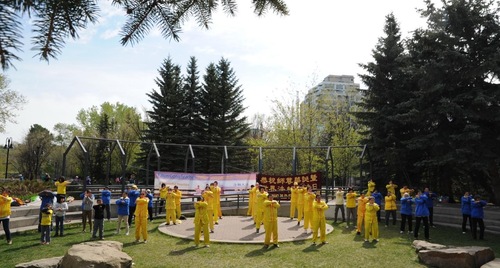 Practitioners demonstrate the Falun Dafa exercises at Prince's Island Park.
Darcy and his friend said she had heard from another friend about the Chinese communist regime's killing of Falun Dafa practitioners to harvest their organs for profit.
"Innocent people should not be harmed," Darcy said, "We cannot just accept it and let it continue."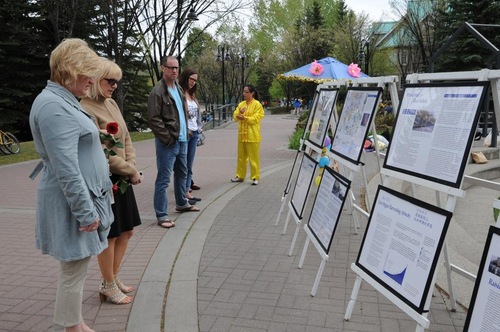 Passersby read about the persecution of Falun Dafa by the Chinese communist regime and the killing of practitioners to harvest their organs for profit.