Trial Set Next Week for Canadian Citizen's Father
April 17, 2015 | By a Minghui correspondent in Sichuan Province, China
(Minghui.org) The trial date of Falun Gong practitioner Mr. Li Xiaobo has been set for April 21, according to his lawyer. Mr. Li has been detained at the Longquanyi Detention Center for a year, during which time he has reportedly lost vision in his left eye. Mr. Li's son (Paul Li) is a Canadian citizen.
The Longquanyi Court in Chengdu, Sichuan Province, has repeatedly denied the defense lawyer's access to the case file since it was forwarded to the court early last November. Contrary to legal procedure, the case is unavailable in the online docket system. Therefore, lawyer Li Guisheng has visited the court repeatedly to request the case file, but his requests have been evaded and denied by the judge.
The same judge, Jin Xueqiang will be presiding over the trial next Tuesday.
Mr. Li was arrested on April 12, 2014, with his son Li Zhe (Paul) when distributing Falun Gong informational materials in local villages in Chengdu. Paul was deported to Canada because he holds Canadian citizenship.
Prior to April 2014 arrest, the elder Mr. Li had just been released in 2013 from eight years of imprisonment for practicing Falun Gong.
Canadian leaders have answered to the pleas of Paul Li, who has been working tirelessly to secure his father's release.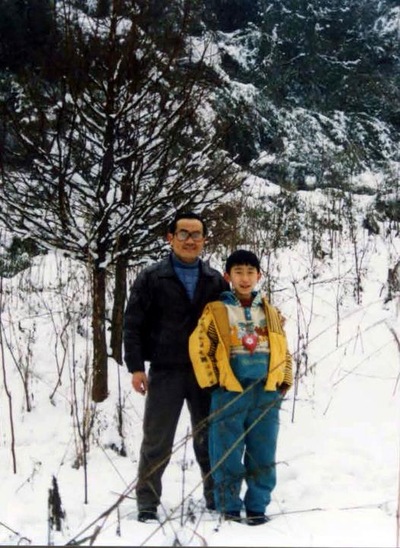 A young Li Zhe (Paul) with his father Li Xiaobo
Canadian Members of Parliament (MP) Gary Schellenberger and Brad Butt wrote the Chinese Ambassador in February 2015, demanding that the Chinese government release Mr. Li and other illegally detained Falun Gong practitioners. The MPs stressed that practitioners shouldn't be imprisoned for peacefully practicing their belief and freedom of expression.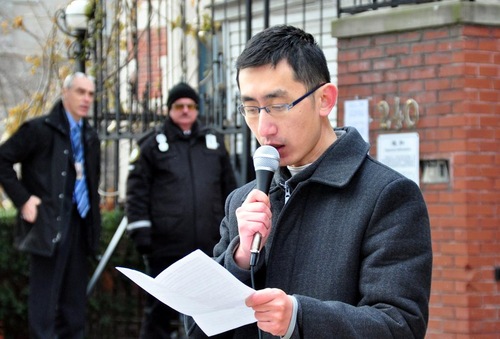 Canadian citizen Paul Li (Li Zhe) reads an open letter on December 19, 2014 in front of the Chinese Consulate in Toronto calling for his father's release from detention in China.
Canadian Foreign Minister Rob Nicholson replied to Paul last week, and Canadian Prime Minister Stephen Harper raised the issue of Falun Gong practitioners' human rights during his visit to China last year.
Mr. Harper also gave the Chinese Minister of Foreign Affairs a list of Canadian citizens' family members who are prisoners of conscience in China, including Mr. Li Xiaobo, calling for their immediate release.
Partial List of Personnel Involved in the Persecution of Mr. Li Xiaobo:
Yang Dejun (杨德军), president of Longquanyi Court: +86-28-84875399 (Office), +86-28-82275186 (Home), +86-13308239999 (Mobile)Jin Xueqiang (金学强), presiding judge in Mr. Li Xiaobo's case: +86-28-84875415, +86-28-84870327Cao Yu (曹宇), director, Longquanyi Detention Center, where Mr. Li is detained: +86-28-84882928 (Office)
Additional information on personnel and agencies is available in the original Chinese article.