Woman Arrested Shortly After Being Released on Medical Parole
December 26, 2015 | By a Minghui correspondent from Heilongjiang Province, China
(Minghui.org) The police broke into Ms. Li Aiying's home and arrested her on the evening of November 4, 2015. They did not allow her even to put her pants on before taking her to the police station.
She was transferred to a detention center the next day. Ms. Li had previously been released on medical parole, but the police still claimed that she was a fugitive to justify their arrest.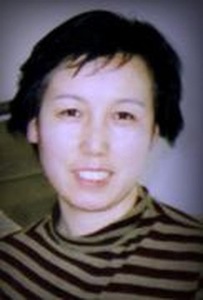 Ms. Li Aiying
Most Recent Arrest
Ms. Li was arrested on September 27, 2013, for talking to people about the persecution of Falun Gong. Her health was in imminent danger from being tortured at the detention center, so she was released on medical bail. According to witnesses, she was emaciated and unrecognizable. (More details on the persecution of Ms. Li: http://en.minghui.org/html/articles/2013/12/29/143851.html)
The police extorted 10,000 yuan from Ms. Li before she was released and they ordered her to report to them every day. She had to pay an additional 10,000 yuan for failing to report after her recovery.
History of Persecution
Ms. Li was first arrested and sentenced to one year of forced labor in December 1999 for going to Beijing to appeal for her right to practice Falun Gong. She was held in the Qiqihar Forced Labor Camp. The guards tried to force her to renounce Falun Gong by using different torture methods.
They took Ms. Li into a hen-house on December 20, 1999. The guards tied her arms behind her back and put a bar through her arms which was held up by two desks. She was thus suspended on her knees.
After a long period of time, they momentarily released her and then resumed the torture by tying her arms to her side.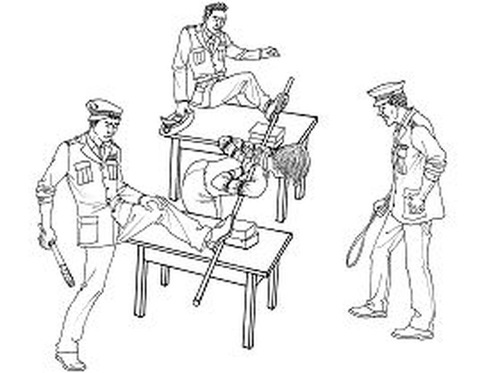 Torture reenactment: Binding with rope and suspending on knees
Ms. Li was once cuffed to a bed for 72 hours in the winter cold and not allowed to close her eyes or sit up.
She was also locked in solitary confinement and forced to sit in a crouching position with her hands cuffed behind her back for ten days as punishment for doing the Falun Gong exercises in November 2000.
Ms. Li's term was illegally extended for 11 months before she was released on October 16, 2001. She was closely monitored by the police after her release.
Ms. Li was arrested again in April 2002 while on her way to visit another practitioner. She was sentenced to three years of forced labor at the Qiqihar Forced Labor Camp.
She was locked in solitary confinement in May 2003 and forced to listen to slander against the practice. Her hair turned gray after 74 days of confinement.
Authorities at the forced labor camp intensified the persecution of Falun Gong as part of their plan to "smash the enemy's front line," on February 16, 2004.
Ms. Li went on a hunger strike to protest the persecution and was force-fed unknown drugs as punishment. Her health deteriorated, but she was still forced to do hard labor. Her term was extended for an additional four months for not renouncing her belief.
Toward the end of 2004, the head of the forced labor camp claimed in a meeting that 98% of the practitioners held in the labor camp had given up the practice. When Ms. Li stood up and said that she still practiced Falun Gong, her term was extended again to three months.
Ms. Li was finally released in July 2005. Her family could hardly recognize her.
Participants involved in persecuting Ms. Li:Jian-an Police Station of Qiqihaer City: +86-452-2811460 (Office)Chief of 610 Office of the Political and Legal Affairs Committee of Qiqihaer City: 86-452-2791608 (Office), +86-452-2791613 (Office)Political and Legal Affairs Committee of Qiqihaer City: +86-452-2791601 (Office), +86-452-2796688 (Office)