Australia: Rally in Melbourne Calls for Bringing Jiang Zemin to Justice
October 07, 2015 | By Xia Chunqing
(Minghui.org) Many sports fans attending the Australian Football League (AFL) Grand Final in Melbourne on October 3, 2015, not only enjoyed the games, but also learned something at City Square that they did not know before.
Falun Gong practitioners, led by the Divine Land Marching Band, held a rally at the square to inform the public about the wave of lawsuits being filed against Jiang Zemin, for persecuting Falun Gong in China.
Mr. Fan, a Falun Dafa Association coordinator in Victoria, said that the persecution of Falun Gong in China has harmed both practitioners and their family members, and caused destructive consequences to Chinese society in general.
More than 180,000 criminal complaints, most from China, have been filed against Jiang Zemin as of September 22. In addition, over 500,000 petitions have been received to support the lawsuit.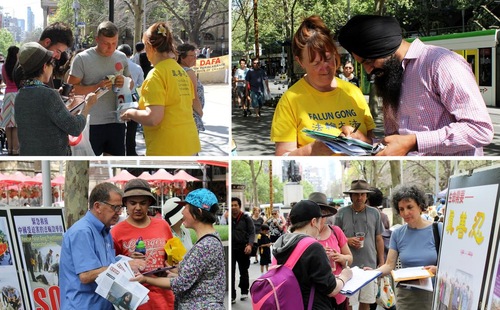 Passersby sign petitions to support practitioners.
Jiang Is Responsible for Launching and Sustaining the Persecution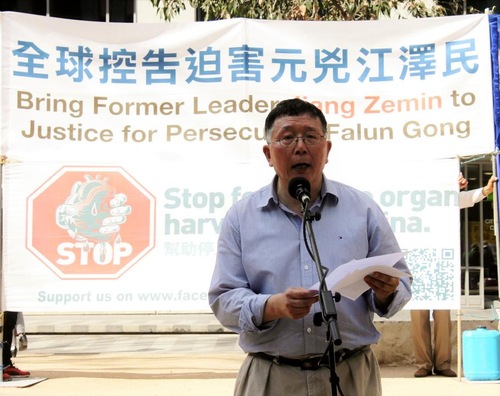 Mr. Fan, a Falun Dafa Association coordinator in Victoria, Australia
Reviewing the past 16 years of persecution in China, Mr. Fan said that Jiang Zemin started, directed, and sustained the suppression using the 610 Office, a Gestapo-type organization that controls government agencies at all levels.
"As a result, tens of millions of innocent Falun Gong practitioners, along with their family members, became victims of the catastrophe. The sanction against the principles of Truthfulness-Compassion-Forbearance in turn undermined China's justice system, pushing government corruption and social moral degeneration to a new level," explained Mr. Fan.
Defamatory propaganda spread by the Chinese Communist Party (CCP) also spread overseas through various news agencies, leaving a large number of people silent, despite the ongoing severe human rights violation.
Mr. Fa said that suing Jiang is a beginning, which will help end this tragedy, and that he hoped more people would join the effort in supporting righteousness.
Live Organ Harvesting Continues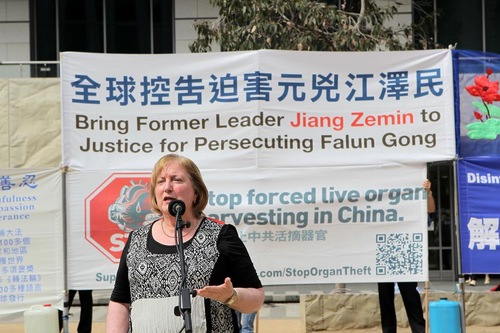 Leigh Smith from CIPFG said she hopes more people will step forward to end live organ harvesting.
Leigh Smith, a representative from the Coalition to Investigate the Persecution of Falun Gong in China (CIPFG), said that increasing evidence is confirming the organ harvesting from living Falun Gong practitioners in China.
Since being exposed to international society in 2006, live organ harvesting has drawn broad attention, especially through the efforts of Doctors Against Forced Organ Harvesting (DAFOH). Several books written by medical professionals and journalists have highlighted the severity of the issue, including Bloody Harvest (2009), State Organs: Transplant Abuse in China (2012), and The Slaughter: Mass Killings, Organ Harvesting, and China's Secret Solution to Its Dissident Problem (2014).
Smith urged people to rethink when considering transplant tourism, "Think very carefully before phoning that hospital in China asking for an organ transplant. Be aware that you are asking for someone to be killed on demand."
She hopes that more people will sign petitions or contact Australian officials to help stop the live organ harvesting, because it is "unethical and against humanity."
The Darkest Days in History Will Be Over
Chinese human rights advocate Gao Chunfeng refers the persecution of Falun Gong and live organ harvesting as, "the darkest days in Chinese history," because it suppresses practitioners for their righteous beliefs, and its severity is unprecedented.
He was glad to see that more than 210 million people have announced their separatation from the CCP. "The day will come soon when Jiang is brought to justice."
Bon Nguyen, leader of the Vietnamese community in Victoria, said that Falun Gong practitioners had done nothing wrong. "They just want to practice their own exercises so that they can be strong in their own minds" and become better people.
Nguyen said that Jiang and the CCP are controlling China. "We are human, we know that what the communist leaders are doing is wrong, so we have to stand up. We know the Communist Party lies, so there are probably many, many more people killed. Sign the petition, talk to our politicians."
"I Urge All of You Here to Look at That Petition and Sign It"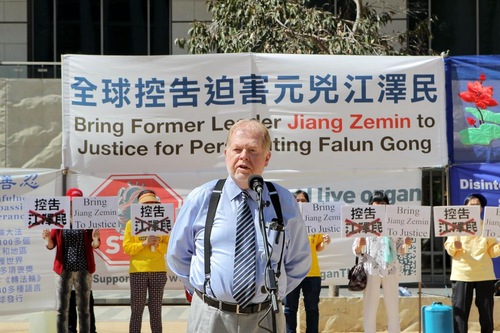 Andrew Bush, senior member of the Liberal Party, spoke at the rally.
Andrew Bush, a senior member of the Liberal Party, traveled from Sydney to speak at the event. He said that Falun Gong "is a contemplative and meditative exercise program with a deep sense of spirituality and a profound sense of ethics."
As a judge, Bush said he is free to make any decision on any matter that he hears, and no one tells him what decisions he should make. But in China, "Judges are told in certain cases, the decision they are required by the Communist Party and the authorities to make, and if you are the poor person who is appearing in front of that judge you will hear the decision that he is told to make. And that's where the harm starts."
He said people should not ignore these human rights abuses. "I urge all of you here to look at that petition and sign it. To say this behavior is unacceptable. Jiang Zemin needs to be held accountable."
Bush said it is absolutely wrong to persecute Falun Gong "Simply because they [practitioners] want to practice an exercise program that has a deep sense of spirituality and ethics, both of which are summarized in its three word motto, compassion, forbearance, and truth."
"And if you have compassion, and if you believe in truth, I hope you will be forbearing in your support of Falun Gong and in your firm and unequivocal, unquestioned, and unreserved opposition to forced live organ harvesting," Bush said, "And if that isn't enough, imagine what you would do if it happened to you or someone you know, and how you would feel. And then for God's sake sign their petition."