Japan: Signatures Collected to Support Lawsuits Against Former Chinese Dictator
October 07, 2015 | By a Falun Gong practitioner
(Minghui.org) Falun Gong practitioners in Japan raised awareness about the persecution in China, and collected signatures to support the lawsuits against Jiang Zemin, former head of the Chinese Communist Party (CCP). Jiang initiated the persecution of Falun Gong and abused his power in orchestrating the suppression of innocent practitioners.
Over 180,000 people have filed criminal complaints against Jiang with the Supreme People's Procuratorate and the Supreme People's Court in China since May 2015. Nearly 550,000 people in Asian countries have signed petitions supporting the lawsuit since the end of September.
"More and more Japanese people are learning about the facts of the persecution and signing the petition to support the lawsuit. Over 1,000 signatures were collected in July. The number increased to 10,000 in August, and over 30,000 in September," said practitioner Ms. Wan, who collected signatures in Tokyo.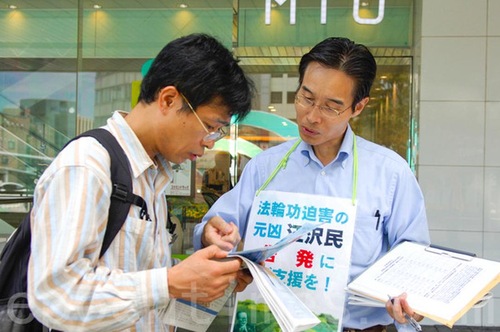 A passerby listens to a practitioner explain the facts about the persecution.
More than 8,800 people signed the petition in Kumamoto Prefecture, Japan in less than one month. "This is such a grave human rights atrocity! It is unbelievable, too cruel, and too horrible! Such persecution cannot be allowed to continue," said many passersby who signed the petition supporting the lawsuits against Jiang.
One young man in his twenties signed the petition without hesitation after listening to a practitioner's explanation. He said excitedly, "It's my birthday today. Signing the petition is meaningful to me and makes me happy. You work hard and I support you."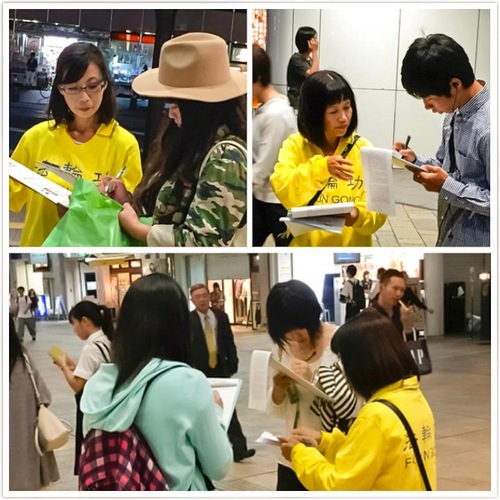 Passersby in Kumamoto Prefecture sign the petition to support the lawsuits against Jiang.
"Peace and freedom are promoted across the world. How can we allow such a persecution? It must stop," said a tourist from South Korea, who read the informational materials received from a practitioner in Kumamoto Prefecture.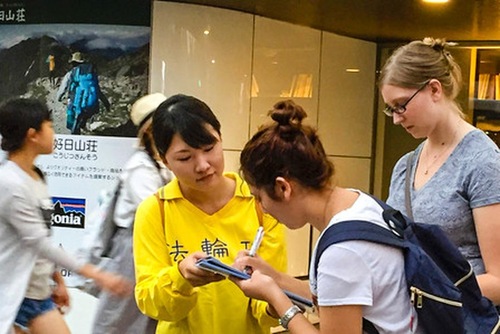 Foreign tourists sign the petition in support of the lawsuits against Jiang.
The ten-day-long 70th National Sports Festival of Japan was inaugurated in Wakayama Prefecture on September 26, 2015. Falun Gong practitioners in Osaka explained the facts of the persecution to the people who were participating in the festival. Upon learning of the CCP's live organ harvesting, many people were shocked and thought it was inhumane. One elderly man said, "Conducting live organ harvesting from citizens in the persecution, Jiang Zemin is too bad." He signed the petition and encouraged the practitioners, "You work hard! Keep it up!"
People in Osaka sign the petition to support the lawsuits against Jiang.