Northern Ireland: College Community Supports Falun Gong
October 07, 2015 | By a Falun Gong practitioner in Northern Ireland
(Minghui.org) Falun Gong practitioners from Northern Ireland held an event to introduce Falun Gong, and expose the persecution of the practice in China to the faculty, staff, and students at Belfast Melt College (BMC). Many people signed a petition to help end the persecution.
Close to 1,000 introductory flyers were distributed to faculty, staff, and students within four hours. Many people at BMC became interested in learning more about Falun Gong, and left their contact information. The student organization office invited the practitioners to return to campus to teach the exercises.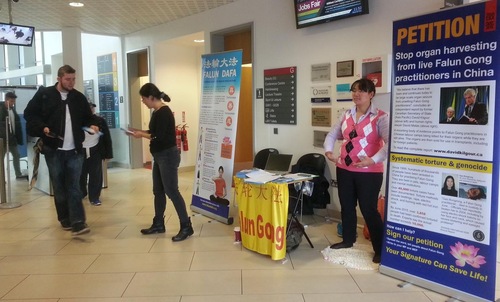 Practitioners demonstrate exercises and introduce the practice at the BMC entrance.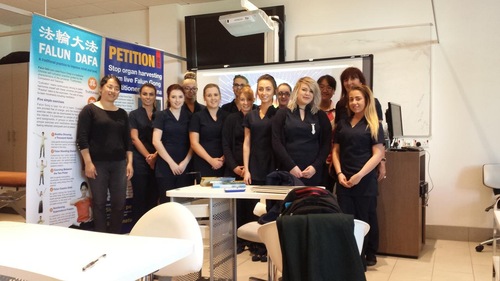 Professor Brady's class poses for a group picture with practitioners after learning Falun Gong exercises.
When the activities were wrapping up at 1:00 p.m., Professor Brady invited practitioners to her class, as she thought it would be beneficial to her students.
The practitioners introduced Falun Gong and its benefits, and how it has spread around the world. They also exposed the persecution of Falun Gong by the Chinese Communist Party (CCP), and the CCP's organ harvesting from living practitioners for profit. The entire class signed the petition calling for an end to the persecution, and learned the Falun Gong exercises. Professor Brady hopes to do the exercises every day during her lunch break.