Seoul, South Korea: 9-Day Falun Dafa Seminar Held at Tianti Bookstore
October 28, 2015 | By a Falun Dafa practitioner in South Korea
(Minghui.org) Tianti Bookstore in Seoul hosted a nine-day Falun Dafa seminar from September 23 to October 1. While watching Master Li Hongzhi's lecture series on video, both new and veteran students improved their understanding of the ancient spiritual discipline. After each lecture, attendees learned and practiced the meditative exercises.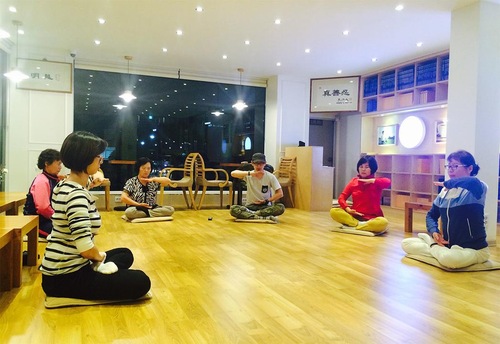 Learning the sitting meditation during the nine-day Falun Dafa seminar held at Tianti Bookstore in Seoul.
The participants shared their experience on the last day of the seminar.
Though his father has practiced Falun Dafa for many years, Mr. Park hadn't committed his mind to the practice until attending the seminar this time. During the part of the lectures that describes the opening of the Celestial Eye, he felt pressure between his eyebrows. This was encouraging to him. He said he would continue to study the teachings and exercise with his father after the seminar.
Another student, Ms. Zhang, had heard about Falun Dafa from a friend and looked it up online. The practitioners she knew told her about the nine-day seminar. She said that while she was learning the first exercise, she felt energy flowing between her arms. She also noticed that she barely had any of the usual symptoms of her heart problem and nose allergy during the nine days.
Ms. Li became a practitioner last May, but she decided to attend the seminar to gain more clarity about the principles taught by Falun Dafa. She said that watching the lecture series helped her understand issues more deeply and rationally than before.
Another attendee, Ms. Zhou, said that the seminar helped her gain confidence, since she recently returned to the practice. She had started learning Falun Dafa ten years ago, but wasn't progressing and eventually quit. She never told anyone about her practice nor joined Falun Dafa activities due to her fear of the ongoing persecution in China. This August she picked up the practice again and attended a Falun Dafa conference. She said that the seminar helped her improve significantly and cleared her thoughts. She stopped being afraid. She said that she felt very positive energy while watching the lectures, and became determined to be a genuine cultivator.