More Falun Gong Practitioners Detained in Black Jails in 2014
January 16, 2015 | By a Minghui correspondent in China
(Minghui.org) Last year, Minghui reported that while China officially abolished its labor camp system in 2013, the Communist regime's persecution of Falun Gong has not abated.
Instead, the abuses are increasingly carried out in more secretive facilities, such as brainwashing centers, or black jails, where guards are charged with coercing Falun Gong practitioners to renounce their beliefs through physical and psychological torture.
In 2014, 969 Falun Gong practitioners were detained in 158 brainwashing centers in 27 provinces, direct-controlled municipalities, and autonomous regions in China.
This represented a 31.5% increase in the number of practitioners detained in brainwashing centers compared to 2013. While labor camps were shut down in the second half of 2013, black jail detentions increased four-fold. This upward trend in extralegal detentions continued in 2014.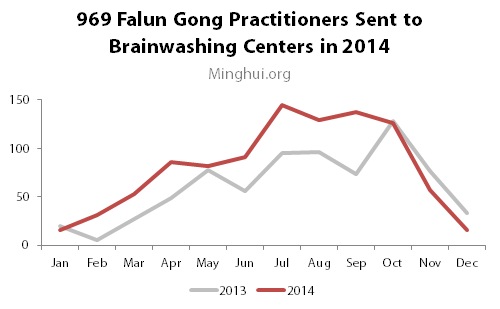 Jilin Province had the most brainwashing centers with 20, followed by Hubei (16), Shandong, Jiangsu and Hunan (13 each), Beijing (11), and Anhui (10). The remaining 20 regions each had brainwashing centers numbering in the single digits.
Among the 969 practitioners detained in black jails in 2014, Jilin Province also had the most detainees: 201, or 21% of the total. This number is disproportionate to Jilin's population rank of 21st out of 30 administrative regions in China. It may be worth noting that Jilin is the birthplace of the founder of Falun Gong and where the practice was first introduced to the public.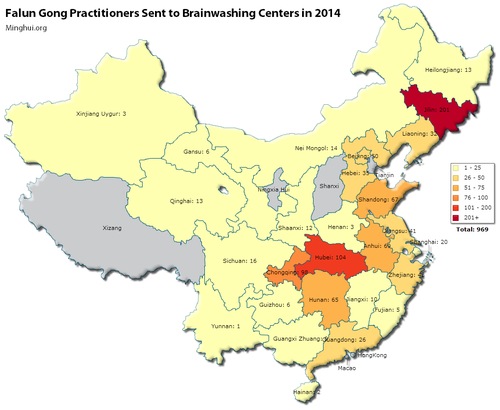 Brainwashing Centers Hidden in Hotels, Warehouses, and Schools
To avoid public scrutiny, brainwashing centers have appeared in clandestine locations, including blocked-off floors in hotels and schools. For example, one facility was set up in July 2014 at Shuangxing Middle School in Jilin Province. A number of local Falun Gong practitioners were arrested and detained there.
In Jinhua City, Zhejiang Province, the municipal government spent 200,000 yuan (~$32,000 USD) to remodel the Double Dragon Scenic Hotel and install security doors, window bars, and surveillance cameras for each room. The government signed a 15-year contract with the hotel for the use of its facilities at 230,000 yuan (~$37,000 USD) per year.
Fuyang City, Anhui Province set its brainwashing center at the second floor of Lanyuan Hotel,
The city of Chongqing turned the defunct Xishanping Forced Labor Camp into a black jail and officially renamed the facility a "legal education school," a common euphemism for brainwashing centers. Over 50 Falun Gong practitioners were detained in this facility.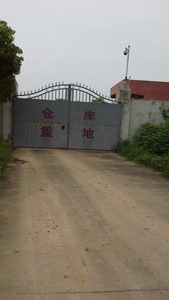 The gate of Qingshan District Brainwashing Center at Wuhan, Hubei Province is disguised as that of a warehouse.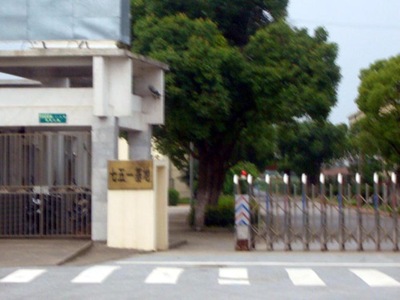 Public-facing names for these black jails range from innocuous to secretive. In Shanghai, one brainwashing center is simply labeled "Base 751."