Trends and Statistics of Persecution Cases in 2013 (Part 1)
January 13, 2014 | By Minghui correspondents from China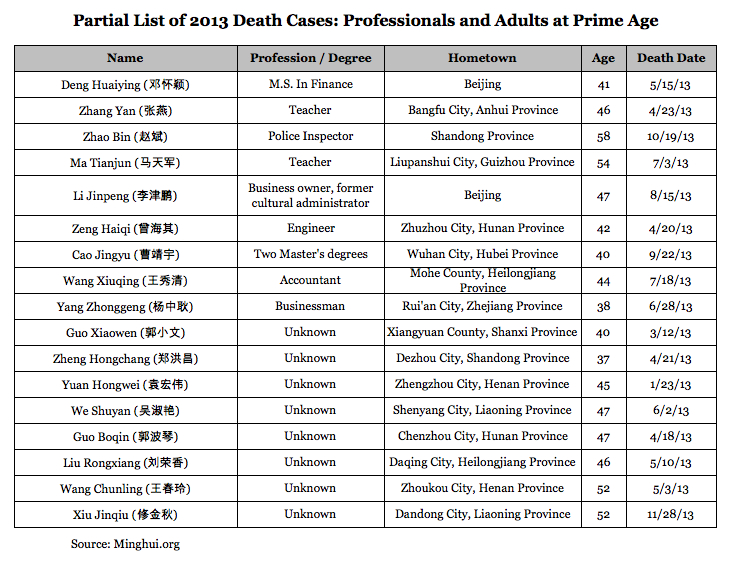 (Minghui.org) This report identifies three trends of persecution in 2013: increased secrecy, a last ditch effort to maintain a brutal persecution campaign as Chinese Communist Party (CCP) officials are being ousted one by one, and an increase in cases of persecution in brainwashing centers and prisons as a result of China's labor camps having been declared as closed.
The persecution of Falun Gong is still very much being orchestrated nationwide in China. It hasn't diminished in the least. On the contrary, it has become ever more rampant and is being kept behind the veil of secrecy.
One hundred and eight death cases were confirmed in 2013, with 34 deaths taking place in 2012 and 74 deaths in 2013. Many of the victims were professionals, such as government employees, doctors, teachers and business managers. More than a third died at their prime age of 40 – 50. Their families and workplaces suffered as a result of them being persecuted as well as their deaths.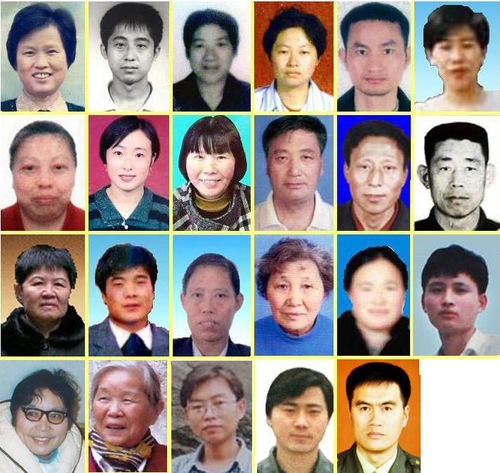 Pictures of some of the victims
Please see more cases here in " Summary Report: At Least 76 Practitioners Died in 2013 as a Direct Result of Persecution ."
Trend 1: Increased Secrecy
The Chinese regime directed all state-controlled media to slander Falun Gong around the clock at the beginning of the persecution in July 1999. They soon found that the persecution was openly condemned by the Western world, and it did not win the support of domestic Chinese. It resorted to show trials to make the persecution look "legal" and carried out torture secretly.
This trend was confirmed by a confidential order to the Chaoyang City Police Station on September 16, 2013. Wang Mingyu, the Party Secretary of Chaoyang City, Liaoning Province passed down the order: "Plan carefully, intensify the attacks, focus on effectiveness, beat them and do what's necessary, but keep it top secret.'"
Secret Plans
The Chaoyang City Police Station issued a confidential order in September 2013 to launch a plan of "1,000 policemen attacking Falun Gong."
Li Chao, the chief of the Chaoyang City Police Station, directed on September 27 the reprints of No. 44 [2013] document: "20 plans for the city police to maintain control and launch attacks for the sake of public security."
This confidential document required the 21 different public security agencies in the city to arrest at least 112 Falun Gong practitioners and issue administrative and criminal punishments.
Secret Arrests
Many arrests in 2013 were made secretly. The police officers didn't drive police vehicles, wear uniforms, show their identification cards, or reveal their identities. They simply broke into citizens' private homes and arrested them.
Ms. Jiang Shu'e, an employee at an antique store in Laiyang City, Shandong Province, was arrested by the local 610 Office on May 3, 2013. The store owner Zhang Shengqi discovered that Ms. Jiang was locked in a car. He thought they had encountered the mafia and tried to help her. As a result, Mr. Zhang was severely beaten. In the end, he found out that the "mafia" was actually a group of police officers.
The CCP judiciary system has also been secretly carrying out the persecution. Ms. Niu Guifang in Shenyang City, Liaoning Province was sentenced to three years in prison on February 27, 2013. The trial was conducted secretly in the detention center, and Ms. Niu's family wasn't notified. Ms. Niu was soon transferred to the Women's Prison of Liaoning Province. Her family remained unaware of the trial until much later.
Secret Killing
Falun Gong practitioners were also secretly tortured to death. Mr. Yang Zhonggeng (also known as Zhang Yang) died a result of torture on June 28, 2013 at the age of 38. He was beaten to death four days after his arrest.
When Mr. Yang's mom demanded an explanation for his death, the CCP officials claimed that Mr. Yang committed suicide.
Trend 2: Last Ditch Effort
Large-scale arrests took place in 2013 in many areas such as Harbin and Qiqihar cities in Heilongjiang Province; Shenyang, Chaoyang, Fushun, Dalian cities in Liaoning Province; Yiyang City, Henan Province; Beijing; Yibin, Pengzhou cities in Sichuan Province; Xuzhou, Xinyi Cities in Jiangsu Province; Gaomi City, Shandong Province; and Zhengzhou City, Henan Province.
For some arrests, the provincial, city, and county-level police joined forces, and sometimes with the national security agents.
Such actions were usually taken by main perpetrators of the persecution, who wish to delay the time they would be held accountable for their crimes by continuing the persecution.
Below are a few examples:
Li Dongsheng, Head of the 610 Office
Chinese news agencies reported that Li Dongsheng, head of the 610 Office, formerly vice minister of the Propaganda Ministry and later vice minister of Public Security, was under investigation on December 20 2013.
Li visited Huailai County, about 120 km from Beijing, a month before. He went to a village with the county Party secretary on November 5 and directed the county to increase propaganda and online surveillance to carry out the persecution of Falun Gong.
State-controlled media hadn't reported anything on Li Dongsheng since August. When it was rumored that Zhou Yongkang, Li's major political patron, was under house arrest, Li wanted to make public appearances to bet his future again on persecuting Falun Gong practitioners, in the hopes of being rescued by Jiang Zemin, the chief perpetrator who launched the persecution in July 1999.
While Li's position as the head of the 610 Office had been kept semi-secret and was left out in his official public introduction, the "head of the 610 Office" was his first official title mentioned in the announcement of his investigation.
Zhou Benshun, Party Secretary of Hebei Province
Domestic Security personnel in Shijiazhuang City, Hebei Province arrested over 30 Falun Gong practitioners on November 15, 2013 for owning blank desktop calendars. The order came directly from Zhou Benshun, Party secretary of Hebei Province.
Zhou had a close connection with the Political and Legal Affairs Committee (PLAC), the steering organization that governed the nationwide persecution of Falun Gong. Zhou Benshun was the secretary-general when Zhou Yongkang was the head of the PLAC between 2007 and 2012.
Before Zhou Yongkang's recent downfall, Zhou Benshun launched a pilot program in Hebei Province in 2012 to intensify the persecution of Falun Gong practitioners. In early October 2013, the 610 Office in Hebei Province widely distributed a "legal contest" announcement for the purpose of slandering Falun Gong. The announcement encouraged people to join and visit related websites to prepare for the contest.
Wang Xiankui, Governor of Heilongjiang Province
94 Falun Gong practitioners were arrested in Harbin City, Heilongjiang Province in March 2013. This was because Wang Xiankui, the then governor of Heilongjiang Province and current CCP secretary of the province, passed by Yilan County and saw banners reading: "Falun Gong is Good" and "Truth-Compassion-Tolerance is Good."
He was angered and extremely anxious as a result, and subsequently ordered the mass arrests.
Zhang Xiaopei, CCP Secretary of Jilin Province
34 practitioners were arrested in Jilin City, Jilin Province on October 17 and 18, 2013. Zhang Xiaopei, CCP secretary of Jilin Province, and Bai Yan, the head of the provincial 610 Office, personally directed the mass arrests.
Zhang Xiaopei even visited the Shahezi Brainwashing Center on the afternoon of October 20, where a lot of practitioners were detained, to direct the persecution there.
Trend 3: Brainwashing Centers Are the New Forced Labor Camps
As the CCP declared the "shutdown" of labor camps, many Falun Gong practitioners were "released" and then directly sent to brainwashing centers for further persecution. Some new brainwashing centers established in 2013 simply took over the facilities of "closed" labor camps.
Accordingly, quotas of persecution were re-assigned to prisons and brainwashing centers. This has caused a sharp increase in the number of illegal imprisonments (see the 2013 summary report ) and number of persecution cases in brainwashing centers.
158 brainwashing centers in 27 provinces functioned in 2013, according to Minghui statistics. At least 737 practitioners were tortured there. The number of practitioners sent to brainwashing centers during the second half of 2013 was four times more than the number in the first half of 2013.
New torture methods also emerged in brainwashing centers.
Drug torture on steadfast practitioners was more commonly used. This was to cause practitioners to lose consciousness and their willpower, so as to more easily coerce practitioners to sign the three statements of transformation.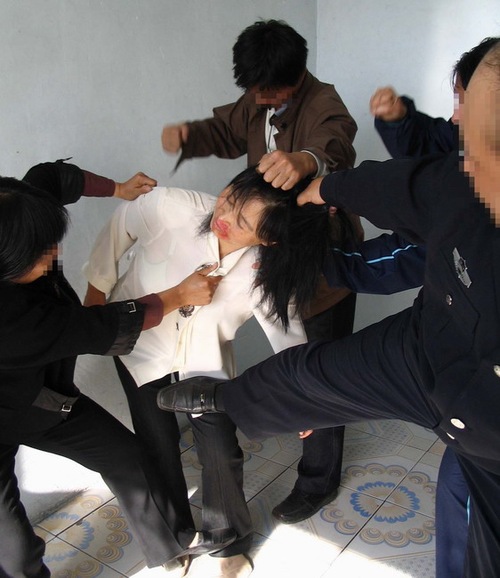 Torture re-enactment: severe beatings
Sexual abuse was also rampant in brainwashing centers in 2013.
Qu Shenxin, a staff member at the Jianghan District Brainwashing Center in Heilongjiang Province, visited Ms. Wang Yan's room several times a night wearing only underwear. He cursed at Ms. Wang, sexually harassed her and even attempted to rape her.
In the Shangfangshan Brainwashing Center in Suzhou City, Jiangsu Province, a group of 610 Office staff broke into Ms. Xuan Xiaomei's room late at night. A middle-aged man climbed into her bed, pressed her under him, and cursed her. He harassed and humiliated Ms. Xuan in front of a group of male and female guards, who took no action to intervene and later behaved as if nothing had happened.
Families of Falun Gong practitioners were also often subjected to financial extortion by brainwashing center staff. The Kuiwen District Brainwashing Center in Weifang City, Shandong Province repeatedly extorted money from practitioners and their families as an additional income source. Whenever they needed money, they would select a few practitioners and try to extort money from their families.
Qinglongshan Brainwashing Center in Heilongjiang Province collected 10,000 yuan for each person.