Summary of Illegal Imprisonments of Falun Gong Practitioners in 2013
(Minghui.org) Imprisonment is one of the primary tools the Chinese Communist Party (CCP) uses in its campaign against Falun Gong. Prison terms tend to be for much longer periods of time than other forms of detention. Details of the abuses that take place there thus take much longer to come to light. The methods of torture used in Chinese prisons are quite brutal.
This article gives an overview of how the CCP persecutes Falun Gong practitioners with imprisonment. While the regime tries to make the world believe that human rights are being better served since the forced labor system has been wound down, many of the abuses that used to occur in labor camps are now being diverted to prisons.
All forced labor camps were supposed to be closed down by the end of 2013. The persecution has nonetheless continued. Prisons and brainwashing centers took up the slack.
Here are a few examples:
-Mr. Song Yusheng from Jimo City, Shandong Province, was arrested on August 11 and sentenced to 3.5 years within a few days without a trial. He was transferred to Jinan Prison on August 28, 17 days later.
-Mr. Song Guobin and Wang Manhong from Baoding City, Hebei Province, were arrested in May 2012 because "the 18 th CCP National Congress was going to be held." Similar reasons used to be cited for sending innocent people to labor camps. They were told that they would be released after the conference was over. Mr. Song, however, was sentenced to two years and Wang to three years in September 2013. Their "crimes" changed three times during their detention. A two and a half hour show trial in August 2013 decided their terms.
-Ms. Li Juhua from Wuhan City, Hebei Province, was arrested on September 28, 2013, detained for 15 days, and transferred to a brainwashing center. The police told Ms. Li's family, "It's not that simple now. Labor camps are closing. She is likely to be sentenced to prison."
At least 445 practitioners were tried or sentenced during the first half of 2013, comparable to 497 in the first half of 2012. At least 29 practitioners were reported to have died due to torture in prison.
During the second half of 2013 when the labor camps were supposed to be closing, many Falun Gong practitioners were sentenced to prison for the same reasons used in previous years for sending them to labor camps.
1. Sentencing without Rule of Law
"No law Needs to Be Followed in Falun Gong Cases"
The persecution of Falun Gong has no legal grounds. The CCP officials charged with carrying out the law are quite open about it.
For example, a judge in Fushun City, Liaoning Province, said to the attorney who represented practitioner Zhang Deyan on July 9, 2013, "Don't talk law to me." The attorney was shocked, "Not talk law? Am I supposed to tell jokes?"
Mr. Liu Wei, a practitioner in Jilin Province, was detained in Nong'an County Detention Center. His attorney's visit was denied by detention center head Li Qingguo on September 2, 2013. When asked why, Li Qingguo said, "No law needs to be followed in Falun Gong cases."
Attorneys Who Represent Falun Gong are Routinely Mistreated
The mistreatment of practitioners was often extended to the attorneys who represented them. Sometimes it even involved physical assault.
A vehicle full of police officers arrived at the Dongzhou District Court in Fushun City, Liaoning Province, in January 2013, right before the trial of practitioner Zhao Jiwei. Upon arrival, the group leader spoke to the police officers publicly, "Today's case is unusual. Use force when necessary."
At the end of the trial, attorney Dong, the defense attorney for Mr. Zhao, asked someone who was directing the bailiffs to clear all the bystanders in the courtroom, "Are you a court official?" Five police officers immediately rushed over to Mr. Dong. They choked his neck, grabbed him by the hair, and shoved him. Mr. Dong fell down and knocked over rows of chairs and tables in the courtroom. He was pushed up against the wall. His suit and shirt were torn.
Zhabei District Court in Shanghai tried practitioner Mr. Nie Guangfeng on April 18, 2013. Judge Gong Wen prohibited Mr. Nie's attorney from speaking. A bailiff attempted to force the attorney to sign a questionable document. When the attorney refused to, the judge ejected him for disrupting the order of the court.
Yilan County Court in Heilongjiang Province put five practitioners on trial on July 31, 2013. Officials exploited many strategies to interfere with the attorney, including not allowing access to the case files, not revealing the time of the trial, interrupting the attorney's remarks, and even tampering with the microphone and other sound devices so that attendees could not hear the attorney clearly. Similar tactics with sound devices were also employed by Hongshan Court in Inner Mongolia and Jinshan Court in Gansu Province.
Sentences Passed in Secret Trials or Without a Trial
Such strategies were often viewed as ridiculous, but they happened many times in 2013.
Practitioner Wang Yuxiu in Kaifeng City, Henan Province, was arrested when taking his daughter to school on July 2, 2013. After he was taken to a government office near the school, Yuwangtai District Court judge Li Jing read a piece of paper to him and claimed he had been tried. Mr. Wang was sentenced to 3.5 years.
Other courts also held trials without notifying the attorney or family members. They included Aimin District Court in Heilongjiang Province, Chaoyang District Court in Changchun City, and Tanggu District Court in Tianjin City.
Falsifying Evidence and Sentencing at Will
Ms. Qiu Liying, a factory worker in Hebei Province, was arrested simply for being involved in the business of DVD packaging boxes. After many failed attempts to prosecute her, Chang'an District Court in Hebei Province sentenced her to 2.5 years of imprisonment, charging her with "leaking state secrets."
The "confidential" document, as it turned out, was a policy issued by the Ministry of Public Security several years before that banned "dangerous organizations." It listed more than 10 organizations; Falun Gong was not one of them.
Mr. Li Guang, a practitioner in Yingkou City in Liaoning Province, and 13 practitioners in Dalian City were involved in similar situations. All these cases were returned for insufficient evidence. Officials then made up new evidence to justify sentences.
Xinpu District Court in Jiangsu Province held a trial for Mr. Meng Jun on February 18, 2013. When Mr. Meng tried to defend himself, chief judge Chen Lidong stopped him and adjourned the proceedings. He threatened to sentence Mr. Meng to at least three years in prison because of his "bad attitude."
In addition to sentencing at will, officials also physically assault practitioners, even in courtrooms. Changping District Court in Beijing tried Ms. Chen Shulan on August 1, 2013.
When Ms. Chen tried to see her daughter waiting outside of the courtroom before the trial, bailiffs took her away. To prevent her from seeing her daughter after the trial was over, they immediately dragged her to the elevator, pushing on her head and shoulder.
2. Escalating Cases to Justify Mass Arrests
Many Falun Gong practitioners were sentenced in 2013 because the police and the 610 Office escalated the cases. For example, more than 30 practitioners were arrested or harassed in Shijiazhuang City, Hebei Province, on November 15, 2013. Several of them are still detained and are facing trial. As can be seen from the following reports, this was not a rare occurrence. It represents a systematic crackdown on Falun Gong by the Party.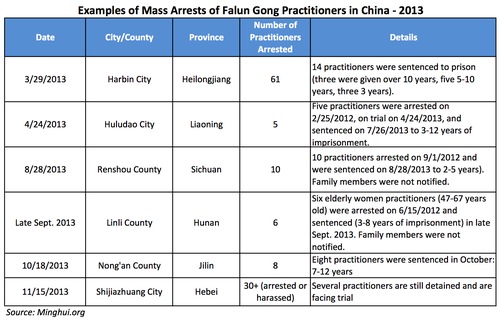 Table 2: Selected cases of mass arrests in 2013
3. Elderly Practitioners Tried and Sentenced
Respecting the elderly is a Chinese tradition. There was a saying: "Honor the elderly as we do to our own aged parents, and care for others' children as our own." However, elderly practitioners—even those in their 60s and 70s—also became victims during the long, severe persecution. Below are some examples.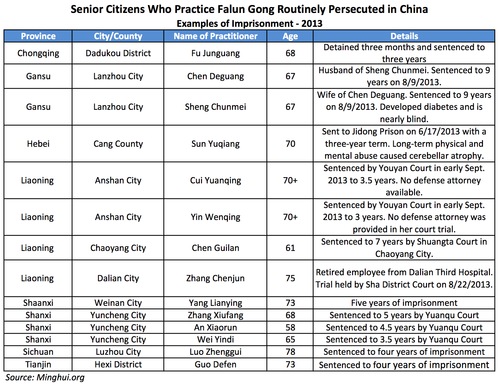 Table 3: Some elderly practitioners sentenced or tried
4. Torture in Prisons
At the same time, the torture of Falun Gong practitioners in prisons has escalated. According to Minghui statistics, at least 76 practitioners were tortured to death in 2013. Of that number, 29 died as a result of being tortured by prison guards.
29 Deaths due to Torture by Prison Guards
Mr. Guo Xiaowen from Xiangyuan County, Shanxi Province, was arrested in August 2012. He was sent to the No. 1 Prison of Shanxi Province (also known as Jinzhong Prison) around March 6, 2013. He was severely beaten, placed in solitary confinement, and force-fed. He died as a result of torture at the age of 40 on March 12, 2013, within a few days of being admitted to the prison.
Mr. Zhao Bin from Shandong Province was arrested and taken to Tilanqiao Prison in Shanghai on September 3 when he did business there. In less than two months, he died at the age of 58. Prison guards deprived him of sleep, shocked him with multiple electric batons, and directed other prisoners to beat him.
Results of Torture: Critical Condition or Severe Injury
1. Mr. Mo Zhikui and Mr. Zhang Jinku were transferred to Hulan Prison on September 19, 2013, after being arrested in Yilan County, Heilongjiang Province. Mr. Mo was unable to walk normally. Mr. Zhang was infected with tuberculosis. He had trouble eating and was delirious and incontinent.
On November 21, Mr. Zhang's family visited him in prison. Two people had to help him to the visitors' room by strapping his arms. He was trembling and said in a very weak voice, "A guy in a doctor's uniform beat me." He was dragged away before he could finish his sentence.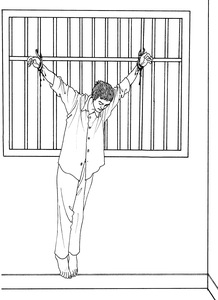 Torture illustration: Hanging up
2. Mr. Yang Naijian from Qingdao City, Shandong Province, was arrested by the 610 Office on May 2, 2013 because he participated in re-enactment pictures to expose the tortures in black jails.
The police hit him with a baseball bat, hung him up on the bars of the window, and deprived him of sleep. He was also violently interrogated and forced to admit to fabricated crimes. In a few months, Mr. Yang lost over 30 pounds. He lost consciousness a few times and had pain in his heart, trouble breathing, and urinated blood. He is now in critical condition.
3. In Zhengzhou Prison in Henan Province, Mr. Li Jie was subjected to the "death penalty shackle" multiple times. Prison guards and other prisoners dragged him into the restroom and beat him until he passed out. Afterward, they moved him to solitary confinement, shocked him with high voltage electric batons, and claimed that Mr. Li was pretending to be dead. They then then put the "death penalty shackle" on him.
With the "death penalty shackle," the hands are cuffed and feet shackled. A short chain connects the handcuffs and shackles. The skin tears very quickly once the person starts walking. The person is unable to dress or undress himself. He needs help to even go to the toilet. He also has difficulty going to sleep because he cannot lie flat.
4. Mr. Liu Defu from Shenyang City, Liaoning Province, has had high blood pressure (at high as 250) due to torture since June 2013. He was shackled to the ground. His head was recently injured and he needed 21 stitches after being hit with torture instruments.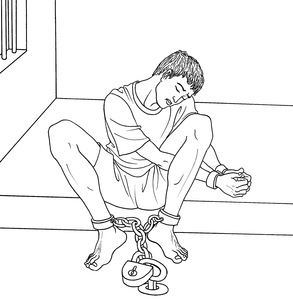 Torture illustration: Shackled to the ground
The persecution of Falun Gong is illegal and doesn't follow due process. The persecution is still going on, and prisons are taking over the role of the labor camps.