Internet Security Division Continues to Monitor and Arrest Falun Gong Practitioners (Dandong City)
September 17, 2014 | By a Minghui correspondent from Liaoning Province, China
(Minghui.org) Seven Falun Gong practitioners from Dandong City, Liaoning Province, were illegally arrested from May to July 2014. The Internet Security Division, a branch of the local police force, had been monitoring and tracking them.
At least 14 practitioners have been arrested by the Internet Security Division since September 2012. Six have now been sentenced and three are still facing trial.
The Chinese Communist Party (CCP) continues to ramp up its Internet censorship monitoring systems, and as a result, persecution of Falun Gong by Internet security police is on the rise.
Internet Security Division of Dandong City Police Department
The Internet Security Division of the Dandong City Police Department is under the supervision of the Liaoning Province Public Security Bureau and the Dandong City Police Department. The division is comprised of a number of teams with different areas of specialization including: case investigation, intelligence and reconnaissance, monitoring, data analysis, and of course management.
The Internet Security Division has set up extensive network systems to monitor Internet traffic and to identify and filter content with Falun Gong keywords. Their systems also block access to Falun Gong-related websites such as Minghui, while promoting Party propaganda vilifying the practice at the same time.
To accomplish this, they have also set up equipment within government agencies, network providers, mobile carriers, and places like Internet cafes to monitor and track any Falun Gong information and corresponding IP addresses.
The police who work in these divisions, often called "Internet police," monitor Falun Gong practitioners on blogs, chat rooms, and QQ, a social media platform popular in China. They track practitioners' messages, emails and other online activities to be used as "evidence" to persecute them.
The Internet Security Division teams up with the Domestic Security Division to play an active role in the persecution of Falun Gong in Dandong City. They track and locate practitioners and compile "evidence" for the police who make the arrests and do the interrogating.
Key officials of the Internet Security Division include division chief Du Qiang, political chief Zheng Hao, deputy chief Yang Hongyue, and 3 officers: Jing Xu, Huang Yuebao and Li Qiang. Chief Du Qiang assumed the role of head of the division in September 2012. The persecution of Falun Gong in the Dandong area has become steadily worse ever since.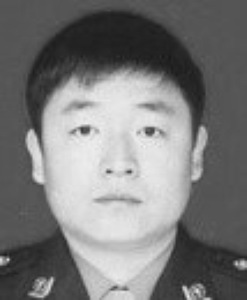 Internet Security Division Chief Du Qiang
Here are a number of examples of persecution that the Internet Security Division is responsible for in the Dandong area:
Sentenced to Four Years in Prison for Sending Emails with Falun Gong Information
Mr. Han Chunlong and Mr. Chen Xinye are practitioners from Shenyang City. They were arrested on a business trip in Dandong City in December 2012. Six police officers, including Du Guojun from the Domestic Security Division, broke into their hotel room and took them into custody. They were told that the Internet police had detected that they had sent emails that contained Falun Gong information.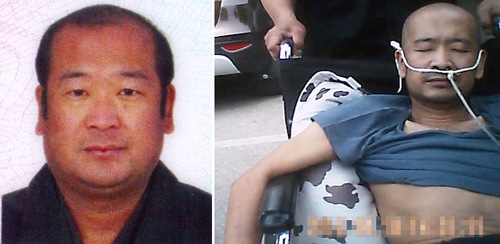 Mr. Han Chunlong before and after the persecution
Mr. Han and Mr. Chen were taken to the Sidaoqiao Police Station and interrogated. Both refused to give any information, so they were brutally beaten. Mr. Han was even force-fed and tortured with "Swallow Flying." As a result of torture his legs became badly swollen and he was unable to walk. He was deaf in his left ear and was later diagnosed with kidney malfunction, kidney stones, bladder stones, and a stress ulcer.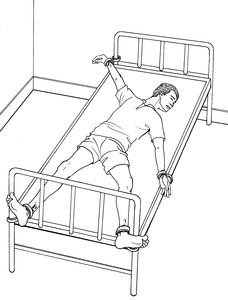 Torture illustration: Death Bed
On May 28, 2013, the Zhenxing District Court in Dandong City tried Mr. Han and Mr. Chen even though Mr. Han was still very weak. When Mr. Han arrived at the courthouse, he was carried out of a police car and placed in a wheelchair. His face was pale and he was emaciated.
Mr. Han and Mr. Chen said in their testimony that it was their constitutional right to use the Internet and send email, and that they had not violated any law. They pointed out that it was illegal for the authorities to deprive them of their constitutional rights.
Nevertheless, the court sentenced them to four years in prison on May 31, 2013.
Related report: Severe Mistreatment of Mr. Han Chunlong and Mr. Chen Xinye by Police and Judicial Departments
High School Teacher Sentenced to Three Years for Emailing Zhuan Falun
Mr. Fan Xiaosheng is a teacher at Fengcheng No. 1 High School. He used software designed to circumvent the "Great Firewall of China" to access the Minghui website. He downloaded electronic copies of the book Zhuan Falun and shared them with three friends via email. While his visit to Minghui was done safely by using the firewall circumvention software, he failed to secure his Internet connection when sending the email and was thus identified by the Internet Security Division.
Because of this, Mr. Fan was arrested from his classroom in October 2012 by Dandong Internet Police Team and Fengshan Police Department. He was sentenced to three years of imprisonment by the Fengcheng Court on November 8, 2013.
Related report: High School Teacher Mr. Fan Xiaosheng Illegally Sentenced to Prison
Sentenced to Three Years of Incarceration for Visiting the Minghui Website
Practitioner Ms. Sun Guiqing was arrested for visiting the Minghui website at home. Several police officers broke into her home and took her into custody. It was said that the Dandong Internet police had been watching and tracking her online for some time.
Ms. Sun was sentenced to three years in prison in April 2013.
Related report: Ms. Sun Guiqing Falsely Charged
Sentenced to Three Years for Posting Falun Gong Information on QQ
Practitioner Ms. Zhu Yanbo was sentenced for posting information about Falun Gong on QQ. More than 10 officers broke into her home and arrested her on December 24, 2013.
She was tried in Donggang Court on April 22, 2014. Her attorney entered a not-guilty plea, arguing that Ms. Zhu's posts qualified for protection under freedom of speech and that the ruling violated Ms. Zhu's constitutional freedom of religious belief.
Nevertheless, the Donggang Court sentenced her to three years in prison on April 30, 2014.
Related report: Liaoning Practitioner Secretly Sentenced to Three Years
Dandong Internet Security Division Arrests Seven Practitioners in 2014
Mr. Liu Bin was arrested at work on May 19, 2014. He was told that the network police detected that he shared Falun Gong information via email. His daughter, Ms. Liu Yang, was also arrested because she helped her father register the email account. Ms. Liu was released on bail 10 days later. Mr. Liu is facing trial by the Yuanbao District Court.
Mr. Jin Biao and Mr. Lu Jun were arrested by the Internet police and officers from the Fengcheng Police Department on July 2, 2014. The police ransacked their home and took their computers, printers, cell phones, and Falun Gong books. The two practitioners are facing charges from the Fengcheng Procuratorate.
Ms. San Yuhua was arrested in early July 2014 when she clarified the truth about Falun Gong online. She was monitored and tracked by the Dandong Internet police.
Two practitioners from Donggang were arrested on July 31, 2014, by officers under orders from the Dandong Internet Security Division. They were released later that day.
Epilogue
Internet censorship has been widely used in China since the Party began the persecution of Falun Gong in 1999. The CCP has blocked the Minghui website and used every means at its disposal to monitor and track practitioners, both on the Internet and off.
Facing China's great Internet firewall, software like FreeGate has been developed that helps millions of netizens in China break through the blockade and freely gain access to online information. FreeGate and other pieces of software like it were developed by Falun Gong practitioners living outside China.
U.S.-based Dynamic Internet Technology Inc., for example, has seen 690 million visitors to its Internet search portal. The Minghui website reported that some 200 thousand Falun Gong truth clarification material production sites had been established in mainland China by 2009.
Thus it is clear that despite the "Great Firewall," practitioners have been able to break through the Internet blockade to visit the Minghui website to research the persecution and so that they could prepare their informational materials. With 200 thousand production sites, the number Chinese citizens that practitioners have been able to reach with the truth about the persecution is huge.
Despite the communist regime's investment of tens of billions of US dollars, many Falun Gong practitioners have successfully circumvented the CCP's Internet blockade to bring their messages of freedom and peace to China. The stories presented above in this article illustrate the fate of those who did not use software like Freegate and Ultrasurf to protect their online activities.
Related report: Penetrating the Chinese Communist Party's Internet Blockade
Parties Involved:Du Qiang (杜强), head of the Dandong Internet Security Division: +86-13941580111, +86-415-2103300 (O), +86-415-2169988 (H)Zheng Hao (郑浩), political commissar: +86-13841539166, +86-415-2103254 (O), +86-415-2170900 (H)(More perpetrators' contact information available in the original Chinese article)