Minghui Summer Camp, a Compassionate Environment for Youth in France
September 12, 2014 | By a Minghui correspondent in France
(Minghui.org) A Minghui School Summer Camp was held in Hauteville, a seaside town on the coast of Normandy, France, from August 10 to 24, 2014. The camp was in its second year, and the young practitioners enjoyed a memorable and productive summer, participating in group exercises, reading Falun Gong books, and taking part in many outdoor activities.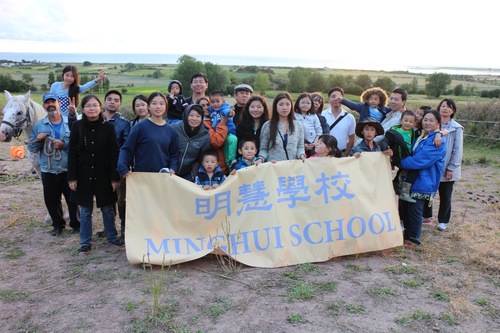 Group photo of the 2014 Minghui School Summer Camp in France
Tourists Attracted to Group Exercises
Hauteville is a popular tourist resort in Normandy in the northwest of France, near the English Channel. On the first day the director of the camp center welcomed the young practitioners and encouraged them to do the Falun Gong exercises on the lawn every morning.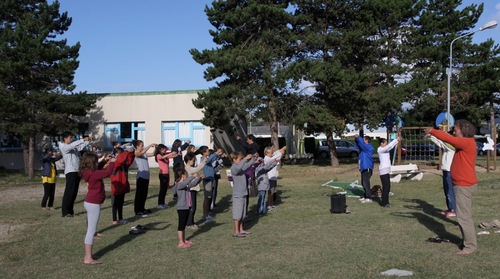 Group morning exercises outside the camp center
Many tourists stopped to watch the young practitioners exercise each morning. Two young girls who were interested learned all five exercises on the first day. One lady was able to immediately sit in the full lotus position when she tried the sitting meditation. Patrick, a French practitioner who started practicing three years ago, volunteered to demonstrate the exercises. One morning 25 people came to learn.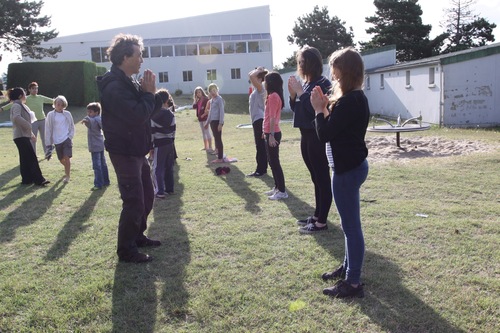 Two girls learning the exercises for the first time
Reading Books and Sharing Understandings
The young Minghui campers read Falun Gong books every evening. Despite their age differences, they read attentively. Some of the older children helped the younger ones with pronunciation. They also read some experience-sharing articles from young practitioners in China, as well as ancient Chinese legends, which they found insightful and educational.
During group discussions, the children talked about how to follow the principles of Truthfulness-Compassion-Forbearance in their daily lives, what cultivation means, and how to do well in sending forth righteous thoughts.
Although they were so young, the Minghui campers spoke from their hearts. Daniel said, "I used to think that as a young child my righteous thoughts were weaker than those of an adult. I now know that righteous thoughts from Dafa disciples, regardless of their age, are equally powerful."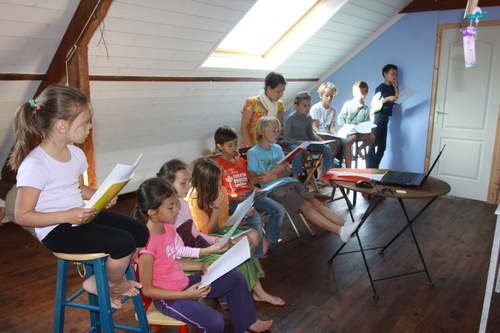 Young practitioners learned to read Hong Yin and sing songs composed by practitioners.
Reviewing their progress in the second week, camper Junyi said, "I have participated in many activities at my school. If we had a problem we wouldn't speak to each other anymore. But when we run into problems here, we are considerate of each other and look within. In the end, each of us apologizes. What touches me the most is the compassionate environment of this group."
Vanessa, another Minghui camper, said, "I never thought we would be able to do so many things in one day."
Cultural Activities
In addition to reading Falun Gong books and doing the exercises, the campers also attended cultural events suited to their age group. They learned about China and classical Chinese dance. They studied Hong Yin, sang songs composed by Falun Gong practitioners, and drew pictures. By watching cartoons of Journey to the West, the young campers learned more about this famous novel, which is part of traditional Chinese culture. The young French campers, who could not speak Chinese, were able to use pinyin to recite two poems from Hong Yin and sing Chinese songs.
The young practitioners also went to a picnic, made a campfire, had a scavenger hunt, played soccer, tried rock climbing and horseback riding, and role played telling people about Falun Gong.
Four adult female practitioners performed classical Chinese dance at the camp center on the evening of August 13. About 150 people attended and liked the performance and the traditional costumes very much. Each audience member received a hand-made lotus flower made of glittery paper that practitioners had prepared for the event. Impressed by the exercise demonstration they saw that evening, many audience members came to the group exercise site the next morning to learn more.
An elementary school teacher named Laila prepared a scavenger hunt for the Minghui campers in the sand dunes on August 15. Another lady named Rémi arrived on horseback and gave the campers hints on the whereabouts of the hidden items. Laila told the young campers, "You are one group. You have to work well with each other to be successful." In the end, the young practitioners cooperated well and found the hidden treasure.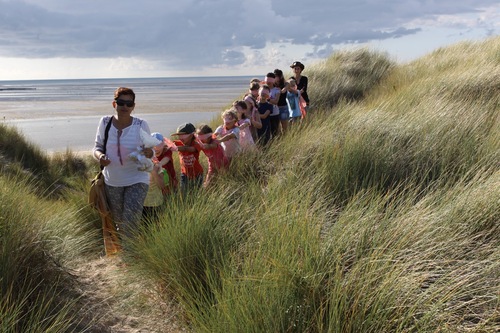 Laila, an elementary school teacher, takes Minghui campers on a scavenger hunt.
Classical Chinese Dance
Each day a dance teacher gave the Mingui campers a lesson in classical Chinese dance that sometimes lasted up to 2 hours. Despite the sometimes complicated and challenging techniques, the campers enjoyed it very much. Even five-year-old Apolline was able to make it through each session.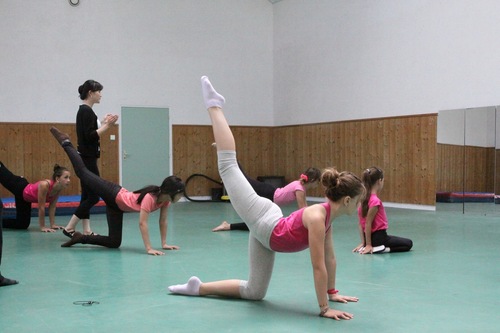 Classical Chinese dance lessons at Minghui School Summer Camp.
At the end of camp, the young practitioners gave a performance about what they had learned. The concert included classical Chinese dance, drawing, reciting poems from Hong Yin, singing songs, and an erhu solo. The children's parents and other children at the camp applauded the young performers with enthusiasm.
As they left the camp, the young practitioners said goodbye to each other and to their counselors. One of the children said, "We liked it so much. When will we have it next year?"