A Close Look at the Brainwashing Industry in China: Revenue II (Part 4 of 4)
(Minghui.org) In part 2 and part 3 of this series, we reviewed the revenue sources of brainwashing centers in China.
Another source of money circulated in the brainwashing industry comes from embezzlement and extortion. These are not listed as official income for the brainwashing centers. Nevertheless, it is a share of industry finances that should not be overlooked.
Over the last 15 years, staff members of 610 Offices, police departments, and domestic security divisions have profiteered heavily from this industry. Through various illegal means, the heads of some provincial-level centers can accumulate up to millions of yuan in personal funds.
The central government's policy of persecution and large personal gains at each level of government drive the rampant development of brainwashing centers. Below, we detail how the system allows officials to amass personal fortunes.
Provincial and City-Level Centers
The Xinjin Brainwashing Center in Sichuan Province, officially known as the Chengdu Legal Education Center, serves as a cash cow.
To line their pockets, personnel from the 610 Offices, police stations and domestic security divisions of the following districts take turns to be "on duty" at the Xinjin center each month: Chenghua, Wuhou, Jinniu, Qingyang, and Jinjiang.
Staff at police stations and residential committees rely on this so-called "stability maintenance" to earn additional income.
The head of Wuhou District Domestic Security Division, Wang Pengfei, admitted that his division received 200,000 yuan from the government to arrest Chengdu practitioner Zhong Fangqiong. [89]
Yin Shunyao, the deputy chief of the Xinjin center, has acquired millions of yuan through the center. In February 2013, local Falun Gong practitioners filed a lawsuit against Yin for extortion. [90]
Staff members like Yin Shunyao, who has accumulated a large fortune through the brainwashing centers, are common in the 610 Office system. It is now an open secret that operating such centers is a quick way to increase one's wealth.
In Hebei Province, heads of police departments in Langfang channel funds using the local brainwashing center. First, Deputy Chief Liu of the city police applies for funding from the provincial Public Security Department and the national Ministry of Public Security. The funds then go to the city's 610 Office.
The head of the 610 Office, Han Zhiguang, manages the funds and draws up plans to arrest and extort money from Falun Gong practitioners. Periodically, city police officers and the 610 Office split the loot from the government funding and extortion. [91]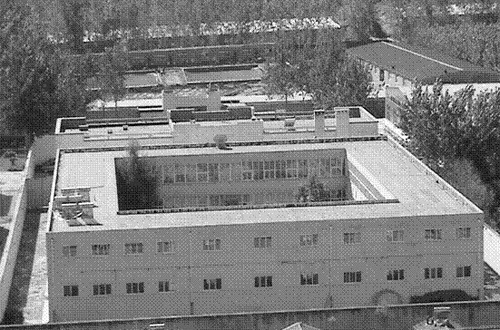 Langfang Brainwashing Center in Hebei Province
Since taking up his post, Han, 56, has replaced his apartment in Chunhe District with three houses in Langfang and several villas in Yongqing and Gu'an. It is estimated that Han has made millions of yuan from brainwashing centers. [91]
County-Level Centers
The amount of money officials at county-level centers acquire is also startling.
Zhao Kejun, head of the local 610 Office in Gaobeidian, a county-level city in Hebei Province, supervises arrests and detentions of Falun Gong practitioners. He is the sole decision maker on whether a practitioner is taken to a brainwashing center or sent to a labor camp or prison. Brainwashing centers often serve as a prelude for the next steps.
Through the Gaobeidian Brainwashing Center, Zhao extorted over a million yuan from practitioners' families through 11 government offices and districts between 1999 and first half of 2006. [92]
Zhao did not issue any receipts to practitioners for the charges he collected. The extorted cash was split among Zhao and other 610 Office personnel.
Town-Level Centers
At the town level, most brainwashing centers are temporary. Officers often use violence to extort money from practitioners in short periods of time.
For example, in March 2000, Jiang Yongjian, the head of the Communist Party Committee in Yuantaoxu Town, Mengyin County, Shandong Province, and Liu Xingshi, the mayor of Yuantaoyu Town, operated two temporary centers located at the town government.
During the two days on March 5 and 6, 2000 alone, 150 practitioners were arrested and extorted. [93]
Officers wined and dined at a restaurant, then returned to the brainwashing center, and beat the detained practitioners with wooden boards, police batons, chairs, and bamboo sticks. No practitioner was spared: men and women, young and old.
One practitioner lost his vision, some vomited blood, and six lost consciousness. The officers then poured cold water on the practitioners and locked them outside the building. [93]
After each beating, the officers demanded money from the practitioners, including those unemployed or disabled. In two days, they extorted 700,000 yuan total.
Most of these 150 practitioners had to pay 4000 yuan, while fifteen of them had to pay 8000 yuan. Officers later took back the receipts and destroyed them. Several practitioners became bankrupt as a result. [93]
This ruthless behavior was praised by the Communist Party Committee of Mengying County and Linyi City. The committee asked 610 Offices in each town and county in Linyi City to follow Yuantaoxu's model. [93]
Private On-Demand Brainwashing Centers
Even a typical police officer can operate a "private brainwashing center" to make money.
In May 2000, Officer Yang from Shijingshan Police Station in Beijing searched for and arrested practitioners in the area under his jurisdiction. Yang told two former practitioners who had been "transformed" to lecture the arrested practitioners to "transform" them.
After the lecture, Yang demanded a 5000 yuan "transformation fee" from each practitioner. He released the practitioner as soon as he received the fee from the family, even though the practitioner did not give in to the transformation. [94]
* * *
In the first part of this series, we reviewed the policies of the persecution of Falun Gong set by China's central government. Brainwashing centers have played a major role in the persecution, especially since the labor camp system was shut down in 2013. Local governments are directed to follow established models when setting up local-level brainwashing centers.
In the second and the third parts, we estimated the the total income and operational costs of this industry. The lower bound of the estimated revenue is about 4.9 billion yuan, which comes from the government funding and awards, education fees paid by Falun Gong practitioners' employers, and ransoms extorted from practitioners' families.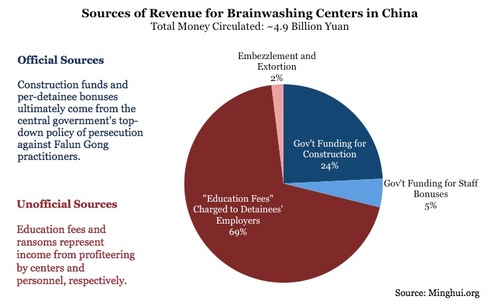 In summary, the industry is driven top-down by the central government and is implemented by each level of government below. Meanwhile, the opportunity for profiteering, exploited by personnel from the bottom upwards, represents a second driving force that perpetuates the industry.
Thus, to end the brainwashing system in China, the central persecution policies must be abandoned. Meanwhile, government and police staff at all levels, including even at the lowest levels, must be held accountable in order to establish and maintain rule of law.
References:
[89] Brutalities Taking Place in Xinjin Brainwashing Center[90] 成都新津洗脑班头目殷舜尧犯罪事实[91] 廊坊洗脑班迫害法轮功学员事实(四)[92] 保定邪党迫害法轮功十年罪行录(2)[93] 山东沂蒙"官匪"恶行面面观(七)[94] 北京市石景山区分局恶警疯狂敛财