Chinese Doctor Arrested for Organ Transplant Abuse, Growing International Condemnation of China's Organ Harvesting Crimes (Photos)
(Minghui.org) A Chinese organ transplant doctor mentioned in the exposé Bloody Harvest, Zhu Yunsong, was arrested for organ transplant abuse a week ago by the Chinese authorities.
The news was revealed by renowned Canadian human rights lawyer David Matas on July 29 at the forum "Transplant Medicine at a Crossroad" held by Doctors Against Forced Organ Harvesting (DAFOH) during the World Transplant Congress in San Francisco.
Although the charge wasn't specifically organ harvesting from Falun Gong practitioners, the arrest of this prominent doctor is yet more evidence pointing to the existence of forced organ harvesting in China.
Zhu, who used to work at a major hospital, performed organ transplants for many years and authored numerous papers on organ transplantation.
According to Matas, a special investigator pretending to be a patient talked to Dr. Zhu on the phone. The transcription of the phone conversation shows that the doctor admitted that he participated in transplantation operations using organs from Falun Gong practitioners.
Detailed information about the investigation into organ harvesting atrocities in China is available in the book Bloody Harvest co-authored by Matas and David Kilgour.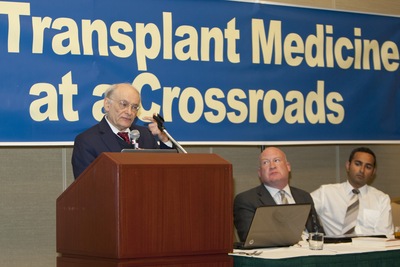 Renowned Canadian human rights lawyer David Matas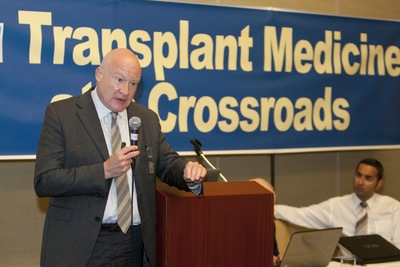 Former U.S. think tank researcher and writer Ethan Gutmann
Worldwide Condemnation of China's Organ Harvesting Crimes
The 2014 World Transplant Congress (WTC), which drew 7,000 scholars and organ transplant doctors, rejected 35 Chinese applicants on the grounds of medical ethics.
Professor Joanna Matuszkiewicz-Rowinska from the Medical University of Warsaw said that she recently rejected a Chinese-authored organ transplant paper for publication. In her review of the manuscript, she found that the authors failed to identify the organ source.
According to Prof. Matuszkiewicz-Rowinska, many of her co-workers found similar problems when reviewing organ transplant papers from China.
At the forum, David Matas pointed out that the Chinese communist regime has tried to boost their source of organs by increasing illegal arrests of Falun Gong practitioners. Government officials and policemen have recently broken into practitioners' homes to take blood and saliva samples. Some of the forced sample collection from Falun Gong practitioners have even occurred on the streets.
According to the Minghui website, most of the forced sample collections from practitioners happened in Guizhou and Liaoning Province. The policemen told practitioners that they were carrying out orders from higher authorities.
Former U.S. think tank researcher and writer Ethan Gutmann provided his insight and analysis of the organ harvesting policy in China at the July 29 forum. Gutmann suspects that the government has been setting up an organ information database targeting Falun Gong practitioners.
Falun Gong Is the Largest Group of Victims of Organ Harvesting
During the World Transplant Congress, Falun Gong practitioners in San Francisco held a press conference and received interviews from English and Chinese language media on July 29. The speakers pointed out that Falun Gong is the largest group of organ harvesting victims in China.
According to a Radio Free Asia report, organ harvesting from Falun Gong practitioners received widespread attention from the conference attendees. No one could miss the large banners displayed by the Falun Gong group at the entrance of Moscone West Convention Center where the conference was held.
Falun Gong practitioners who had personally experienced forced blood-drawing and physical examinations during their imprisonment in China told media reporters about their narrow escape from being unwilling organ donors.
One of the practitioners, Ms. Li said that the jailers announced that no Falun Gong practitioners would be exempt from the testing. Armed police were mobilized to help with the blood-drawing and physical examinations, two critical steps in matching patients with potential organs.
Practitioner Mr. Li told the reporter, "A patient in other countries would have to wait eight to ten years before a matching organ could be found. But advertisements in China guarantee kidney transplants within three days, and liver transplants within a week. It is because they have a large organ bank of Falun Gong practitioners."
David Matas said at the press conference that he had come to the World Transplant Congress to call upon organ transplant professionals to help stop this crime in China. He believes that they must exert pressure on their counterparts in China with policies promoting organ transplant ethics.
International Effort to End Organ Harvesting from Falun Gong Practitioners
Recently, the international community has initiated several positive actions to help stop this crime in China.
On July 30, the U.S. House Foreign Affairs Committee endorsed a resolution calling on China to immediately end state-sanctioned harvesting of human organs from prisoners.
According to the Associated Press, the resolution contends that there are 'persistent and credible reports' of state-sanctioned organ harvesting from non-consenting prisoners, many from the Falun Gong meditation movement and other religious and ethnic minority groups.
Earlier in July, during the First Symposium on Ethics in Transplantation at the Italian Parliament on the 11th, Senator Maurizio Romani proposed a bill to introduce in the Criminal Code the trafficking of organs for transplantation, with a penalty of eight to twenty years of imprisonment.
On July 9, the Council of Europe adopted the first convention to combat human organ trafficking, encouraging "close international cooperation between Member States and non-member states."
Related articles in Chinese:
http://www.minghui.org/mh/articles/2014/8/1/美联社-美国会外交委员会谴责中共活摘人体器官-295464.htmlhttp://www.minghui.org/mh/articles/2014/8/1/RFA-法轮功揭示中共活摘人体器官罪行-295461.html