Hsinchu, Taiwan: March and Candlelight Vigil Commemorate 15 Years of Resisting the Persecution (Photos)
(Minghui.org) Fifteen years ago on July 20, the Chinese Communist Party (CCP) launched the persecution of Falun Gong. Every year around this time, practitioners hold a variety of activities around the world to commemorate those who have been tortured to death during the persecution and to call for an end to the human rights violations in China.
On Sunday, July 13, about 1000 Taiwanese Falun Gong practitioners from Taoyuan, Hsinchu, and Miaoli held a march and candlelight vigil at Central Park in Hsinchu, raising the public's awareness of the persecution.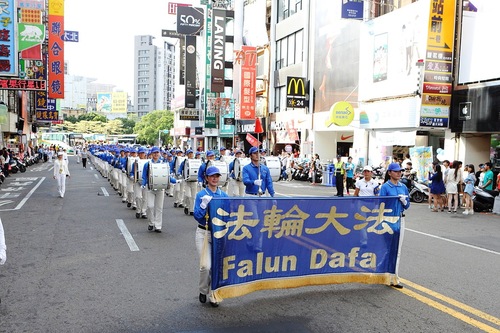 The Divine Land Marching Band made up of 200 Falun Gong practitioners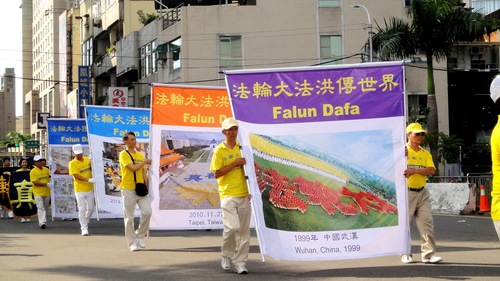 The banners show how Falun Dafa has been embraced worldwide.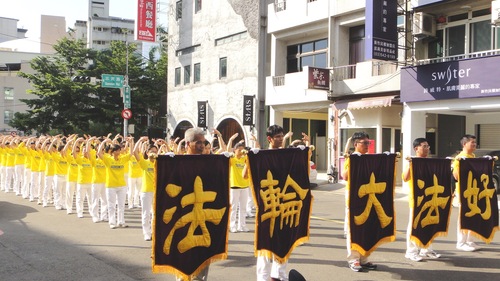 Demonstrating the exercises
Commemorating those who were tortured to death during the persecution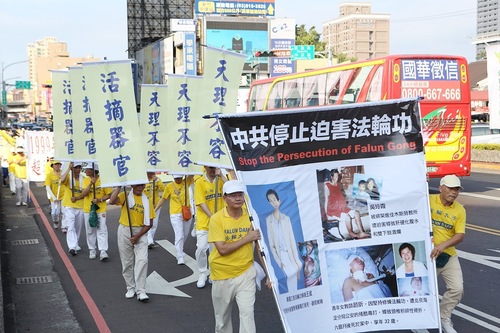 Calling for the end to the persecution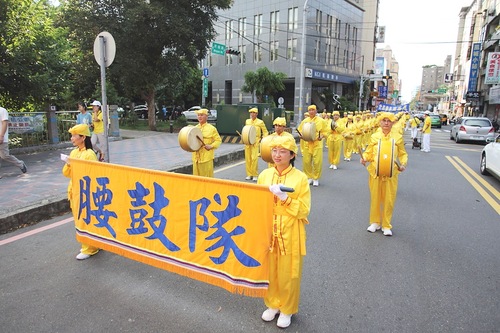 The waist drum team
The march set off at 4 p.m. Led by the Divine Land Marching Band, the participants were grouped into three themes: "Falun Dafa Has Spread Throughout the World," "The Brutal Persecution," and "Disintegrate the CCP and End the Persecution."
The three-mile-long procession wound through the business area for an hour and a half. Practitioners passed out materials, and set up display boards in Central Park to inform people about Falun Gong and the persecution. They also demonstrated the exercises at several locations along the route.
Demonstrating exercises at Central Park, Hsinchu, Taiwan.
Demonstrating the exercises at East Gate Circle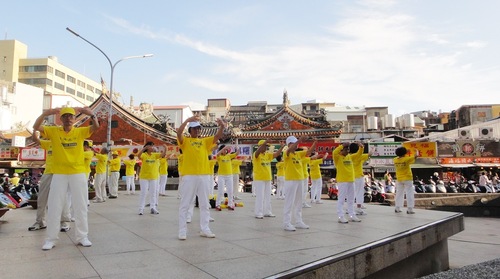 Demonstrating the exercises on Linsen Road
Voices of Support
Ms. Wang is from Henan Province, China. She married a Taiwanese and moved here 10 years ago. She read the display boards in Central Park for two hours and took a lot of photos of them and the procession.
"I will send those photos to my friends and family in China. They will be amazed," Ms. Wang said. "I am glad I live in such a free society.
"I know Falun Gong well. Their teaching is Truthfulness-Compassion-Forbearance, which is very good," she said, "Plus practicing Falun Gong is good for one's health. The communist party is a tyrant. The persecution is definitely wrong."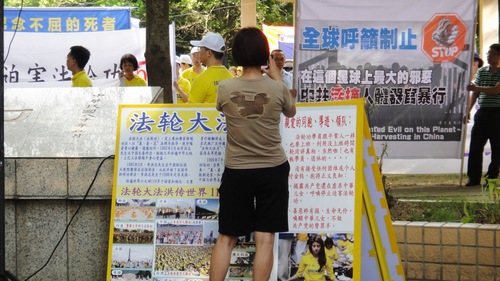 Ms. Wang taking photos of the Falun Gong materials for her family and friends in China
Many spectators along the route signaled their support and offered praise.
Ms. Tian, a practitioner, said, "Compared to the situation a few years ago, more and more people know what Falun Gong is now. When I talked to people today, almost all the responses were positive. Some people told me that they were touched by our spirit.
"When the march passed by a small park, five older gentlemen stopped me. One of them said, 'Falun Gong is really great! I admire your spirit. I wish you great success.' They also told me that they knew about the persecution and support our peaceful resistance."
Candlelight Vigil in Central Park
After the march, practitioners returned to Central Park for a candlelight vigil at 7 p.m.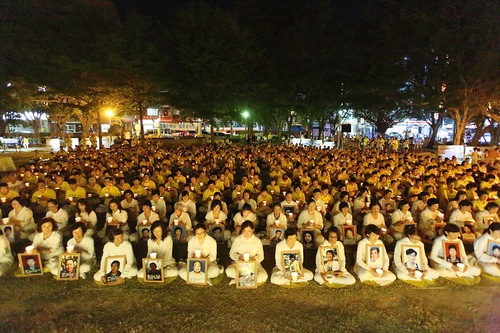 The candlelight vigil in Central Park, Hsinchu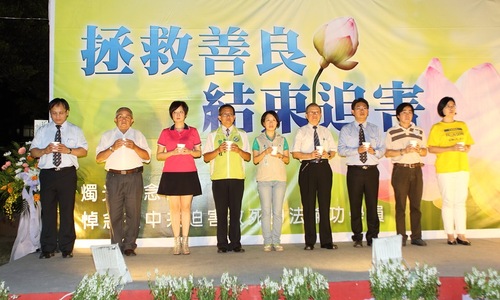 Local community leaders joined the commemoration.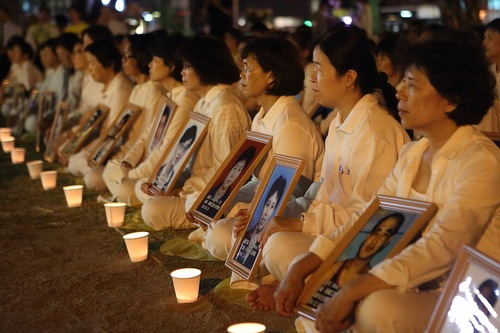 Local government officials, legislative council members, and community leaders participated in the vigil and gave speeches, expressing their support for Falun Gong.
Tseng Tsicheng, city legislative council member in Hsinchu, said that he first started to pay attention to Falun Gong practitioners' peaceful resistance in 2012 during a protest against a CCP official's visit to Taiwan.
"I was impressed by their peacefulness and spirit. Since then, I've watched Falun Gong activities closely and have been involved in a few council resolutions to help Falun Gong practitioners end the persecution in China.
"People need solid beliefs in such a chaotic society. Falun Gong is playing a positive and active role," Mr. Tseng said.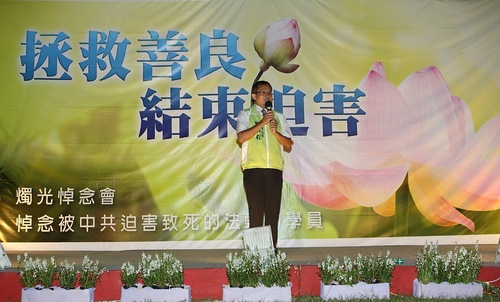 Tseng Tsicheng, city legislative council member in Hsinchu
"It is my honor to participate in the candlelight vigil. It is also my responsibility to help Falun Gong," said Mr. Chen Dongrong, the chair of Shangde Culture Association.
"I had a lot of contact with Falun Gong practitioners when I served in the government. I was deeply touched by their selflessness," Mr. Chen said. "Today's activities are important. They expose the brutal persecution of Falun Gong to the public."
Mr. Chen believes that Falun Gong practitioners have had a positive impact on society. "They focus on improving their moral standard and don't pursue money or fame," he said. "I am eager to introduce Falun Gong and Master Li Hongzhi's books to the general public."
Mr. Gao Weibang, a Taiwanese businessman who was robbed by the CCP in China 15 years ago, is well aware of the evil nature of the communist party.
"I respect Falun Gong practitioners, who created their own media to expose the CCP's evil behavior," Mr. Gao said. "We have witnessed many instances of resistance in China, which is a sign that the CCP is collapsing.
"I strongly believe that evil can never defeat righteousness and that China will soon have a bright future."